Caps and gowns make a popular return as first UniSA graduates cross the stage since COVID-19
By Michèle Nardelli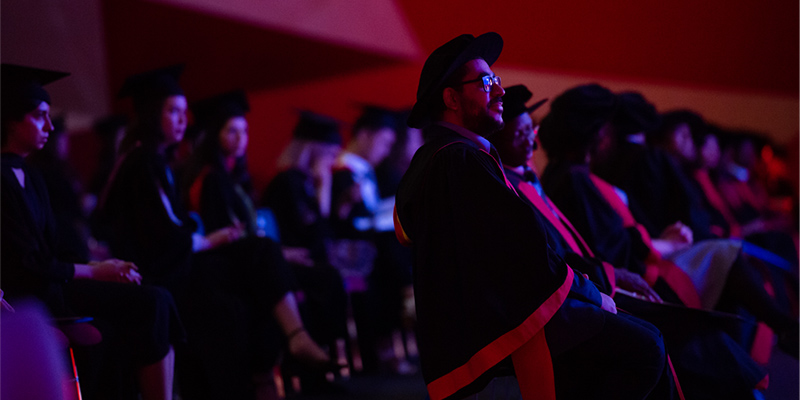 COMMUNITY
More than 1000 UniSA students have crossed the stage at Pridham Hall in the first physical graduation ceremonies in South Australia since the arrival of COVID-19 earlier this year.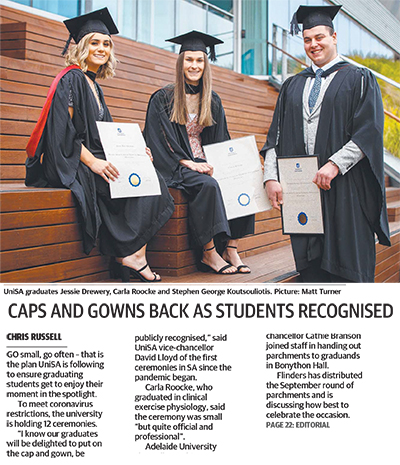 UniSA was the first university in SA to hold in-person graduation ceremonies in 2020 under new rules that involved much smaller ceremonies, but more of them.
UniSA Vice Chancellor Professor David Lloyd says celebrating the milestone of having completed your degree is important in building a sense of confidence and achievement.
"There's something strangely comforting about us hosting graduation ceremonies again. It heralds a return to something akin to normal," Prof Lloyd says.
"Our COVID-friendly, hand sanitised, socially distanced arrangements worked beautifully and still had that all-important sense of occasion.
"I know our graduates were delighted to put on the cap and gown to be publicly recognised for their hard work and appreciated getting to share that special sense of achievement with their chosen guests."
The ceremonies were UniSA's first since December 2019. Twelve separate ceremonies were held in Pridham Hall, at UniSA's City West campus, in late September and early October.
In July UniSA conducted a student survey of all students who would be graduating in 2020, including those who missed their ceremonies during the lockdown period.
Almost 100 per cent responded that they believed a physical ceremony was a significant milestone. More than 3700 said they would prefer to attend a graduation ceremony in person, even if ticketing was limited because of social distancing requirements.
In accordance with social distancing and health and safety recommendations, seating at the ceremonies was arranged to accommodate the 1.5 metre distancing rules and there was a cap on the number of people able to attend at each ceremony.
Modifications were also made to the number of staff in the traditional academic procession.
All graduates, their families and other guests were required to register to ensure contact tracing was possible if required post the event.
UniSA postponed its April and May graduation ceremonies because of the COVID-19 restrictions on large gatherings, although all degrees were conferred, and parchments were instead sent to graduates by post.
Students who missed out on ceremonies earlier in the year had the option to register and attend the September / October graduations.
Students canvassed from regional campuses, showed a preference to delay their ceremonies until next year when they can be staged in Whyalla and Mt Gambier.
See more images in the In Pictures section of UniSA News.
The next graduation ceremonies will be held at Pridham Hall on Tuesday 22 December and Wednesday 23 December.