Achievements and Announcements
ACHIEVEMENTS
ANNOUNCEMENTS
ACHIEVEMENTS
Student Truc Truong features in prestigious national graduate exhibition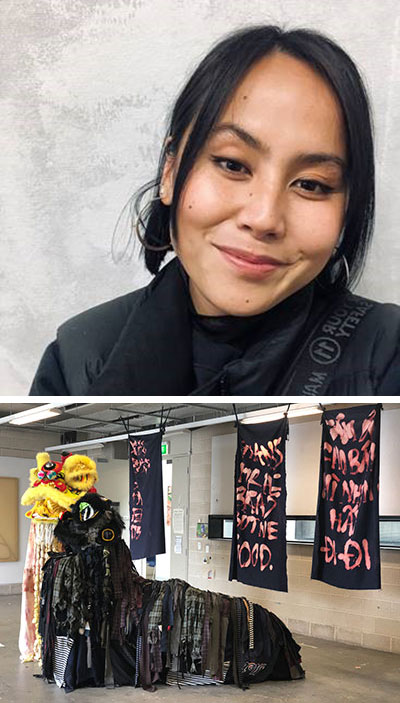 A UniSA student has been selected for a prestigious contemporary art exhibition designed to showcase the work of promising new artists.
Bachelor of Art and Design (Honours) student and emerging artist Truc Truong is one of two South Australians selected for the Perth Institute of Contemporary Arts (PICA) Hatched exhibition.
Truc is a Vietnamese-Australian artist working primarily in installation and sculpture. Truc completed her Bachelor of Contemporary Art at UniSA in 2019 and is currently undertaking her Honours program, expanding on the themes in her work and research. The selected work, Unicorn Land, explores her family's experience of multicultural Australia through a lens of racism, hybridity and displacement.
Hatched is an annual graduate show that features the work of outstanding visual arts graduates from across the nation. This year's iteration includes 24 artists, including two from Adelaide. The exhibition opened in early July and runs until 18 October at Perth Cultural Centre.
Success of internship program earns staff member award for excellence
A staff member whose innovative approach to internships more than doubled the number of placements in part of the University, has been recognised with a Vice Chancellor's Award for Professional Staff Excellence.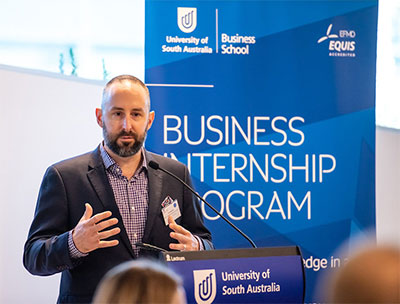 UniSA Business Partner Engagement Manager for internships Daryl McMahon was the individual winner in the Vice Chancellor's Awards for Professional Staff Excellence 2019, which recognise outstanding contributions by professional staff.
Since starting in the role in 2017, McMahon has implemented many strategies to grow his area's internship program, including refining the internship system and processes, building strong relationships with employers and hosting industry networking events.
His work increased placements in UniSA Business from about 120 in 2017 to more than 300 in 2019, providing more than 53,000 hours of student experience.
"I would say the key to success is collaboration, communication and a focus on making the process as seamless as possible for our industry partners," McMahon says.
McMahon works with industry partners and course coordinators to ensure students and organisations are mutually benefitting from the internship. He has built a network comprising more than 300 actively engaged host organisations.
This has created greater opportunities for students to develop skills, knowledge and networks that are necessary for successful future employment.
"The most rewarding aspect of my job is when I receive feedback from students or industry partners about how the Business Internship Program has led to positive employment outcomes," McMahon says.
In a pilot survey, two-thirds of participants said they believed the internship experience led to employment.
Despite the growth of the program, he has ensured that new changes have not compromised the quality of the internship process.
"My role is the pointy end of a large collaborative effort with many stakeholders across UniSA Business and more broadly across the whole of UniSA, and it's been a big couple of years for the Business Internship Program so it's nice to be recognised for how far we've come," he says.
Team recipients of the Vice Chancellor's Awards for Professional Staff Excellence include the ORCiD Integration Project Team, Future Industries Accelerator (FIA) Team, and the AnDe College Project Team.
The ORCiD Integration Project Team was recognised in the innovation in infrastructure category. The team's work has played a crucial role in ensuring the publications and profiles of UniSA researchers are visible and accessible to a global audience.
The Future Industries Accelerator Team (FIA) was recognised in the industry and community engagement category. The Future Industries Accelerator provides funding for South Australian industry to access UniSA's infrastructure and expertise. Supported by a $7.5m investment from the South Australian Government, the FIA has supported local companies by creating high-value jobs and accelerating revenue growth.
The AnDe College Project received its award in the global impact category. The team oversaw the partnership between UniSA and Xi'an University of Architecture and Technology (XAUAT) to establish AnDe College in China, which has helped enrich UniSA's profile globally and created a mutually beneficial relationship with XAUAT College.
The Vice Chancellor Professor David Lloyd will join the award recipients by Zoom on 21 July to celebrate their achievements.
ANNOUNCEMENTS
New research to support Upper Spencer Gulf communities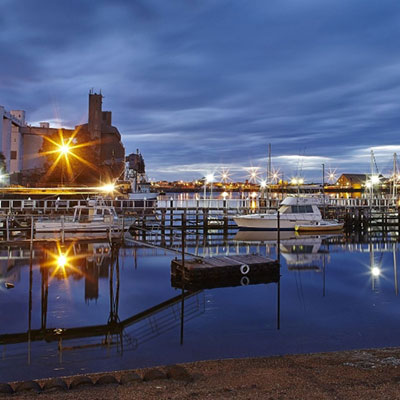 The Australian Alliance for Social Enterprise (TAASE) at UniSA is investigating ways to support the long-term economic and social wellbeing of the towns of Port Pirie, Port Augusta and Whyalla.
Once heavily dependent on the mining industry, these Upper Spencer Gulf communities have gone through numerous cycles of industrial transformation over the past few decades, with limited success.
Under the guidance of Dr Catherine Mackenzie, the TAASE project will examine how locally developed primary, secondary and service industries support these townships, both economically and socially, and how local enterprise might be fostered and enhanced.
Dr Mackenzie will recruit and supervise a postgraduate research student to investigate the value and potential of local economies in the Upper Spencer Gulf region, and TAASE is encouraging local residents to apply for the position, with scholarship funding available for the right candidate.
"Past research by TAASE suggests local enterprise is an essential part of the fabric of regional communities, providing social as well as economic support, and this new research aims to understand how we can foster that in the Upper Spencer Gulf region," she says.
"While there is some variety in economies in the area, it has been mining-reliant industries that have defined them economically, in the process influencing the social and cultural fabric of the communities that have helped sustain them.
"In recent years, investment from international entrepreneurs like Elon Musk and Sanjeev Gupta has brought some promise along with some disappointment, but local options are often overlooked, and our project really aims to highlight those local options.
"An outcome of the research will be to understand the best pathways to foster and develop local entrepreneurs in the region."
The research will also be supported by Dr Jen Cleary, CEO of Centacare Catholic Country SA, who brings to the project both local knowledge and a wealth of experience in research into regional, rural and remote development.
Dr Cleary says that, in the wake of the COVID-19 pandemic, regional communities face unique challenges, and local economic and social networks will need more support than ever through the recovery process.
"The many aspects of community social and economic wellbeing, relationships and lifestyles that are such positive features will be impacted by the aftermath of COVID-19," Dr Cleary says.
"School enrolments; service and retail businesses; community volunteers; and sporting and social club memberships will likely continue to decline beyond the immediate impacts, especially if we see people leaving the regions to find employment in urban areas.
"It is therefore imperative that both social and economic challenges are addressed simultaneously to best support our communities to address recovery – both need to be the focus of policymakers, and this research project will be an important means to support and emphasise that focus."
Prospective domestic students interested in the project need to apply by 31 October to be considered for a scholarship.
UniSA offers a Rural and Isolated Scholarship for students who are originally from rural, regional or isolated areas.
Prospective students can also contact Dr Catherine Mackenzie for further information, by emailing catherine.mackenzie@unisa.edu.au or calling 08 8302 7239.
New podcast to support farmers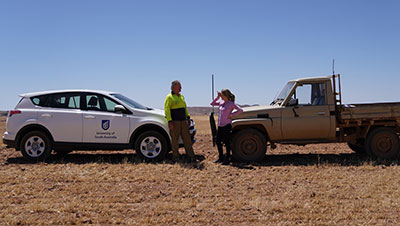 A new podcast involving UniSA is now available to help farmers and people working in agriculture to take control of their lives and reduce the impact of negative situations.
The ifarmwell podcast complements the highly-successful ifarmwell online modules which equip users with tools and strategies they can implement into their everyday lives to help focus on what matters.
UniSA Research Fellow Dr Kate Gunn, who founded ifarmwell, says the podcast was another way those working in agriculture could improve their wellbeing.
"The podcasts explain similar strategies as the web-based modules and cover topics including the power that thoughts have over the way you feel, how to distance yourself from unhelpful thoughts or worries and how to make good decisions," she says.
"Listeners will also hear about how to identify and prioritise their values, shift their attention to the present and ultimately get more out of life.
"With the COVID-19 pandemic alongside bushfires, drought and other challenging circumstances, there are many people in regional areas who might have been doing it tough.
"Hopefully, these podcasts help them gain a new perspective on the sorts of thoughts that unhelpfully consume their energy and encourage them to focus on doing practical things that make their lives better, regardless of the circumstances."
Voiced by former ABC radio presenter Drew Radford, the eight-part series takes the listener on a journey to better wellbeing and helps them put in place strategies to manage life's challenges and get the most out of every day.

The series also features the voices of farmers across Australia who have used ifarmwell and incorporated these strategies into their lives.
The podcast can be accessed by searching "ifarmwell" in Apple Podcasts, Spotify or Soundcloud, or via the ifarmwell website.
This project has been funded by the Country SA Primary Health Network.