Seven South Australian startups forging ahead with innovative ideas
By Georgia Minarelli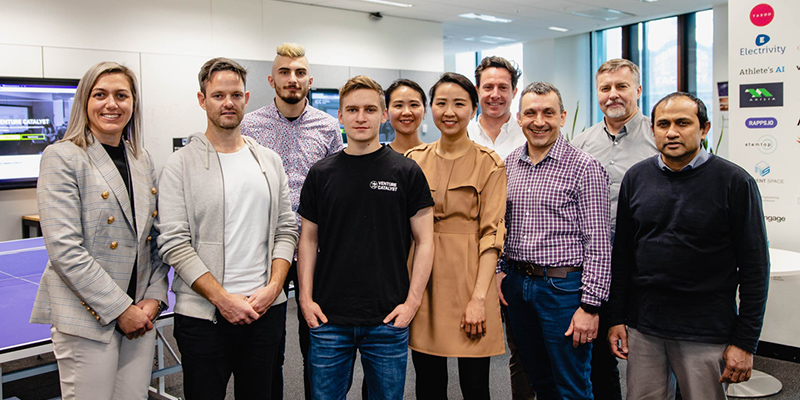 COMMUNITY
A unique method for testing drug interactions on patients using 3D cell cultures that will help eliminate dependency on animal testing is one of seven startup ideas to be developed in 2020 through an incubator program at UniSA.
Venture Catalyst is a six-month program based at UniSA's Innovation & Collaboration Centre (ICC) designed to assist early-stage founders to navigate their journey towards building a globally scalable and investment-ready business. The program received a record number of applications this year.
One of the startups that successfully applied to be part of this year's program, Ominiwell, is working on a unique method for testing drug interactions using 3D cell cultures. The company, formed of UniSA staff, is also working on personalising medicines for patients suffering from cancer and other diseases that rely heavily on new drugs and treatments.
Another startup is developing software that will allow people to increase their reading speed while also being able to retain more information from a document or book, by utilising virtual reality tech.
The Venture Catalyst experience includes world-class startup workshops, coaching and personal mentoring, a stipend, access to a global network of expert advisers, as well as to the University's student, academic and industry connections.
The companies selected to take part in Venture Catalyst in 2020 are:
ByteProTeQ (formed of a group of UniSA staff) is developing a real-time optimisation tool for airport air traffic control to support emergency response decisions, based on the world class optimisation model and modern parallel computer processing.
Golden is a financial wellness app providing insights into personal finance to help customers make informed decisions in their best interests. Unlike its competitors, Golden does this without needing bank login details or violating banks terms of service.
Licorice is updating the user interface for all existing IT software, removing the need for the common 'ticket' system ensuring employees and customers know the progress of every job and when it will happen.
Live Map is an application used to create and visualise maps from digital data and imagery. The software is a map editor which supports multiple users editing maps in real-time and is used to visualise map data and build maps for public and private use.
Ominiwell is creating a unique method for testing drug interactions on patients using 3D cell cultures that will help to eliminate dependency on animal testing and help to personalise medicines for patients suffering from cancer and other diseases that rely heavily on new drugs and treatments.
Virtual Immersive Mindfulness Based Accelerated Learning (VIMBAL) is virtual reality learning acceleration software that increases the speed and retention of a document or book.
Sport Tech Learn (Social Enterprise category) specialises in designing new, integrated, hands-on curriculum and resources that engage students in STEM and literacy, using sport as the vehicle. All STL programs have suggested links to the Australian Curriculum Assessment and Reporting Authority standards, creating adaptable and reliable resources for teachers, schools and parents. It's formed of UniSA Connect Officer: Schools Katie Gloede.
ICC Associate Director Jasmine Vreugdenburg says it is important to continue supporting early stage disruptive technologies, especially when there are economic downturns.
"We believe more new companies start in downtimes than in good times and come out the other end, stronger and more resilient for the experience," she says.
"While it's important to support existing businesses, we want to support fast-growth startups as well, because they can be crucial to our economic recovery."
For the first time, the program was divided into three categories: General, supported by UniSA, for any industry sector focusing on new business concepts with the potential for high growth; Space, supported by the South Australian Space Industry Centre for new services or products in the space industry; and Social Enterprise, supported by the Pank Family for the social enterprises of UniSA students and staff.
The program is supported by the University and the South Australian Government through the Department of Innovation and Skills.
Innovation and Skills Minister David Pisoni says Venture Catalyst is especially important in the current global environment because it is helping to create and support new technologies with the potential to form new industries.
"We are supporting as many entrepreneurs as we can through this challenging time and encouraging them to come back with new ideas and innovations for the future," he says.
"By providing them with the tools for success through the Venture Catalyst program, we are giving more people a chance to create real economic growth which will ultimately drive growth in our state economy."
Along with the successful applicants, a number of other companies that applied have been offered mentoring, workshops and office space.