News & events
Survey – What has study been like during COVID-19?
The National Disability Coordination Officer Program is inviting students with disability to take part in a short 5-10 minute survey to better understand the experiences of study during COVID-19. Participation in the survey is voluntary and will remain anonymous.
Your feedback is important as it will help to develop tools to support students with disability in the online learning environment.
To go in the draw to win 1 of 5 $100 vouchers, please complete the survey before Friday 30 October at this link: https://www.surveymonkey.com/r/ZWS6NWH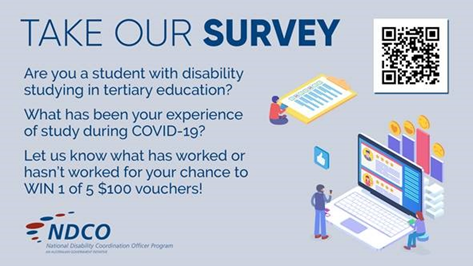 Image Description: Take our survey. Are you a student with disability studying in tertiary education? What has been your experience of study during COVID-19? Let us know what has worked or hasn't worked for your chance to win 1 of 5 $100 vouchers. Logo NDCO Program. QR Code and decorative image of people completing a survey.
PACE Mentoring Program
The Positive Action Towards Career Engagement (PACE) Mentoring Program connects students and jobseekers with disability with experienced mentors from Australian leading businesses.
16 week program running twice per year- April - August and August- November
Meet approximately every 2 weeks setting goals and desired outcomes
Discuss experiences, skills, and career pathways
Reviewing resumes and cover letters
Practice interviews
Networking with other professionals
Building confidence
Understanding key strengths and abilities
Spring 2020 Adelaide Program mentors participating from ANZ and Bendigo and Adelaide Bank from areas including: HR, management, banking and financial services, and recruitment.