Before and after Provost
By Dan Lander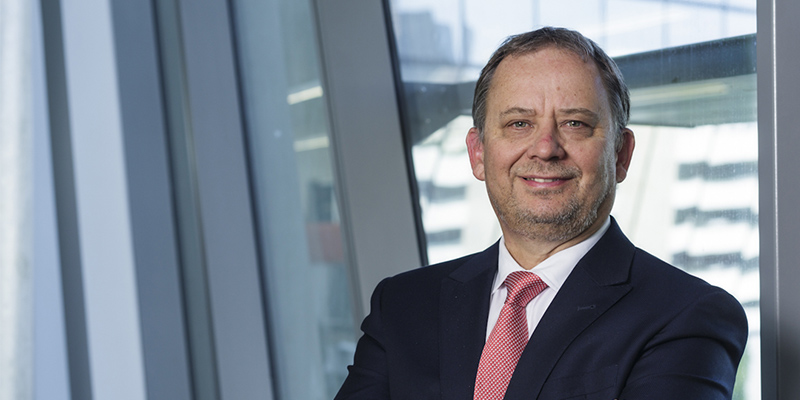 INSIDE UNISA
As Professor Allan Evans prepares for the next chapter in his academic career, he takes the time to reflect on 29 years at UniSA.
At the end of 2021, after almost a decade in the role, Professor Allan Evans will step down as UniSA's inaugural Provost and Chief Academic Officer. Prof Evans was appointed to the position in 2013, and over the past nine years, his work has helped establish UniSA as one of the world's top young universities. His contributions to the University, however, stretch back much further – and perhaps just as significantly, will continue into the future.
Next year, Prof Evans will return to his roots as a researcher in pharmaceutical science, a role he first assumed when he joined the then-fledgling University in August 1992. Prof Evans has always maintained his research involvement at UniSA, and says that while the intensity of his research has been relatively modest since becoming Provost, he is genuinely excited at the prospect of becoming more heavily involved in the area of drug development.
"I think South Australia is a great place for pharmaceutical research – there are a lot of innovations and significant clinical trials happening here right now, across industry and all the state's research institutions," Prof Evans says.
"Within our university, we've got people working in some critical areas, whether that be in developing new vaccines, improved formulations of existing medicines, or developing new treatments for important diseases. With this move, I'd really like to provide some support around these areas."
It is fitting that Prof Evans should return to a thriving South Australian pharmaceutical research sector – after all, Adelaide's vibrancy as a medical innovation hub is, in part, a flow-on from his previous stint as a UniSA researcher. In the 1990s and early 2000s, he was part of a small group of UniSA academics conducting clinical research for pharmaceutical companies. From these modest beginnings, Prof Evans helped establish one of South Australia's most successful UniSA spin-off companies, CPR Pharma Services Ltd.
"We formed CPR Pharma in 2008 to help expand the commercial research activities we were undertaking," Prof Evans says. "I became a non-executive director and helped steer the company's growth over the first decade of independence. The spin-off was tremendously successful.
"CPR Pharma has since evolved into two companies – Avance Clinical and Agilex Biolabs. Collectively, those companies now employ well over 200 hundred people here in Adelaide and interstate. They're doing contract pharmaceutical research for companies all over the world, with well over $200 million in income since formation.
"I am very proud that we created a commercial entity that's been sustaining the careers of hundreds of scientists in South Australia for a long period, supporting Australia's reputation within the pharmaceutical industry, and providing valued support for the international industry."
The establishment of CPR Pharma wasn't just a personal milestone for Prof Evans – it was one of many signs that the fledgling University of South Australia was maturing into a world-class research institution. As someone who was there almost from day one, Prof Evans suggests time may have obscured just how challenging it was to foster that early development.
"Back when the University had just formed, it really didn't have an extensive research culture, but it did have pockets of excellence," he says.
"At that point in time, our focus was actually just to get as many people trained with PhDs as possible, to strengthen the research capability of academic staff across all disciplines. And, you know, if somebody won a nationally competitive grant back then, it was quite a rarity.
"Back in 1992, a close colleague and I received what must have been UniSA's very first NHMRC project grant. It's amazing that in a relatively short time, and despite not having a medical school, UniSA became one of Australia's most successful universities in terms of annual income from NHMRC grants and fellowships."
According to Prof Evans, fostering UniSA's research culture in those early days was not only essential for growing the institution's profile, it was also a key factor in refining, expanding and evolving the University's teaching curriculum.
"In the early years, it was largely a case of, 'This is the way things are practised, and this is the way we're training you, and this is the way you will go and practise when you graduate.'
"But as more of our academic staff became research active, we were able to challenge what we taught and how we taught it. We were able to look at what was happening nationally and internationally within a given professional area and instil research findings more effectively into our curriculum, to provide graduates with an understanding of what's 'possible' rather than what 'is'.
"I think that becoming a research active university was critical to that process, and that's the biggest transformation that I've seen in my time. It's one that I think adds value to the way the University services not just the community but also the professions."
Building on his experience as a teacher and a researcher, Prof Evans carried the same innovative approach into academic managerial roles as Pro Vice Chancellor in the Division of Health Sciences, and then as Provost. During that time, Prof Evans has overseen a massive expansion of UniSA's research and teaching capacity, including the development of UniSA Online, which launched in 2017 to ensure UniSA was a leader in online education.
"When I came into the role of Provost, we didn't really have a university-wide strategy around online teaching, and so it was being done differently across the various sections of the institution," Prof Evans says. "I felt that unless we put a concerted effort into doing something big and significant in that area, we were vulnerable to the ambitions and growth of other universities.
"So, we decided to launch our Digital Learning Strategy and make the big investment into creating UniSA Online. We started with a blank sheet of paper and thought, 'Well, if we were going to build an online university from scratch, what would we do? How would we do it? And what would we do differently to what we do at the moment?'
"Collectively, the team involved realised there was a massive opportunity, and I was really thankful that University Council backed us in putting an investment package together to create UniSA Online, because it has been very successful, growing from zero to 7000 students in a relatively short space of time."
In the four years since the launch of UniSA Online, Prof Evans has played a key role in guiding the University through other transitions, including the recent Enterprise 25 academic organisational transformation.
"The restructure of the University was probably the biggest challenge I've been involved in administratively and doing it at the time of COVID absolutely made it even more difficult. That's not just because it made things more complex, but it meant we couldn't get people together in the ways we had planned and hold the events we had hoped for, and we had financial restrictions as well.
"All that meant some elements have been a little slower to come on board than planned, but they will come, it's just taking longer than it would have without the COVID situation."
While Prof Evans acknowledges how challenging academic administration can be – and admits some part of him will be happy to set certain responsibilities aside – he also emphasises how rewarding that work can be, and how important it is that those roles are performed by experienced academics who understand the vital connection between teaching, research and professional practice.
"There is certainly an element of business management involved in running a university, but universities are not profit-making ventures. Yes, we do require a healthy balance sheet, but that is only to ensure we can invest back into UniSA, and that is very rewarding, because you see the positive impact – students have better facilities, researchers have the support they need to pursue ideas, and systems and processes can be improved.
"In my administration roles, I feel very fortunate to have been able to support students, researchers and teachers develop their careers, to see them grow and to see them help the University grow. It's important to have academics that are motivated to move into management, because it ensures the institution maintains a laser-like focus on our fundamentals. I think this University is very fortunate in that respect."
Working from that position of strength, Prof Evans believes UniSA has a bright future, with great opportunities to keep building on the foundations that have been laid over the past 30 years.
"I think we will continue on our journey of getting better, building our reputation, and having more impact on the community. I think there will be serious consideration given to building more of an international presence. I think that just makes sense – UniSA Online has taken us beyond the borders of South Australia, now we need to take ourselves beyond Australia.
"Based on our proven reputation around innovation and education in Australia, I'd like to think we can deliver the same in international education. And that might not be setting up a traditional university campus offshore, it could be something quite different.
"I've already given some thought to what that might look like, but it's probably up to the next generation now …"
Professor Evans is greatly appreciative of the wonderful mentorship and support he has received from current and former colleagues during his UniSA journey, and would like to particularly call out Emeritus Professor Lloyd Sansom AO.
"Lloyd was one of my lecturers when I studied pharmacy at SAIT in the early 1980s. His energy and passion for research and teaching was infectious and this drew me back into the world of academia. Lloyd supported my early career more than any other person and taught me the value of mentorship and collegiality. I hope to be able to provide a similar level of support to the younger academics of UniSA over coming years.
"I'm certainly looking forward to this next phase. I'm not quite sure where the journey will lead, but that's what makes it so exciting."