From UniSA graduate to foreign correspondent – journey to the White House
By UniSA Journalism and Professional Writing student Elisabeth Marie
When Zoe Daniel was assigned the role of United States bureau chief for the ABC in December 2015, she was expecting a relatively uninteresting placement as a foreign correspondent. Hillary Clinton was expected to win the election and have a very straightforward administration as President of the United States. It wasn't long until Daniel realised she was in for a very different experience.
Growing up, Daniel planned on becoming a veterinarian but after her science teacher suggested she should do something she was better suited to, she found her calling as a journalist. In her senior years of school in Hobart, Daniel started looking to further her education as a journalist.
"At that point, there weren't many journalism courses in Australia and there wasn't one at the University of Tasmania. So, I looked interstate and there were a few that stood out as being very good. One was in New South Wales and the other was in Adelaide," Daniel says.
After completing high school, Daniel moved to Adelaide to study journalism at UniSA.
"It was quite a big transition for me because I left my family having just turned 18 and moved interstate on my own to live in Adelaide for three years attending university."
During her third year at UniSA, Daniel responded to ABC's request for interns. Daniel spent a few weeks interning as an ABC radio producer which immediately led to a job.
"From halfway through third-year I was already working in a paid role at the ABC part-time. I was then able to launch from that into a full-time radio producer role that evolved into being a reporter and presenter," Daniel says.
During her career with the ABC, Daniel travelled all over the world, living in places such as Athens, Johannesburg and Phnom Penh. In December of 2015, Daniel, along with her husband and two children, moved to the United States after being assigned as the United States bureau chief. While Daniel was in this position, Donald Trump became the President of the United States.
"The expectation was that Hillary Clinton would win the election and it would be a boring administration. But, as soon as I arrived in the US and started travelling around the country going to campaign events for both Hillary Clinton and Donald Trump, it became apparent that he had a lot of support and that those people were very passionate and very mobilised to get behind him," Daniel says.
Daniel visited 44 American states, attending rallies for Clinton and Trump. She was amazed to find that attending rallies for Donald Trump was more like attending a "rockstar event" than a political rally. Where Clinton would have a few hundred people attend her rallies, Trump would have thousands of supporters lining up for hours in freezing snowfall or blazing sunshine just to catch a glimpse of him. Daniel attended these rallies hoping to talk to Trump's supporters and understand why they saw him as a figure of hope and what they believed he could provide for them that other candidates couldn't.
"In my mind, it was the fact that he was the anti-politician, the renegade. It was a perfect storm of a campaign in that, other than being a woman, Hillary Clinton is very much a classic establishment candidate because of her background. Donald Trump provided something fresh."
Daniel's publisher had been chasing her to write a story, but her posting in the United States was relentless and didn't allow her time to write a book. Back in Australia, Daniel started pondering the context of Donald Trump's legacy; the things he has changed and the boundaries he has shifted. Putting these thoughts down on paper, Daniel, along with her colleague and fellow UniSA graduate, Roscoe Whalan, began writing Greetings from Trumpland: How an Unprecedented Presidency Changed Everything to provide context to people and help them understand why people supported Donald Trump.
"While the Trump book market is quite crowded, this book is different because much of it focuses on Donald Trump's supporters; who they are and what drove them to support him in 2016 and again in 2020," Daniel says.
"It's about helping people understand things they don't currently understand or telling them things or giving them a perspective that they don't already have or know about. This book is designed to give people a look behind, you get a sense of what life is like being a correspondent in the US and what it was like during that era of Trump, but also just who those people are that supported Donald Trump."
The time Daniel spent in the United States as a foreign correspondent was an unparalleled opportunity and one that many young journalists aspire to. With high demand for information, Daniel believes there is a need for young journalists with a passion for storytelling.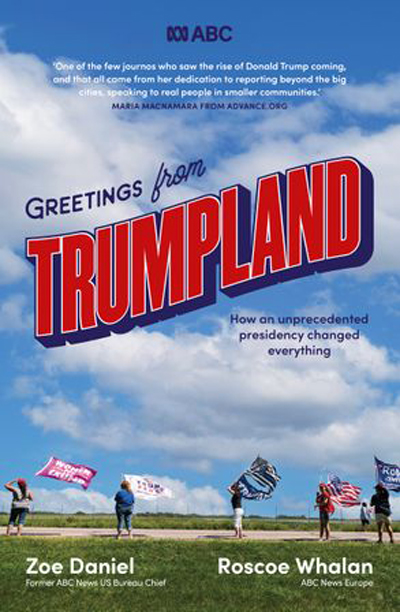 "It was certainly a period of history that will be remembered and it was one of the great privileges of being a foreign correspondent to be up close to the unfolding events," Daniel says. "The reason you become a journalist is to expose truths and hold powers to account; to tell stories and illuminate issues; to tell people things they didn't already know and help explain those things.
"I think the first thing [to being a successful journalist] is being willing to move and adapt to a new environment and get new experiences. Be flexible and be adept with technology. Being multi-skilled in today's environment is essential to being a journalist and then using [those skills] to be creative in the ways you put stories together and approach the way you're reporting. The other basics of journalism still exist: talk to a lot of people and make a lot of contacts; listen and push yourself outside your comfort zone when it comes to making those contacts; spend a lot of time talking to people and figuring out what's happening with them and then communicating that to others."
The book Greetings from Trumpland is published by HarperCollins.