UniSA honours the late Bob Hawke's long-term assistant Jill Saunders
By Rosanna Galvin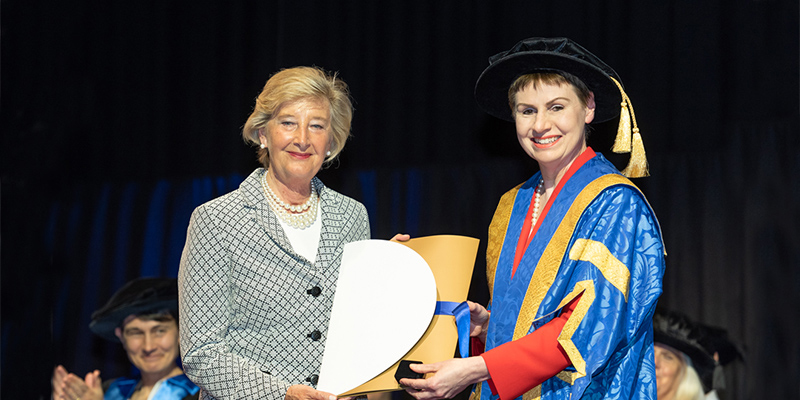 COMMUNITY
It was on a defining day in Australian politics that Jill Saunders had her own 'sliding doors' moment. The third of February 1983 saw then Prime Minister Malcolm Fraser call an election on the same day Bob Hawke was elevated to the Leader of the Opposition.
Saunders – who grew up on a farm in Tasmania and was in the first decade of a political career in Canberra – found herself in the newly created Hawke office, after her boss at the time, Senator Don Grimes, offered her services as a "loan" during the election campaign.
It was the start of what would become a working alliance of more than 36 years as Hawke went on to win the March 1983 election – and the three that followed – with Saunders by his side as a trusted and talented personal assistant.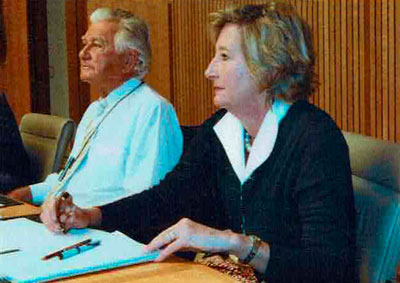 When Hawke's prime ministership came to an end in 1991, he asked Saunders to continue working for him as his private secretary, managing media, ongoing research, and his public commitments and appointments.
It was a role she held until Hawke's death in 2019. Today Saunders still carries on his legacy, contributing her time, knowledge and expertise to UniSA's Bob Hawke Prime Ministerial Centre, as she oversees the transfer of Hawke's personal archives to the University.
In the September graduations this year, UniSA acknowledged Saunders' outstanding contribution to the growth and development of the University by making her a Fellow of the University.
Saunders – who was an integral part of the Hawke Centre's establishment in 1997 and its ongoing development aligned to the themes of strengthening democracy, valuing diversity and building the future – says she was shocked and humbled to receive the accolade.
"In my role as private secretary to Mr Hawke, I was assisting him in his vision and aspirations for the success of the collaboration with UniSA, and for the University to recognise my own contribution in that work is something very special to me," she says.
"It is an honour to join such a stable of very worthy contributors to the University. I have received a lot back from my relationship with the University through so many friendships and connections."
Saunders remains actively involved in documenting and archiving Hawke's life at the Bob Hawke Prime Ministerial Library, working alongside dedicated UniSA archivists under the guidance of Deputy Director of Library Services, Sian Woolcock.
As she goes through what she describes as "the mammoth task of packing up such a huge life that was Mr Hawke's", Saunders has also had the opportunity to reflect on her own career.
"I was just doing my job and I was always happy doing that – it's not until a lot later on that you reflect on things because at the time you're just getting through," she says.
"Mr Hawke was a very interesting and dynamic person, a great person to work for. Life was never dull. Working for someone like that was a reward in itself.
"He didn't stand for any nonsense. If he asked you to do something, he expected you to get it done.
"The most important advice I got from him was that you have to listen to people and always look for the good in a person."
Saunders, who still lives in Sydney but spends a lot of time at the family farm back in Tasmania, says the ongoing collaboration with UniSA through the Hawke Centre is something she's proud of.
"Mr Hawke stressed that he did not want the centre to be a 'monument' to him; it was about continuing to share the knowledge and experience that influenced his thinking and shaped his life," she says.
"The centre, under the directorship of Jacinta Thompson, continues to have a very important role, not just within the University itself, but also the Adelaide community and with far more reach online."
Saunders was one of a number of people recognised at the September graduations for their outstanding contributions to the University. You can read more about the other recipients below.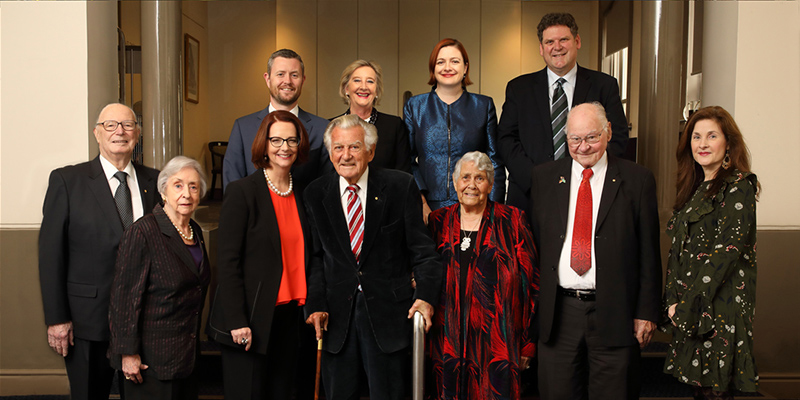 UniSA celebrates its academic stars at September graduations
The University's September graduation ceremonies saw more than 1800 students graduate and a number of UniSA academics recognised for their service to the institution.
Seven professors received the title of Emeritus Professor, including:
Professor Larry Lockshin, UniSA Business
Professor Graham Brown, UniSA Business
Professor Mads Gaardboe, UniSA Creative
Professor Robert Hattam, Education Futures
Professor Rick Sarre, UniSA Justice and Society
Professor Wasim Saman, UniSA STEM
Professor Andreas Koronios, UniSA STEM
The ceremonies were held at Pridham Hall from 28-30 September.