Health students step up to the plate to help curb Australia's $170b medical bill
By Candy Gibson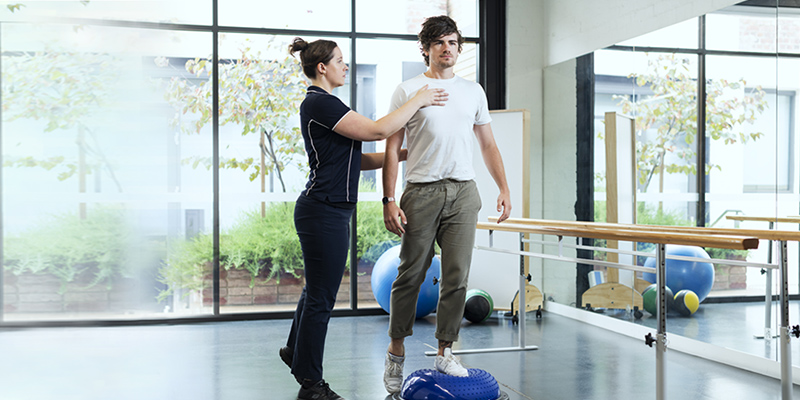 COMMUNITY
People living with chronic health conditions in some of Adelaide's most disadvantaged suburbs will soon get a helping hand from UniSA's final-year health students.
A $780,000 pilot program will see UniSA students work closely with residents living in the north-western suburbs who are battling with a range of health issues, including obesity, heart disease, cancer, musculoskeletal conditions, mental and drug disorders, and chronic injuries.
Chief investigator Professor Susan Hillier says students from UniSA's occupational therapy, physiotherapy, podiatry, health science, medical radiation, and exercise and nutrition programs will guide and support residents by developing individual exercise and dietary programs to improve their health over a 12-week period.
UniSA will lead the innovative program in collaboration with The Queen Elizabeth Hospital, Charles Sturt Council and the North West Adelaide Health Study.
It will trial a new, cost-effective approach to public health by working at the community level with a graduating workforce benefitting from a "patient-centred, comprehensive, affordable model of care," Prof Hillier says.
"This means that people who are at risk of poor quality of life and increased hospitalisation will get help to self-manage their own health," she says. "This could include education and support for better eating and increased physical activity, managing medications, sleeping better or balancing their life for improved mental health.
"It's a win-win for students too, who will benefit from learning at the coalface, and accessing best practice and information."
The outcome should be improved community health, fewer hospitalisations and significant cuts to health budgets, Prof Hillier says.
Chronic health conditions account for the greatest health burden of disease in Australia, the majority of which are largely preventable through changes to lifestyle and diet.
A survey of 4000 people in Adelaide's north-western suburbs over the past 20 years shows that heart disease and mental health conditions have plateaued, while asthma and diabetes are more prevalent.
High blood pressure remains an issue for about a quarter of the population and more than 50 per cent do not do enough exercise to maintain good health, contributing to a 10 per cent increase in obesity, from 60 to 70 per cent.
Smoking rates are one of the few health improvements, dropping from 22 to 13.6 per cent since 2000.
The national health spend grew in real terms by 50 per cent between 2006 and 2015, from $113 billion to $170 billion, two-thirds of this attributed to wages.
"We have a health system that is focused on acute ill health, arguably at the expense of a growing need to prevent and manage chronic health conditions. A new and more cost-effective approach is urgently needed, and we believe a community-based model is the answer," Prof Hillier says.
If successful, the model will be rolled out across other regions using a mobile student workforce.
The Federal Government is funding the Healthy Choices Program pilot under a Preventive and Public Health Research Grant.