Could our beloved Aussie rules footy be turning into soccer?
By Rosanna Galvin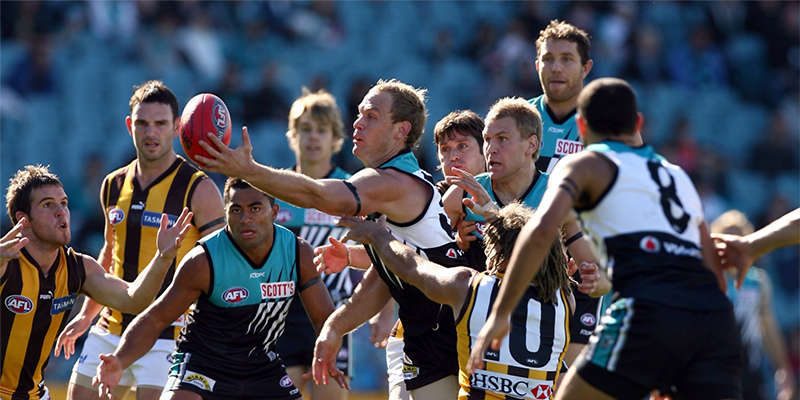 COMMUNITY
The 2019 Australian Football League (AFL) season was the lowest scoring season in more than 50 years, despite the introduction of new rules aimed at encouraging attacking play and boosting the number of goals scored. This year, the downward trend on the scoreboard continues – even accounting for the shorter quarters currently in place.
According to a new UniSA research paper, the reason for low scoring games such as the one fans witnessed in July – when Sydney and Richmond only managed seven goals between them in Round Six – comes down to a greater focus on defence.
UniSA masters student Jackson Lane, a member of the research team that conducted an analysis of the evolution of footy in the past two decades, says indicators of defensive play such as player density, tackles and stoppages have all increased significantly during the period studied, while offensive statistics that reflect free-flowing play such as scoring, running bounces and play on from mark percentage, have all decreased.
"The AFL competition has seen scoring progressively decline since it peaked in 1982 at 112 points per team per game," Lane says.
"The 2019 season saw an average of 80 points scored – the lowest average since 1968 – despite nine rule changes introduced that year to promote free-flowing and instinctive play, which were designed to generate higher scoring games.
"Looking more closely at the data from the past three seasons, it seems as though the scoring rate has fallen off a cliff entirely. At this rate of decline, it may not be long before goal scoring in Aussie rules footy resembles that of a soccer match."
Lane, who worked with supervisors Dr Grant van der Ploeg and Professor Kevin Norton, says the Inside 50s (entries into a team's attacking section) have remained the same over the past 20 years, indicating defensive structures in the game have become increasingly difficult to penetrate and score against.
"These structures have evolved in recent times and have culminated in an 18-player defensive system," he says.
"This system often results in all players being in one-third of the ground, increasing the likelihood of congestion while making it nearly impossible to display the free-flowing offensive play needed to kick goals.
"Higher scoring, free-flowing play with less congestion and stoppages is favoured by AFL spectators, which is why rule changes implemented by the league are generally designed to promote these play styles, centred around attacking.
"Yet our data shows the nine changes introduced in 2019 with the aim of shifting the focus back to offense, did not have the desired impact in the first season. Defensive play styles increased from 2018 and were the highest ever recorded in the review period, while offensive play styles decreased to the lowest average recorded."
Lane says there are several changes the league could introduce to get scores back up, including:
Reducing the number of players on the ground (AFLW has 16 players on the field)
Further reducing interchange rotations to create fatigue
Incentives for higher scoring (such as bonus points for scoring a certain number of points per game/quarter or bonus points for winning each quarter like the Australian Netball competition)
Introducing zones to spread out players across the ground (SANFL has rules on this for Male Under 16 and Under 18 divisions and Senior Women competition)
Last possession out of bounds rule to reduce stoppages and discourage boundary use (currently in place in the SANFL).
The paper Characterisation of offensive and defensive game play trends in the Australian Football League (1999–2019) was published in the International Journal of Performance Analysis in Sport.