The latest books from UniSA researchers
---
Turning Psychology into Social Contextual Analysis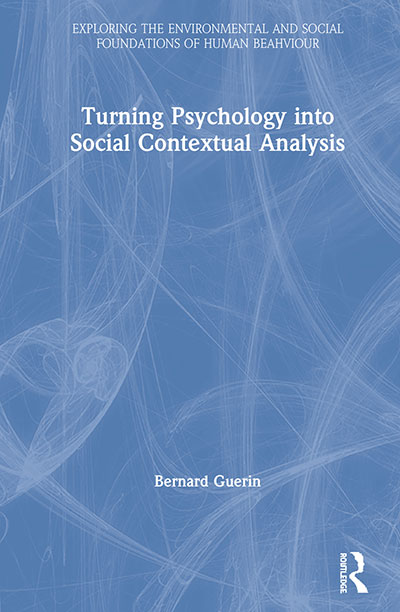 Turning Psychology into Social Contextual Analysis, by Professor Bernard Guerin, shows how we can build a better understanding of people by merging psychology with the social sciences. It is part of a trilogy that offers a new way of doing psychology focusing on people's social and societal environments as determining their behaviour, rather than internal and individualistic attributions. Putting the 'social' properly back into psychology, Prof Guerin turns psychology inside out to offer a more integrated way of thinking about and researching people. Going back to the 'cognitive revolution', Prof Guerin argues that psychology made a mistake, and demonstrates in fascinating new ways how to instead fully contextualise the topics of psychology and merge with the social sciences. Covering perception, emotion, language, thinking, and social behaviour, the book seeks to guide readers to observe how behaviours are shaped by their social, cultural, economic, patriarchal, colonised, historical, and other contexts. Available from Routledge.
Turning Psychology into a Social Science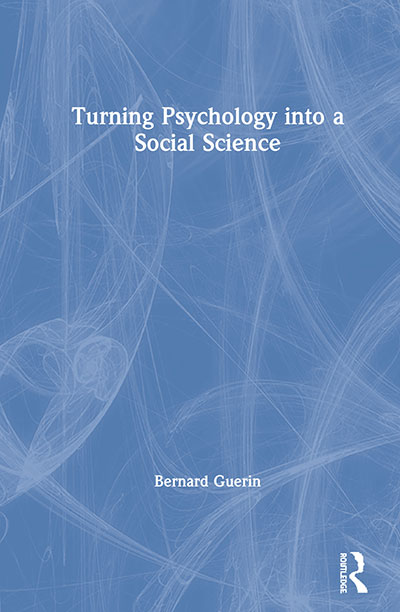 Turning Psychology into a Social Science, by Professor Bernard Guerin, explores a new understanding of psychology based on human engagement with external contexts, rather than what goes on inside our heads. By showing that we engage directly with our complex social, political, economic, patriarchal, colonised, and cultural contexts and that what we do and think arises from this direct engagement with these external contexts, Prof Guerin demonstrates that Western ideas have systematically excluded the 'social' but that this is really where the major determinants of our behaviour arise, and psychology needs to merge with the other social sciences. This book works through many human activities that psychology still treats as individualised and internal and shows their social and societal origins. Available from Routledge.
Turning Mental Health into Social Action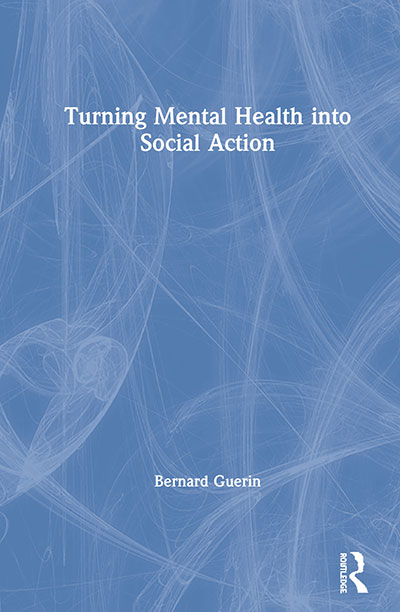 Turning Mental Health into Social Action, by Professor Bernard Guerin, offers a refreshing new approach to mental health by showing how 'mental health' behaviours, lived experiences, and our interventions arise from our social worlds and not from our neurophysiology gone wrong. 'Mental health' behaviours are carefully analysed as ordinary behaviours which have become exaggerated and chronic because of the bad life situations people are forced to endure, especially as children. This shifts mental health treatments away from the dominance of psychology and psychiatry to show that social action and societal change are also needed as treatments because many of these bad life situations are produced by our modern society itself. By providing new ways for readers to rethink everything they thought they knew about mental health issues and how to change them, Prof Guerin also explores how by changing our environmental contexts (our local, societal, and discursive worlds), we can improve mental health interventions. Available from Routledge.
An Anthology of Australian Albums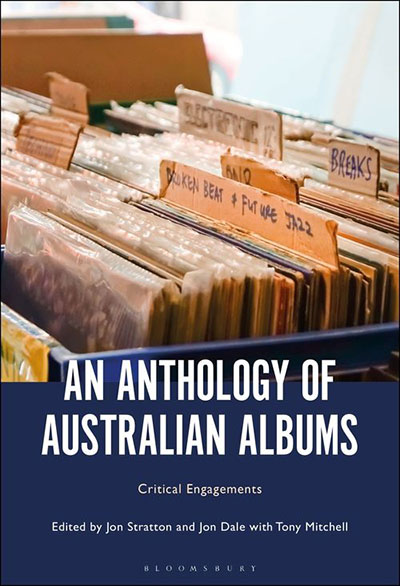 An Anthology of Australian Albums, co-edited by UniSA Adjunct Professor Jon Stratton, offers an overview of Australian popular music through the lens of significant, yet sometimes overlooked, Australian albums. Chapters explore the unique qualities of each album within a broader history of Australian popular music. Artists covered range from the older and non-mainstream yet influential, such as the Missing Links, Wendy Saddington and the Coloured Balls, to those who have achieved very recent success (Courtney Barnett, Dami Im and Flume) and whose work contributes to international pop music (Sia), to the more exploratory or experimental (Curse ov Dialect and A.B. Original). Collectively the albums and artists covered contribute to a view of Australian popular music through the non-canonical, emphasising albums by women, non-white artists and Indigenous artists, and expanding the focus to include genres outside of rock including hip hop, black metal and country. Available from Bloomsbury.