MBA student creates Australia's most eco-friendly magazine wrap
By Jenny Qian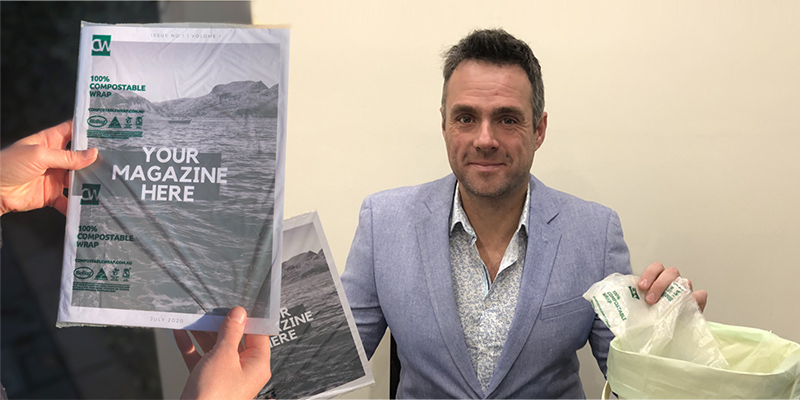 BUSINESS AND LAW
A UniSA MBA student has helped develop Australia's first fully compostable, clear magazine wrap – an idea that started with a university assignment.
UniSA MBA student Chris Lawson, who is the managing director of Adelaide-based company Direct Mail Centre, has collaborated with local manufacturer BioBag World to create a fully compostable magazine wrap that leaves no microplastics.
The wrap, called Compostable Wrap, is the cleanest alternative wrap that is certified to Australian standards, and can be composted industrially or at home in green organics bins.
Lawson says the Strategic Thinking course in the Master of Business Administration (MBA) program led him to this lightbulb moment.
"The first class of UniSA's MBA program is Strategic Thinking, and for one of the assignments, we had to put together an executive report on our current organisation," he says. "Using various analyses (such as PESTLE and SWOT), I identified an opportunity for product diversification into greener alternatives as a possibility to give the Direct Mail Centre a competitive advantage in our industry."
Lawson says the MBA program has taught him valuable skills that he has applied as managing director.
"The UniSA MBA was instrumental in helping me identify a strategy for the Direct Mail Centre," he says.
"Compostable Wrap would not exist in its current form had I not directly applied my learnings from the MBA to the process of developing this new product."
With the South Australian Government taking action to ban single-use plastics, Lawson says he saw an opportunity to create positive environmental change.
"Organisations have a corporate social responsibility to show commitment to environmental sustainability, so I wanted to see what the Direct Mail Centre could do to adhere to this," Lawson says.
"Secondly, in the analysis mentioned earlier, I identified the current and proposed ban of single-use plastics and the negative perception around plastic as an opportunity to offer an alternative solution to our customers.
"When you think about the millions of magazine wraps that break down into microplastics, we have the ability to change that right now."
Compostable Wrap has already been used by several Direct Mail customers, including a mail out to retirement villages across Australia.
UniSA's MBA was ranked number one nationally and number six globally in the 2019 CEO Magazine's Global MBA Rankings.