How uni is helping Kyle in and beyond the pool
By Ethan Owens
INSIDE UNISA
From 4am wake-ups to late night finishes and sporadic international travel, the life of an elite athlete is unlike any other.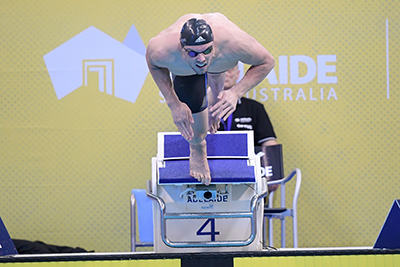 Olympic gold medallist Kyle Chalmers, who is studying psychology at UniSA, is one of 343 UniSA student-athletes who are part of the University's Elite Athlete and Performer Program, which is designed to help them balance the pursuit of excellence in sport and an academic future.
Many elite athletes, including Chalmers, aspire to have long and successful careers after they retire from sport.
Program coordinator Danielle Clarke says UniSA supports elite athletes through a range of initiatives intended to create an adaptable and understanding environment. UniSA is a Sport Australia approved Elite Athlete Friendly University (EAFU).
"UniSA offers a range of flexible learning services including online and part time study options, mixed-mode attendance and alternative arrangements for assessments and exams for when deadlines and exam days overlap with competition or travel," Clarke says.
Chalmers is one of a number of high-profile student-athletes enrolled in the program, including AFLW star Chelsea Randall and track cyclist Matt Glaetzer.
After a successful 2018 – winning four gold medals at the Commonwealth Games, a Pan Pacific title and numerous wins on the World Cup circuit – Chalmers credits the program with allowing him to be able to "chip away" at his degree while travelling the globe.
"Attending a university that is flexible and understanding of my needs is really important to me because I feel that the chance to study is a great distraction from the pressure and intensity of sport at the highest level," he says.
After being awarded a UniSA Elite Athlete Scholarship last year, Chalmers is an advocate for the program's ability to help athletes like himself to set up their future for life after sport.
"When I retire from swimming, I am interested in combining both passions by pursuing a career in sports psychology of some kind. But right now, my priorities are in the pool," Chalmers says.
Growing up in the sporting spotlight, Chalmers has regularly worked with psychologists who have helped him through the highs and lows of his career, which is part of the reason he wanted to study a Bachelor of Psychology.
"I find the work psychologists do is very interesting. Superficially, what we experience appears to just be emotions, but a sports psychologist can bring reasoning to these feelings in relation to our sport and help develop ways in which we can train ourselves to be better," Chalmers says.
"Both as athletes and people, our decisions, reactions, habits and lifestyle are all mental choices and the science of it is something I want to keep exploring in my future."
Chalmers has found the skills he has acquired as a high performance athlete have helped him be successful with his studies and, combined with his degree, will make him a competitive candidate in the future.
"I see a lot of similarities between swimming and study. I must be disciplined, committed, organised and strategic to get the best out of myself," Chalmers says.
"Assisting athletes like us with studies is more than an investment our future but also their chosen industries because athletes possess some of the most sought-after skills for employers such as work ethic and attention to detail."
Chalmers is currently preparing for July's World Championships in Korea and the 2020 Tokyo Olympics. He admits his stubbornness has stopped him from accepting all of the program's support.
"Sometimes I want to believe I can get all my assignments done on time with my schedule and don't ask for help or extensions, but I know that I should use the services more," Chalmers says.
"People may see the program as a way of making it easier to get our assignments done, but it is more of a safety net in case things change.
"I think that flexible study options are nothing to be ashamed of because everyone is different and has different needs, we are lucky to have that support from our uni.
"The best word to describe the life of an elite athlete is 'unpredictable'. To know that UniSA can assist with an ever-changing schedule is a great reassurance."