Students to help defence personnel prepare for global sporting events
By Michèle Nardelli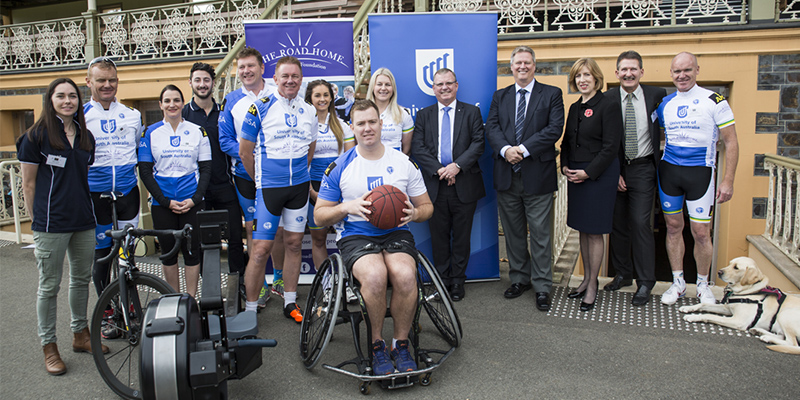 COMMUNITY
UniSA physiotherapy, exercise physiology and exercise science university students will use their skills and knowledge to support current and former serving Australian Defence Force members taking part in selection trials for the Invictus Games and Warrior Games.
It's the result of a memorandum of understanding (MoU) between the Australian Defence Force (ADF) and UniSA for adaptive sports that provides opportunities for final-year UniSA physiotherapy, exercise physiology and exercise science students to apply their skills and knowledge to support veterans and serving defence personnel.
The MoU builds on a highly successful collaboration to support serving and former serving ADF wounded, injured or ill service members and women since 2017, through the ADF, RSL, UniSA and The Road Home Invictus Pathways Program.
UniSA Pro Vice Chancellor for Health Sciences Professor Roger Eston says the partnership is one that is full of benefits.
"When training in Adelaide, current and former serving ADF members receive support to improve and refine their competitiveness and performance specific to their event, and UniSA students have the opportunity to apply their skills and knowledge in a real-world sports environment with competitors who may later perform on a national and global stage," Prof Eston says.
"Now that the MoU is formalised, our students will continue to work alongside the Road Home and ADF Adaptive Sports Program (ASP) trainers and coaches and undertake high performance testing – including assessment of maximal aerobic capacity, power testing, lactate threshold assessments as well as a range of strength and lung function tests.
"Students will also provide physical therapy and training support during the national swimming and cycling training camps around Adelaide."
Director General ADF Sports, Brigadier Phil Winter, says the MoU will give serving and ex-serving wounded, injured or ill competitors attending adaptive sports training camps in SA, improved access to world class sports science laboratories and testing facilities that are "state-of-the art" for measuring human performance.
"The facilities, cooperation and the professional support that UniSA staff and students provide to the adaptive sports competitors results in a very positive partnership, and the ADF is pleased to continue this collaboration to support the WII community," Brigadier Winter says.