Colombia defies old stereotypes during eye-opening study tour
By Ethan Owens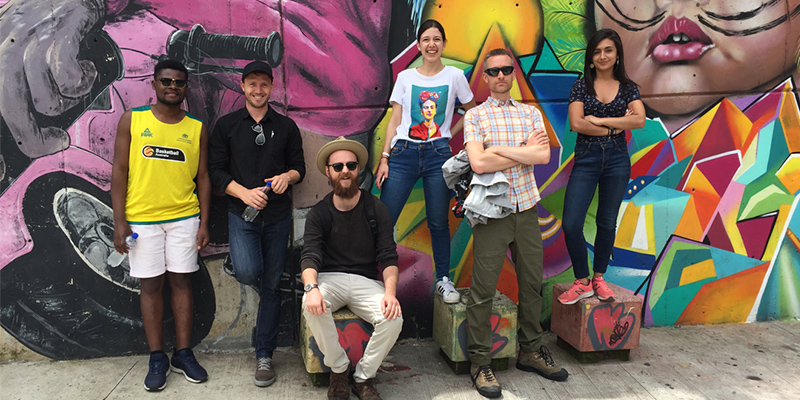 ART AND DESIGN
What does Australia have in common with Colombia? – a country still stereotyped as being run by drug cartels and fractured by guerrilla warfare.
A lot, according to UniSA lecturers Dr Johannes Pieters and Joti Weijers-Coghlan, who recently took 11 UniSA students on an urban design study tour to the South American country as part of a developing relationship with a 366-year-old university, Universidad del Rosario. The university, located in the country's capital, Bogota, is known as the Cradle of the Republic because of its important place in Colombia's history.
"We found that Australia has so many urban planning and design challenges in common with Bogota and Medellin – even though Bogota, for example, has five times the population of Adelaide in about the same amount of space," Dr Pieters says.
Colombia's tainted image is increasingly unfounded – the country is no longer heavily involved in cartel activity, political solutions are minimising civil unrest and it's becoming a popular tourist destination.
Architecture student Cameron White says a highlight was visiting what was once one of the most dangerous slums in Colombia's second-largest city Medellín. Comuna 13, which clings to the mountainside, has undergone an impressive transformation in recent times.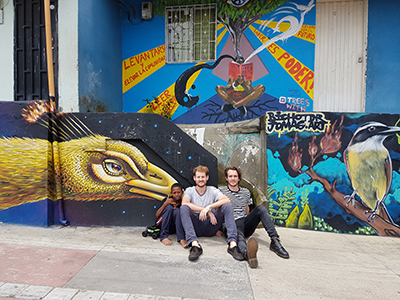 "It was a melting pot of cultural history, graffiti artistry, beautiful local people and inspiring Favela style architecture that seemed to just grow from the rolling hills," Cameron says. "The busking local dancers were amazing and had a crowd gathered and created a welcome feeling.
"Before entering Comuna 13 I was sceptical. I thought that increasing tourism to an area that has low income and a serious history of crime and violence wouldn't work. But the tourism created seems to be helping the local communities thrive and it doesn't feel contrived."
New infrastructure, including a metro system, cable car and six outdoor escalators – climbing the equivalent of 28 storeys – has made life in Comuna 13 a lot easier for residents and opened up the area to tourists. Medellin was named the world's most innovative city in 2013.
"We walked around for several hours in the morning but I easily could have spent an entire day and further immersed myself through trying street food if we had the time," Cameron says.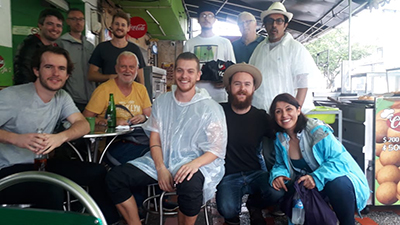 As part of the visit, students completed a two-week course through the Universidad del Rosario's Urban Management and Development program.
Dr Pieters, who lectures in Urban Planning, says students worked with their Colombian hosts to look at urban design improvement strategies for proposed extensions to the famous TransMilieno Rapid Bus Transit service along the main road in Bogota – Carrera Septima (7th Street).
"The University of Rosario had planned the whole tour to ensure our stay was extraordinarily comfortable, safe, culturally rich and packed with real life urban challenges," Dr Pieters says.
Architecture lecturer Joti Weijers-Coghlan says students were also given an eye-opening look into Medellin, which has introduced cable cars as part of an initiative to improve impoverished and previously crime-ridden neighbourhoods through better mobility and access to the city centre.
"Here in Australia our urban planners and architects face problems and challenges every day regarding public transport, social housing, planning for green space and entrenched disadvantage," Weijers-Coghlan says. "The differences between Adelaide and cities like Bogota and Medellin is the scale and intensity of those issues.
"To be able to collaborate with a university on the other side of the world was a really important way of broadening the scope of our ideas about the education of planners and architects – there is nothing like living in another city for a while to make you think about your own city more critically."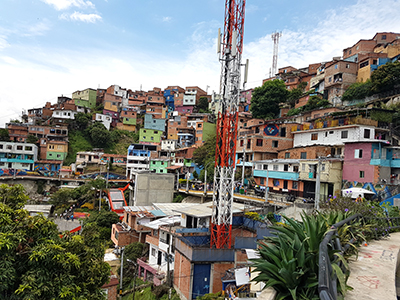 Bogota's vibrant heart, a colonial district called La Candelaria, was a highlight for Masters of Urban Planning student Gurinder Khera.
"It's a wonderfully colourful, historic and charismatic area where street art, painted houses and narrow cobblestone streets take on a unique perspective where the past meets the present," Gurinder says.
"The area is highly walkable, charming, clean and artistic there is a sense of community and closeness. It exhibits the very elements of New Urbanism that American-Canadian journalist, author, and activist Jane Jacobs espoused."
Dr Pieters says Medellin's well thought out and modern public transport system facilitating easy interchanges between trains, trams and cable cars, has strong support although metro systems are seen by some politicians and academics as overly expensive compared with Bus Rapid Transport systems.
He says he was inspired to visit Colombia after listening to a guest lecture at UniSA eight years ago by a Colombian woman who discussed child-centred urban policies in Colombia as part of a course taught by late colleague Dr Lou Wilson.
Representatives of the University del Rosario in Bogota visited UniSA in 2016 exchanged information about respective urban planning courses which helped establish a bond for the collaboration.
Funding from the Commonwealth's Endeavour Leadership Program helped make the tour happen.
Cameron loved the experience so much he is now studying Spanish.
"I have an extremely basic grasp on Spanish but having returned from Colombia loving the South American experience I am now attempting to learn the language with plans to travel back to South America within the next year," he says.
"I also learnt so much about different housing styles and density of living and think that these will have impacts within Australia in my working lifetime.
"Urban sprawl within major cities in Australia cannot continue and lessons on how to create successful dense cities can be learnt from cities such as Bogota and Medellin whose mistakes in urban planning can be avoided."