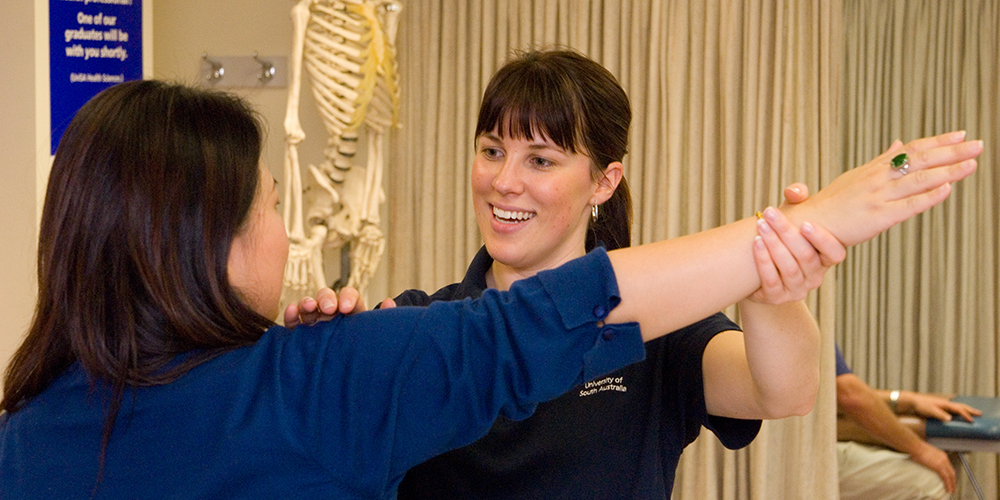 COVID-19 Management Procedures
Services will remain open with the following measures in place to protect our community any minimise risk as much as reasonably possible. Please click here to read about additional measures being implemented to keep you and our community safe
To meet current South Australian Government Restrictions, masks are required to be worn when visiting this clinic.
Committed to providing high quality, progressive, evidence-based physiotherapy to the community.
Based at UniSA's City East, City West, and Magill campuses, the Physiotherapy Clinic offers assessment and treatment across a variety of different areas. Services are provided by professionally supervised final year undergraduate physiotherapy students, postgraduate students and/or fully-qualified physiotherapists.
Designed to address your individual needs, we deliver hands-on quality care to help restore, maintain and promote optimal physical function and sports participation.
We offer self-management strategies and home exercises to clients with a range of issues that may recur. We design exercise programs for individuals and groups, and offer advice about safe work practices, exercise and fitness, return to work, as well as health and wellbeing.
Appointments are essential (a medical practitioner referral isn't required to access our services).
UniSA City East Campus
Telephone: (08) 8302 2541
Fax: (08) 8302 2977
Email: physiotherapyclinic@unisa.edu.au
Location
UniSA City East campus
Level 8, Centenary Building (Room C8-40)
Corner of North Terrace and Frome Road
Adelaide SA 5000
Clinic hours
Monday-Friday, 8:00am-5:00pm
Car parking
The clinic has one permit park available on campus for clients with mobility issues. Please speak with the clinic reception regarding this car park when scheduling your appointment.
UniSA City West Health and Medical Clinic
For allied health services please contact:
Telephone: (08) 8302 0986
Fax: (08) 8302 7888
Email: citywesthealth@unisa.edu.au
For general practitioner services please contact:
Telephone: 1300 172 996
Fax: (08) 8125 6712
Website: unisamedical.com.au
Location
UniSA City West campus
27-29 North Terrace
Adelaide SA 5000
Clinic days
Monday–Friday
(please contact us for opening hours).
Public transport
Public transport options are within walking distance of the clinic including the tram and buses.
Tram: "Park n Ride"- Park your car at the Adelaide Entertainment Centre or in the Parklands (4 hours) at Thebarton and catch the free Tram from 1 stop away.
Please visit adelaidemetro.com.au for further details.
UniSA Magill Allied Health Clinics
Please contact us to arrange an appointment.
Telephone: (08) 8302 4013
Fax: (08) 8302 4344
Email: magillhealthclinics@unisa.edu.au
Location
UniSA Magill campus
E Building (Room E1-22)
Enter from Bundey Street
Magill SA 5072
Clinic hours
Monday-Friday 8:00am-6:00pm
(please contact us to confirm as times for each service can vary).
Car parking
Reserved parking is available in the M3 carpark, in spaces marked 'Reserved Clinic Parking Only'. Enter via Bundey Street.