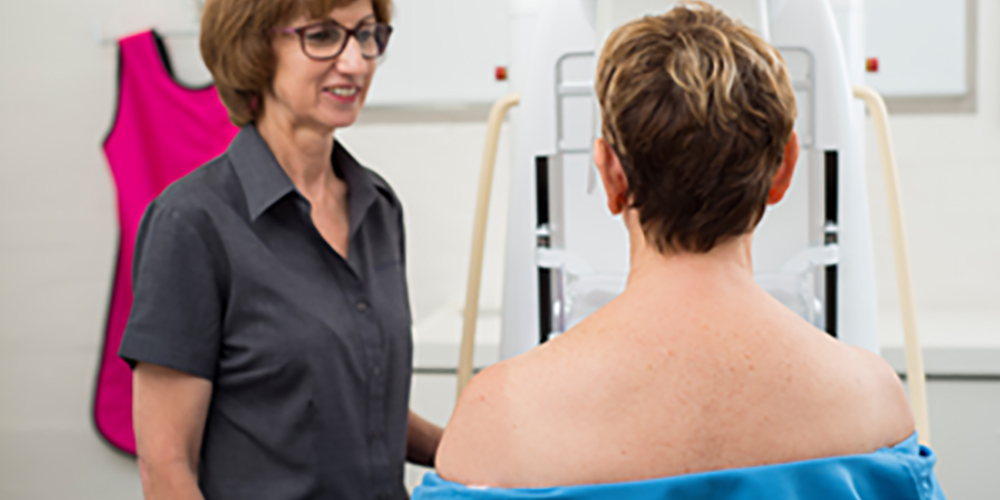 In partnership with BreastScreen SA, the UniSA Mammography Clinic provides free breast screening for women primarily aged 50–74 who show no breast cancer symptoms.
Offering an accessible and comfortable environment, the Clinic aims to reduce breast cancer deaths through early detection. It is one of eight metropolitan clinics provided by BreastScreen SA, the accredited South Australian component of BreastScreen Australia. The Clinic is government-funded and our service is conducted by UniSA postgraduate students under the supervision of qualified and expert staff.
Breast cancer is one of the most common causes of cancer deaths in women — one in 10 South Australian women will develop breast cancer before the age of 75 and nine in 10 women diagnosed with breast cancer do not have a family history of the disease.
In line with the current public health advice, breastscreen services are temporarily suspended. Please contact BSSAenquiries@health.sa.gov.au for information.
Services & Fees

Mammography screening

The Clinic provides free screening mammograms, at two-yearly intervals, for women aged 50–74. Women aged 40–49 or over 75 are also eligible for screening. A screening mammogram is a breast x-ray and can detect most breast cancers.

Located on campus at UniSA City East, appointments are essential and available Monday to Friday. Appointments generally take approximately 15 minutes, a doctor's referral is not needed.

Your Visit

Once you have made an appointment, BreastScreen SA will send you a letter confirming:

the time, date and location of your appointment
a location map of the Clinic
a consent form which you will need to complete before attending your appointment.

For your appointment:

Do not wear talcum powder or deodorant as it may affect your breast screen.
Wear a two-piece outfit as you will be required to remove your bra and top during the screening.
Read, complete and sign your Personal Questionnaire and Consent for Screening form, and bring with you to the Clinic.
If you have had a mammogram elsewhere in the past five years, please bring any available X-rays with you.
Please arrive 10 minutes early so we can process your paperwork.

While most woman are reassured that their breast screen shows no signs of breast cancer, a small percentage are called back for investigation. This free services involves additional breast imaging, ultrasound and a breast examination.

For more information about BreastScreen SA, breast screening and your visit, please visit the BreastScreen SA website.

Teaching & Learning

In addition to providing valuable care to the community, the Clinic delivers quality clinical education to UniSA postgraduate students. Students gain invaluable practical experience and exposure to a community with unique needs.

As a joint venture between UniSA and BreastScreen SA, training courses in breast screening are offered via our Mammography Clinic to diagnostic radiographers wishing to undertake postgraduate studies in mammography. Courses are offered through week-long intensive modules in order to cater for interstate and overseas students.

Successful completion of the academic and clinical modules provides eligibility for the Certificate of Clinical Proficiency in Mammography (CCPM) with the Australian Institute of Radiography.

If desired, you can claim credit points towards a UniSA postgraduate qualification in medical radiation (Graduate Certificate in Breast Imaging or Graduate Diploma in Medical Sonography).

For enquiries and further information about our training courses please phone;

Bronwyn Knight, Training Manager, BreastScreen SA
P: (08) 8302 2803
UniSA City East Campus
Telephone: 13 20 50 (BreastScreen SA)
Email: BSSAenquiries@health.sa.gov.au
Location
UniSA City East Campus
Corner of North Terrace and Frome Road
Bonython Jubilee Building
Level 1 (BJ1-56)
Adelaide, SA 5000