Celebrations for new graduates and Hon Doc for popular South Australian leader
By Megan Andrews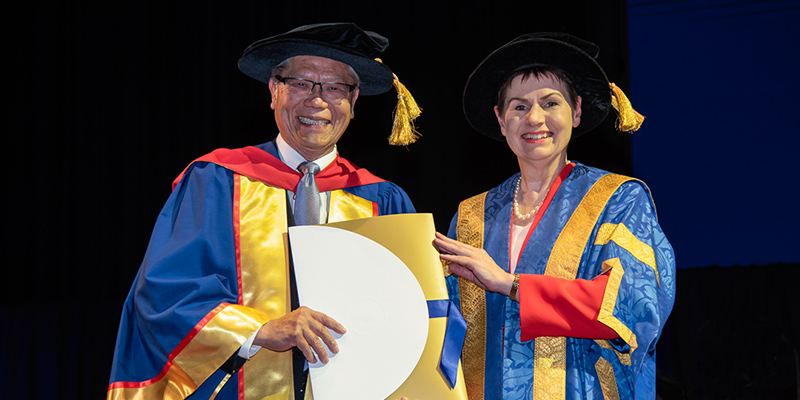 COMMUNITY
About 1800 UniSA students celebrated their graduations during September, with 1200 of them crossing the stage at Pridham Hall in one of eight ceremonies.
UniSA Chancellor Pauline Carr congratulated graduates on their achievements.
"We are incredibly proud of you, and incredibly excited about the futures you each start today," she told graduates, watched on by their families and friends, during the ceremonies.
During the week, former South Australian Governor and social justice advocate Hieu Van Le AC was made an honorary Doctor of the University in recognition of his outstanding contributions to society.
From the moment he arrived in Australia as a refugee fleeing Vietnam after the fall of Saigon (now Ho Chi Minh City), Le embraced Australian culture, and dedicated his life to serving South Australia and advancing a more inclusive society.
Embodying resilience, determination and community spirit, Le was the first Asian-Australian to become Governor of South Australia, and the first Vietnamese-born person in the world to be appointed to a Vice-Regal position.
Throughout his extensive public roles, including a seven-year tenure as Governor, Le has been unwavering in his commitment to promoting cultural diversity, the arts, business and education. His charitable and community work continues today, and he lends his business and leadership expertise to a variety of roles including as chairperson of the South Australian Health and Medical Research Institute (SAHMRI) and the Adelaide Festival Centre Trust Board.
UniSA Vice Chancellor Professor David Lloyd says he is honoured to welcome such an accomplished agent of change into the University community.
"Hieu's achievements, from fostering greater appreciation of diversity and helping refugees establish new lives, to contributions in business, the arts and education, align with UniSA's commitments to social justice and laying the foundation for formidable careers," Prof Lloyd says.
"His determination to make the world a better place is reflected across a lifetime of outstanding community and business pursuits, and has made him a popular and respected leader in South Australia."
In addressing graduating UniSA students at Pridham Hall, Hieu Van Le shared the story of his passage to Australia as a young newlywed with wife Lan, where he took on the role of navigator and leader in an arduous boat journey.
Le says growing up in a culture that revered education instilled in him a profound respect for knowledge.
"As a young refugee arriving in Australia, my study for my economics degree from Vietnam was not recognised, prompting me to return to university," he says.
"I immersed myself in the rich tapestry of the university experience, delved into Australian history, embraced the intricacies of Australian politics and the arts, and observed the social dynamics and new culture. Completing my degree was not just an academic achievement but also an orientation to Australian life, which I thoroughly enjoyed and cherished profoundly."
He encouraged graduates to be "compassionate, ethical leaders who champion inclusivity, diversity, and social justice".
The University also conferred the title of Emeritus Professor on three academic staff during the ceremonies:
Professor Bruce Thomas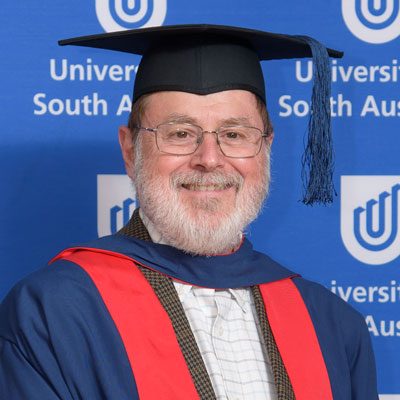 Prof Thomas is an internationally recognised researcher of augmented reality, virtual reality, human-computer interactions and wearable computing. He was the founding director of the Australian Research Centre for Interactive and Virtual Environments at UniSA, a world leader in augmented and virtual reality, and also founded its predecessor laboratory, which was globally renowned for 20 years and developed the world's first outdoor augmented reality game.
Professor Simon Beecham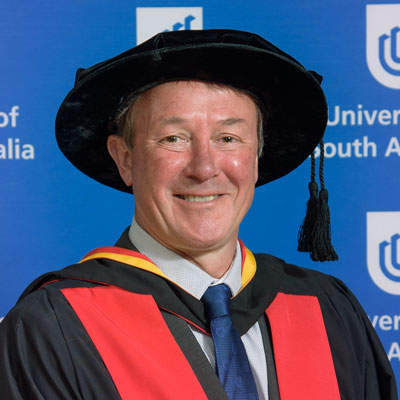 Prof Beecham is an expert in water engineering who joined UniSA as director of the Centre for Water Management and Reuse, and has held significant positions including Pro Vice Chancellor, Information Technology, Engineering and the Environment. He has led many initiatives that expanded research outcomes and programs, and helped to establish An De College, a UniSA partnership with Xi'an University of Architecture and Technology and the first joint college between a Chinese and Australian university with Chinese Ministry approval to deliver both undergraduate and postgraduate programs.
Professor Tim Olds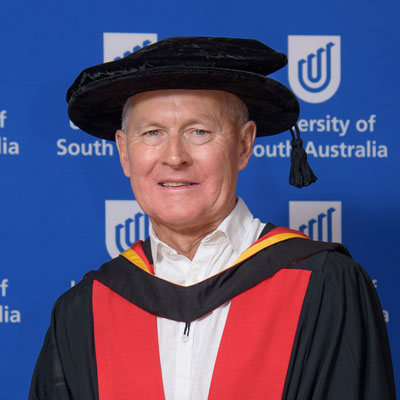 Bradley Distinguished Professor Tim Olds is an expert in behavioural epidemiology and is internationally recognised for his research on the evolution of body size and shape, the evolution of fitness and obesity in children and, most recently, innovative ways of measuring and monitoring people's use of time, particularly in children, and its impact on health and behaviour. Prof Olds initiated the Health and Use of Time research group at UniSA, is the inaugural president of the International Society of Time-Use Epidemiologists, and author of software program Multimedia Activity Recall for Children and Adults, which is used globally. His book Anthropometrica is the world's best-selling anthropometry textbook.
To see more images from graduations, visit UniSA News In Pictures.