$40m aged care, health and education hub opens in Adelaide's northern suburbs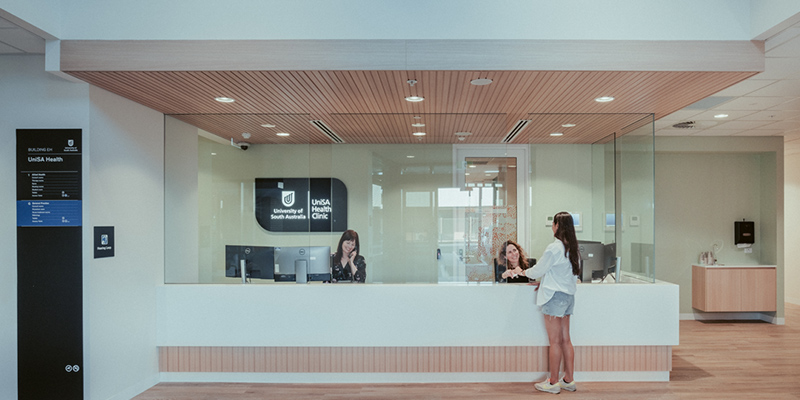 COMMUNITY
A new UniSA Health Clinic forms a key part of a $40 million aged care, health and education hub that's opened in Adelaide's northern suburbs.
The hub, which was opened in September by South Australian not-for-profit aged care provider ACH Group, aims to improve health outcomes for the local community.
In addition to UniSA and ACH Group, the initiative also involves the Northern Adelaide Local Health Network (NALHN) and the City of Playford.
The co-located UniSA Health Clinic – an integrated GP, nursing and allied health clinic – will provide services to residents and the surrounding local community with a combination of professional and lower-cost student-assisted services.
UniSA Pro Vice Chancellor for Teaching and Learning, Professor Esther May, says the partnership is part of the University's commitment to supporting educational opportunities, health services and the health workforce in the northern suburbs.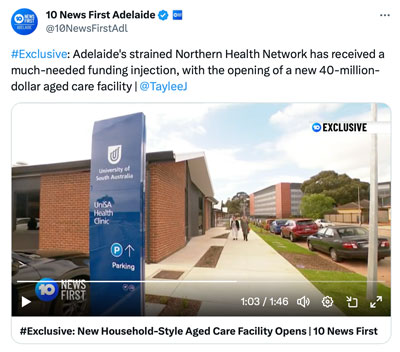 "As a registered NDIS provider, the clinic will provide additional adult and paediatric NDIS services in the northern suburbs," Prof May says.
"Nursing and allied health students will undertake placements in the residential care home and the clinic, providing them with vital practical learning experiences during their degree and preparing them for the health workforce."
ACH Group's 96-place residential care home has adopted an innovative small household-built form comprising eight purpose-built single-storey houses in a village setting. The houses feature 12 self-contained resident rooms with ensuites; a large open plan living, kitchen and dining area; and features commonly found in traditional houses so residents can participate in the daily house activities if they wish.
NALHN will occupy 24 rooms within the care home to help transition older people from hospital to their home or more suitable accommodation.
ACH Group CEO Frank Weits says the aged care provider is proud to lead the powerful cross-sector partnership.
"Healthia will improve health outcomes for the local community, support the hospital system and reimagine aged care," Weits says.
"The residential care home responds to a generation shift in expectations and the Royal Commission's call to action to rethink aged care.
"We know most older people want to stay in their own homes, however, for many this is not possible due to increased care needs. What makes Healthia different is the person-directed care model and the unique built form.
"Healthia is the first care home in Australia to implement the U.S.-founded Green House Project model of care, which is informed by person-directed care principles and supports residents to have increased input into their everyday living."
Playford mayor Glenn Docherty says the vision for the Playford Health and Wellbeing Precinct was shaped more than a decade ago.
"Council and the community want world-class health, education, rehabilitation and research facilities in our precinct. These services complement an expanding Lyell McEwin Hospital which supports our rapid population growth in the northern region," he says.
Health and Wellbeing Minister Chris Picton says Healthia will be a great addition to the northern suburbs.
"This facility will better support older South Australians and their care needs," he says.
"Healthia provides a new approach to aged care and is the first care home in Australia that implements the Green House Project model founded in the US."