Achievements and Announcements
ACHIEVEMENTS
ANNOUNCEMENTS
APPOINTMENTS
ACHIEVEMENTS
ARC Discovery grants will explore innovations in education, self-healing concrete, machine learning and families at risk
Four UniSA researchers have been awarded ARC Discovery grants collectively worth $1.8 million, for projects starting in 2023.
Professor of Education Anna Sullivan has been awarded $371,000 for early career teacher induction: supporting precarious teachers.
The project will investigate the ways in which existing Australian induction policies support "precariously employed" early career teachers – those on casual and short-term contracts – to effectively manage student classroom behaviour.
"We hope to propose alternative policy and practice recommendations to support the transition of insecure replacement teachers within the profession," Prof Sullivan says.
"The benefits of this research include improving teachers' classroom management practices; the retention of new teachers; improving teacher workforce development; and building a healthier education system."
Professor in Structural Engineering Yan Zhuge has been awarded $501,504 for a project to create pH-sensitive self-healing concrete using sludge waste for sewers.
Australia's 117,000 km of concrete sewer pipes are currently internally corroding at a depth rate of 1-3 mm per annum. The repair of deteriorated concrete is costly and often short-lived.
"Based on an advanced composite technology, this project will develop a pH-sensitive self-healing concrete that can repair itself without human intervention at the early stage of corrosion," Prof Zhuge says.
"Sludge waste from drinking water treatment will be utilised as a healing agent to mitigate the corrosion. Combined experiments and molecular dynamics simulation will uncover all aspects of the healing process to enable the practical application of this technology. The findings will extend the lifetime of concrete structures and promote a circular economy."
Associate Professor Lin Liu has been awarded $420,000 for a project to build competency aware and assuring machine learning systems.
"Recent developments in machine learning (ML) have resulted in models with extremely high prediction accuracy," Assoc Prof Liu says.
"However, to support this human-machine partnership in complex environments, it is essential to take this further.
"This project will develop novel techniques to equip a machine learning system with the ability to identify own competency, to justify decisions, to explore unknown situations and deal with unknowns.
"The expected outcomes of the project will enable ML systems to become truly intelligent and reliable machine partners for human decision makers in a wide range of applications."
Australian Centre for Child Protection Deputy Director, Associate Professor Melissa O'Donnell, has been awarded $548,000 for a project focused on families with multiple and complex needs: refocusing on early intervention.
"Families with multiple and complex needs have been determined to be a priority group in Australia," Assoc Prof O'Donnell says.
The study will fill the evidence gap by determining the types of families with multiple and complex needs and child protection involvement who face intersecting risk factors (family violence, mental health, intergenerational trauma, alcohol/drug use, justice involvement, disability, poverty and housing insecurity).
"Intergenerational (child and parent) linked data in three states will be used to investigate these families and to identify opportunities for enhanced prevention, points of early intervention and service planning."
The ARC has approved 478 Discovery Projects across Australian universities, starting in 2023, with a total value of $1.8 billion.
Meet UniSA's new rock star with a green focus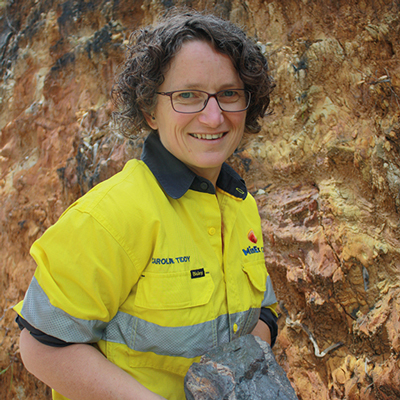 UniSA geoscientist Associate Professor Caroline Tiddy has been named a Superstar of STEM for her work to develop new sensor and geochemical exploration technologies to find critical metals.
Assoc Prof Tiddy is among 60 diverse scientists, technologists, engineers and mathematicians recognised nationally by Science & Technology Australia to celebrate the country's most inspiring women and non-binary people working in STEM, who are smashing the stereotype of "an old man in a white lab coat".
The focus of Assoc Prof Tiddy's research is on developing more efficient and environmentally friendly ways to explore for essential metals, particularly those that are in high demand, and to improve decreasing rates of discovery of mineral resources.
"Have you ever considered where the elements essential to building green technologies such as photovoltaic cells in solar panels come from? The answer is mining," Assoc Prof Tiddy says.
"Copper is needed to build these cells, but global copper reserves will deplete by 2045. We need to find more of these metal deposits, which is a task akin to finding a needle in a mountainous haystack."
Assoc Prof Tiddy is based in the Mineral Exploration Cooperative Research Centre (MinEx CRC) within the Future Industries Institute at UniSA. She holds a Master and a PhD in Geoscience from Monash University and has worked in Western Australia and South Australia during her 18-year career.
"I want to challenge and change the misguided perception of geoscientists as 'environmental vandals' and reconcile the disconnect between mining and the supply of metals that are critical in building green technologies," Assoc Prof Tiddy says.
"Geoscience is a fascinating career, encompassing so much more than rocks and volcanoes. It embraces the wonders of our planet and helps explain the natural resources we use and how water and ecosystems are interconnected."
Professor of Human Computer Interaction receives prestigious accolade for work in augmented and virtual reality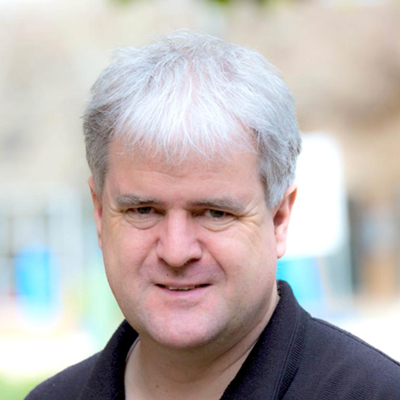 Professor of Human Computer Interaction Mark Billinghurst has been made a Fellow of the world's largest technical professional organisation dedicated to advancing technology for the benefit of humanity.
The Institute of Electrical and Electronics Engineers, now known simply as IEEE because of its expansion into many related fields, is a voice for professionals in engineering, computing and technology information. The IEEE has more than 420,000 members in 160 countries.
Prof Billinghurst is being made a Fellow of the IEEE for his contributions to Augmented and Virtual Reality, work for which he has been recognised globally.
Being made a Fellow is one of the most prestigious honours of the IEEE and is bestowed upon a very limited number of senior members who have contributed importantly to the advancement or application of engineering, science and technology bringing significant value to society. The number of IEEE Fellows elevated in a year is no more than one-tenth of one per cent of the total IEEE voting membership. This year only 12 Australians were elevated to the rank of Fellow.
Prof Billinghurst researches innovative computer interfaces that explore how virtual and real worlds can be merged and has published more than 650 papers in topics such as wearable computing, augmented reality and mobile interfaces. According to Scopus, he has published more research papers in augmented reality than any other academic and ranks second for the number of virtual reality papers published.
Deputy Vice Chancellor: Research and Enterprise Professor Marnie Hughes-Warrington AO says the University is extremely proud of Prof Billinghurst for his outstanding achievement.
"This is fitting recognition for Mark's distinguished contribution to AR/VR research, and his continuing frontier work on empathic computing," Prof Hughes-Warrington says.
Prof Billinghurst will become an IEEE Fellow on 1 January 2023.
Scientist wins research excellence award for her discoveries as a PhD student at UniSA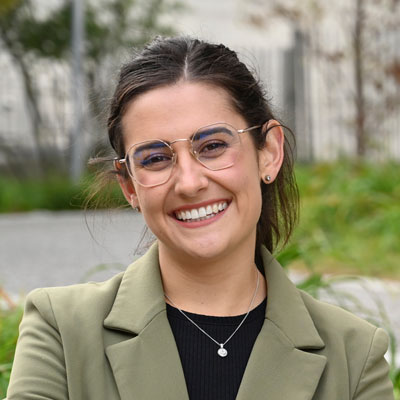 UniSA researcher Dr Chelsea Thorn has won the PhD Research Excellence Award category at the 2022 SA Science Excellence and Innovation Awards.
A scientist and pharmacist dedicated to innovating medicines against infectious diseases, Dr Thorn's PhD discovered a new inhalable and topical formulation to improve the effectiveness of antibiotics against life-threating super-bugs.
Based on lipid nanoparticles, the formulation delivers the antibiotic directly into the bacteria that commonly infects people with Cystic Fibrosis, eradicating an untreatable infection after two doses.
Dr Thorn is now employed at Pfizer, where she is a Senior Scientist in the Biotherapeutic Pharmaceutical Research and Development organisation in Massachusetts, US. She continues her research in innovating lipid nanoparticles to improve medicines for infectious diseases, most particularly for the mRNA vaccines.
Find out more about Dr Thorn's research in this video produced for the awards.
UniSA student wins SA Press Club Student Journalism Award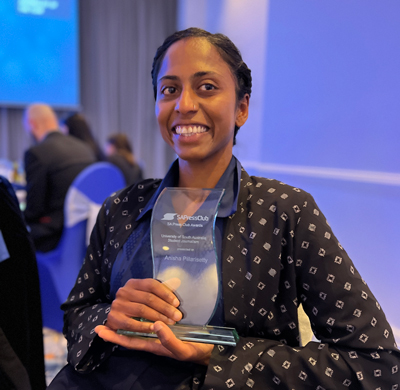 UniSA Journalism and Professional Writing student Anisha Pillarisetty has won the Student Journalism Award at the 2022 SA Press Club Awards.
The SA Press Club Awards recognise excellence in South Australian journalism across traditional and contemporary platforms. The awards were established by the SA Press Club so that journalists, photographers and cartoonists can be freely judged by their peers.
Anisha, who has interned at Solstice Media and ABC during her studies, credits the support of tutors, co-workers and supervisors in achieving the award.
"I really wouldn't be where I am without these people," she says. "My work as an aspiring journalist just wouldn't be possible without all the people who gave their time and shared their stories so generously, and community leaders, friends, writers and artists who have gone out of their way to be encouraging and inspired me to keep going in this field.
"Winning an award seems to perpetuate this idea of individual merit, when really, like with a majority of milestones, there are so many people who made this happen (and obviously there is the issue of privilege!).
"I hope I can do justice to the recognition and opportunities that have come from this award, and give back to the community as they have given to me."
ANNOUNCEMENTS
Creating a university for the future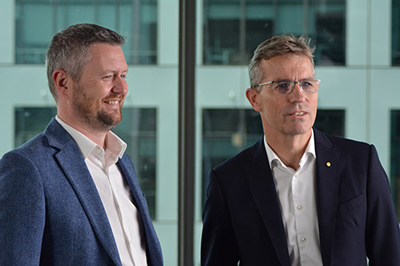 UniSA has entered into an agreement with the University of Adelaide and the State and federal governments to explore in more detail a business case for the creation of a new university for the future. A university that would have as its core ambition to be a leading comprehensive university of global standing – dedicated to ensuring the prosperity, wellbeing and social cohesion of society by addressing educational inequality, as well as conducting future-making research of scale and focus.
This step has been taken in response to the Government of South Australia's higher education policy calling for the consideration of a merger between universities to strengthen the contribution of higher education to the growth of the economy and society.
No decision to amalgamate the universities has been made, and the councils of the two universities will further consider the business case toward the middle of 2023.
For more information, please view the UniSA Chancellor's email, the video from the Vice Chancellors, and the FAQs on the UniSA website.
UniSA partnership to develop a new chemotherapy treatment
A new partnership between biotechnology company FivepHusion and UniSA will deliver significant progress on the development of an enhanced anti-cancer drug for patients with advanced solid tumours.
Deflexifol is an all-in-one formulation of the chemotherapeutic agent 5-FU and its biomodulator leucovorin, for the treatment of solid tumours, including colorectal, pancreatic and breast cancers.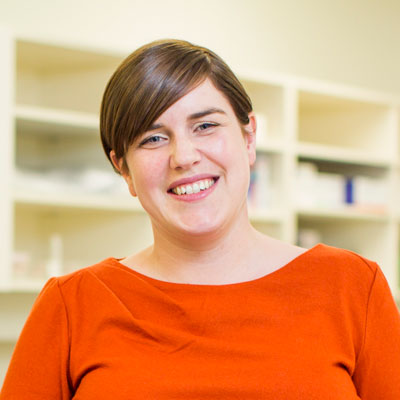 UniSA Associate Professor Stephanie Reuter Lange says the collaboration will assess the limitations of current chemotherapy treatments.
"5FU, in combination with leucovorin, remains a fundamental component of many efficacious chemotherapy regimens for patients with solid tumours," she says.
"Yet, due to physical incompatibility issues, standard administration schedules involve sequential administration of these agents.
"Given the importance of leucovorin in modulating 5-FU activity, simultaneous administration of 5-FU and leucovorin via the Deflexifol formulation is expected to enhance anti-tumour effects.
"We are looking forward to collaborating with FivepHusion on the development of this important enhanced formulation of an important chemotherapeutic drug."
Finger prick device to revolutionise care for pregnant mothers and babies
A simple finger prick being trialled by UniSA researchers could soon be all it takes to save the lives of pregnant mothers and their babies who are at risk of a dangerous pregnancy complication known as preeclampsia.
Preeclampsia affects four per cent of all pregnancies in Australia and can cause organ failure, blood clotting, restricted foetal growth and be life-threatening for the mum and baby.
However, current diagnosis methods are complex and can take up to 24 hours in rural areas – time that is critical when dealing with the health of an unborn baby.
In a move which could revolutionise the diagnosis and care of this devastating condition, scientists from UniSA's Future Industries Institute have developed new technology which requires only a few drops of blood to test for preeclampsia – and the result returned within 30 minutes.
This means the test can be done quickly and accurately in a rural setting by a primary healthcare team, without the need to send to an advanced laboratory.
The Hospital Research Foundation Group is now funding the testing stage of their device, in the hope that earlier and more accurate diagnosis can improve prenatal care and save lives.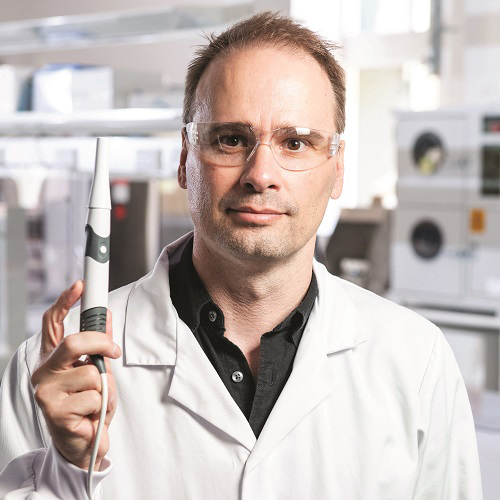 Chief investigators Dr Duy Phu Tran and Professor Benjamin Thierry say the device would be most critical in regional settings where emergency care is limited, with preeclampsia one of the main reasons for emergency retrievals by the Royal Flying Doctors Service.
"Our technology is designed to enable rapid and accurate point-of-care testing for preeclampsia biomarkers, allowing for quicker interventions and likely improved pregnancy outcomes for women
A $132,000 grant from The Hospital Research Foundation Group will help accelerate testing and commercialisation of the device through a trial of at-risk pregnant women in hospital.
For more details, read the media release.
APPOINTMENTS
New Dean of Research for UniSA STEM appointed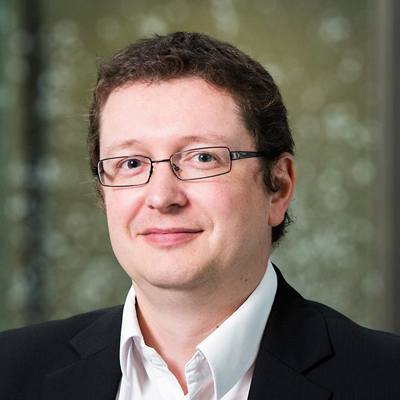 Professor Jason Whittle has been appointed as Dean of Research for UniSA STEM for the next five years.
In keeping with the character of UniSA STEM's research, Prof Whittle's research career is highly cross-disciplinary (physics, chemistry, materials science, and medicine) and is situated at the interface between university research and private enterprise.
Prof Whittle has secured more than $3.75 million to support his research, successfully founded and sold a spinout company in the UK and been involved as a key researcher in two CRCs. His research leadership experience has included the roles of Associate Dean/Professorial Lead: Research Education in IT, Engineering and the Environment/STEM, founding Director of DAIRNet and several periods as acting Dean of Research in STEM.
Prof Whittle officially commenced in the role on 21 November, having been in the role on an interim basis since the end of July.