$3.9m for research into chronic pain, prenatal genetic testing and heart health
By Candy Gibson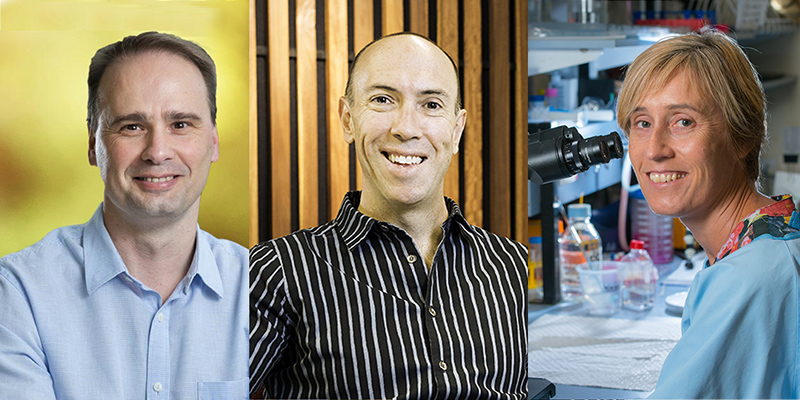 HEALTH
UniSA physiotherapist Professor Lorimer Moseley will lead a five-year international project from 2020 to help relieve one of the world's leading causes of disability – chronic musculoskeletal pain.
Prof Moseley, Australia's top-ranked chronic pain scientist, has been awarded a $2.4 million Investigator Grant by the National Health and Medical Research Council (NHMRC).
The grant will be used to trial innovative, experimental approaches to dealing with chronic pain, Australia's third most costly health condition and a significant contributor to suicides.
Prof Moseley will lead an international team to investigate the biological and cognitive processes involved in pain and how the brain can be trained to relieve suffering. The research will also involve clinical trials to test new solutions.
"Chronic pain is a huge burden to society. We have done enough research to know that pain doesn't necessarily reflect damage to tissues; it's more about how the brain is using it as a tool to protect the body," he says.
"It is now understood that the body doesn't have pain sensors, but it does have 'danger' sensors. These sensors are called nociceptors, nerve endings that respond to changes in their environment, such as something touching the skin or a contraction within the gut, by sending signals to the brain that there might be something important occurring that needs attention.
"The brain is able to produce this unpleasant feeling in just one location, so you know that you need to protect just that area. When you think about it in this way, pain is a sophisticated development in evolution.
"The goal is to work alongside community, government and professional bodies to transform clinical practice so that Australians can receive the best care and management of chronic pain," he says.
The NHMRC has also awarded two Development Grants to UniSA to help further research into prenatal genetic testing and cardiovascular health.
UniSA biomedical engineer Professor Benjamin Thierry has won a $780,215 grant to develop cutting edge, non-invasive technology to detect fetal genetic abnormalities in early pregnancy.
He will lead a three-year project using lab-on-a-chip technology to isolate fetal cells from maternal blood using a microfabricated device, towards more comprehensive prenatal genetic testing.
UniSA vascular biologist Associate Professor Claudine Bonder has been awarded $671,960 to further her research into bio invisible stents, a new device coating to repair cardiovascular disease, the leading cause of death worldwide.
Assoc Prof Bonder's team is developing a coronary stent with an anti-adhesive surface, so the body does not recognise it as foreign – a common issue with metal stents which are often rejected by the body.
The innovative technology is expected to overcome current clinical hurdles to treat heart diseases, lower rejection responses, and extend the lifespan and performance of implanted medical devices, ultimately saving lives.