UniSA marine scientist lands a big catch for fishing industry
By Candy Gibson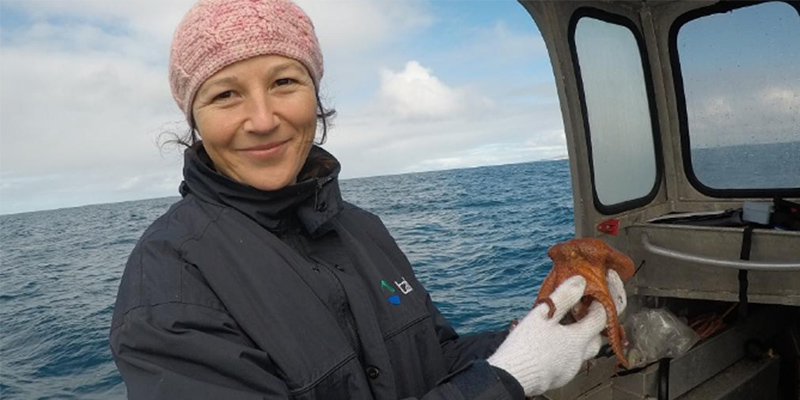 ENVIRONMENT AND SUSTAINABILITY
South Australia could be on track to open its first octopus fishery, thanks to a new research partnership led by UniSA marine scientist and ecologist Dr Zoe Doubleday.
Dr Doubleday is working with Port Lincoln-based business, SA Premium Octopus, to assess the viability of establishing the developmental fishery.
Her priority is to identify what octopus species exist in SA waters, potentially targeting three species in the Port Lincoln region, and assessing their biological characteristics, including sex ratios, size, weight and reproductive potential, as well as catch rates.
Around 200 octopuses from sites around the Eyre Peninsula have already been collected and are currently being analysed at UniSA's Future Industries Institute, where Dr Doubleday heads up a new marine research group.
"The data collected from these samples will give us a lot of information about relative octopus abundance between seasons and regions and – crucially – help us identify what species are in SA waters," Dr Doubleday says.
Octopus has been fished in South Australia for a long time but on a very small scale. In the wake of a snapper fishing ban commencing on 1 November this year, the research is timely.
"Cephalopods are adaptable marine species and have the potential to support our growing need for sustainable seafood," she says.
"However, many cephalopod species are poorly understood and it is crucial that we first understand some of the basics about their biology.
"South Australia has a long, proud history of fishing but there are significant financial and scientific hurdles in developing new fishing industries, which we are hoping to overcome with this project."
Dr Doubleday says she hopes the octopus research project will help pave the way for developing other sustainable seafood industries in South Australia, generating an economic boost for regional SA.
And her work is gaining attention with Dr Doubleday one of 30 finalists recognised in the Women in Innovation (Winnovation) Awards in Adelaide on 3 October.
See our 'Achievement' story about all the finalists and those who won an award.
Dr Doubleday's research is funded by a Future Industries Accelerator grant which promotes partnerships between industry and academia to build R&D capacity in the State.