Engineering students' future careers through upgraded facilities
By Teneille Johnson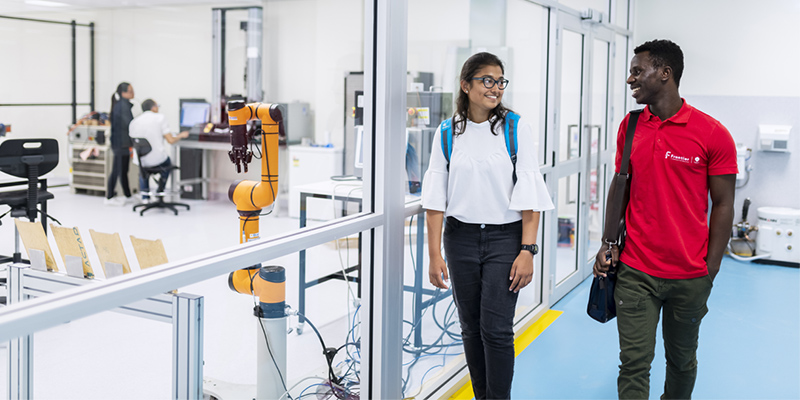 TECHNOLOGY AND ENGINEERING
Engineering students have returned to study in newly-upgraded facilities that are designed to better prepare them for their future careers.
UniSA has invested $7 million into redesigning and upgrading the Engineering facilities at the Mawson Lakes campus.
Renovations include the establishment of new flexible learning spaces that will allow further collaboration between students, researchers and industry.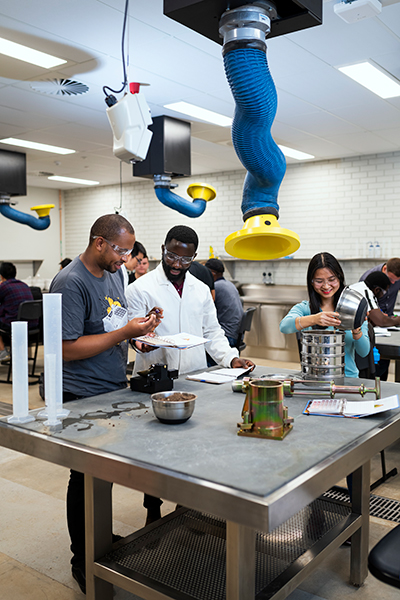 Pro Vice Chancellor for the Division of Information Technology, Engineering and the Environment Professor Julie Mills says the upgrade is part of an exciting suite of improvements being rolled out at Mawson Lakes this year.
"With the opening of these upgraded facilities, students will have access to the same equipment used by industry, giving them the best possible start to their future careers,'' Prof Mills says.
"Meanwhile, our industry partners will have the opportunity to work with our students on projects such as testing manufacturing automation on campus before implementing it into their product chains.
"The new facilities enhance UniSA's commitment to leading the education of our students for industries of the future."
The new and upgraded spaces will include:
An advanced design studio for student use
An Industry 4.0 Robotics and machine vision laboratory, connecting industry and students
A flexible mechanical engineering research laboratory
A sustainable energy systems laboratory
A soils laboratory; and
A power systems laboratory.
Second-year Bachelor of Engineering student Franke Agenbag, who's majoring in Electrical and Mechatronic Engineering, has already used the new equipment and facilities.
"The equipment we have access to every day is on par with industry," Franke says. "The staff are very engaging, and the student life makes the experience so much fun.
"Engineering is the degree of the future and it's very comforting knowing I'll never be without a job that I love."
Deputy Vice Chancellor for Research and Innovation, Professor Simon Beecham, has helped oversee the engineering facilities project.
"This is not just an investment in facilities – it's an investment into the skills and knowledge of our students, research and industry partnerships," Prof Beecham says.
ITEE Division Manager Karla Gotting says the opening of the new engineering facilities will be followed by the Industry 4.0 Testlab, a $2m project supported by UniSA and the Federal Government.
"Mawson Lakes campus is being transformed into an industry hub and this will further leverage our connections with our neighbours such as Lockheed Martin, Saab Technologies Australia and the Defence Teaming Centre," she says.