Exceptional achievements acknowledged in first graduations of 2019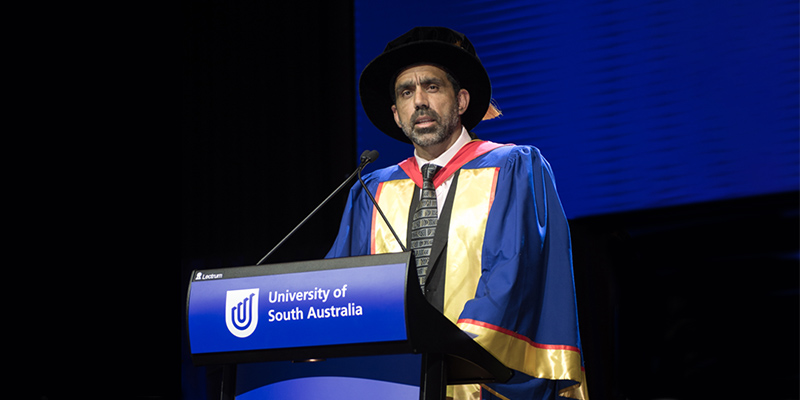 COMMUNITY
Thirteen honorary awards have been presented at UniSA's recent graduation ceremonies, recognising exceptional achievement and acknowledging significant contributions to scholarship, professional practice and service to the University and community.
About 3500 students graduated at UniSA ceremonies between 16 and 26 April. The University awarded seven honorary doctorates, named two University Fellows and conferred four Emeritus Professorships.
AFL legend Adam Goodes was made an Honorary Doctor in recognition of his work off the field to empower young Aboriginal people.
Also made Honorary Doctors were:
The two Honorary Fellows were:
Four people were conferred the title of Emeritus Professor for distinguished academic service to UniSA:
Dr Rosemary Bryant AO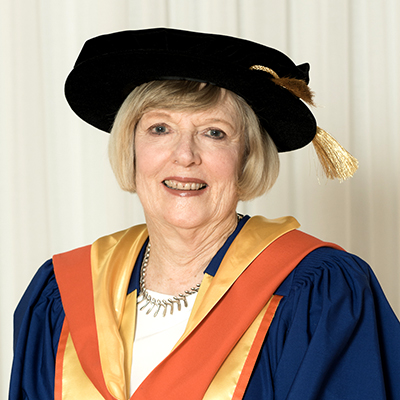 Dr Rosemary Bryant, AO, Australia's first Commonwealth Chief Nurse and Midwifery Officer and advocate for the vital role of nursing and midwifery expertise in the health system, was made an honorary doctor of UniSA.
Namesake of the Rosemary Bryant AO, Research Centre run at UniSA in partnership with the Australian Nursing and Midwifery Federation (SA Branch), Dr Bryant has been a career-long advocate for the role of nursing in the health care system and an advocate for evidence-based research in nursing and midwifery.
As Commonwealth Chief Nurse she advised the Minister for Health and the Department of Health on the nursing and midwifery workforce and policy development.
Dr Bryant led the Royal College of Nursing, Australia as its executive director and represented Australia on nursing at the Organisation for Economic Cooperation and Development (OECD) and as part of the Australian delegation to the World Health Assembly.
A distinguished Life Fellow of the Australian College of Nursing, she holds Honorary Life Membership of the Australian Nursing and Midwifery Federation (SA Branch), is Emerita Director of Nursing at Royal Adelaide Hospital and was President of the International Council of Nurses from 2009 to 2013.
Commending her achievements, Vice Chancellor Professor David Lloyd says Dr Bryant has worked tirelessly to build more recognition for nurses and the value of nursing practice in health care.
Adam Goodes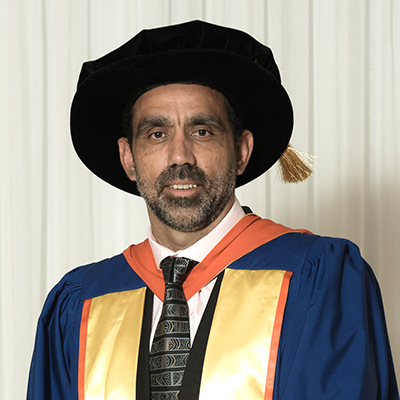 AFL legend Adam Goodes is a sporting hero and role model but it's the work he's done off the field to empower Aboriginal youth that is making an ongoing impact.
The 2014 Australian of the Year was awarded an honorary doctorate by UniSA, recognising Goodes' human rights advocacy, his ongoing fight against racism and the support he gives young Aboriginal people.
Goodes, who was inducted into the Sydney Swans Hall of Fame in March, is an Adnyamathanha man who has spent time working with troubled Aboriginal youth, including those in detention centres.
In 2009 he founded the Goodes O'Loughlin (GO Foundation) with his cousin and former Sydney Swans teammate, Michael O'Loughlin, to create opportunities for Aboriginal youth through education, including university scholarships with UniSA.
UniSA Vice Chancellor Professor David Lloyd paid credit to Goodes' career, "on and off the field".
"His record on the sporting field speaks for itself, but it's the work that Adam has done since his retirement which is empowering Aboriginal youth to change their lives," Prof Lloyd says.
Michael Hickinbotham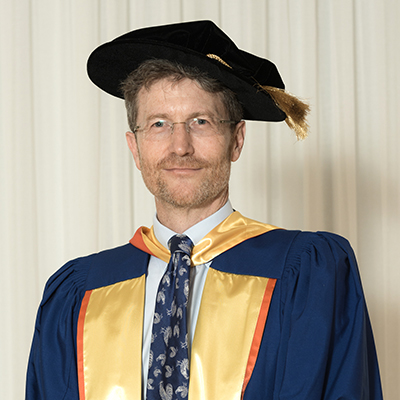 Michael Hickinbotham, director of the Hickinbotham Group, received a UniSA honorary doctorate in recognition of his immense contribution to South Australia across 25 years of innovative, sustainable building development.
The Hickinbotham Group was founded in 1954 by Hickinbotham's father and has since grown to be SA's largest residential construction firm, establishing a reputation as one of Australia's most innovative, sustainably-minded developers.
The company was the first to place power and telephone lines underground, restrict tree felling on developments, and, in partnership with the CSIRO, pioneered stormwater harvesting designs for new estates, establishing official Australian standards in the process. Hickinbotham was also the first developer in Australia to introduce architect-designed, 7.5-star energy-rated homes for the volume market.
More recently, the Hickinbotham Group has signed an agreement with Tesla to explore the deployment of solar batteries in future residential developments and is refining plans that would allow the company to take an entire housing estate 'off grid'.
UniSA Vice-Chancellor Professor David Lloyd says Michael Hickinbotham's commitment to innovative practices aimed at benefiting society, perfectly reflects UniSA's own ideals.
"Michael has proven the value of viewing challenges as an opportunity, rather than a problem. He has guided his company towards finding better ways to do things, and in doing so, has proven that what is good for society and the environment can also be the foundation of a great business," Prof Lloyd says.
Jim McDowell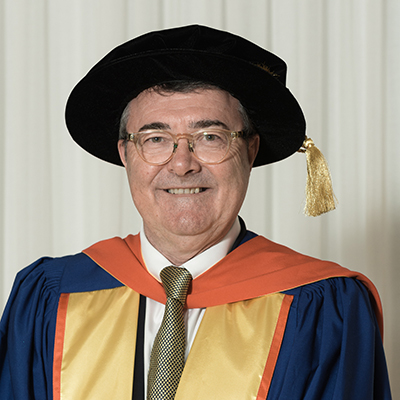 South Australia's most senior public servant and former UniSA Chancellor, Jim McDowell, was awarded an honorary doctorate by UniSA for his services to education.
McDowell, who served as UniSA Chancellor from 2016-2018, was appointed Chief Executive of the Department of the Premier and Cabinet in August 2018.
UniSA Vice Chancellor Professor David Lloyd says McDowell brought "an important global view" to the planning and governance of the University of South Australia during his tenure as Chancellor.
"He also oversaw the Advisory Board of the Defence Systems Innovation Centre and UniSA's Division of Business Advisory Board, and he continues to contribute to the University via a first-year law undergraduate scholarship named after his son Joshua," Prof Lloyd says.
McDowell's tenure as Chancellor coincided with some major infrastructure projects at UniSA, including the construction of the $247 million Cancer Research Institute and $50 million Pridham Hall, a student-focused sports and function venue.
His successor, current Chancellor Pauline Carr, paid tribute to the Irish-born lawyer's "deep commitment to education and his great depth of experience in industry and government".
McDowell has an extensive background in the defence sector, predominantly with the global defence, aerospace and security company, BAE Systems, heading up its operations in Asia, Australia and Saudi Arabia over a combined period of 14 years.
Dr Brendan Nelson AO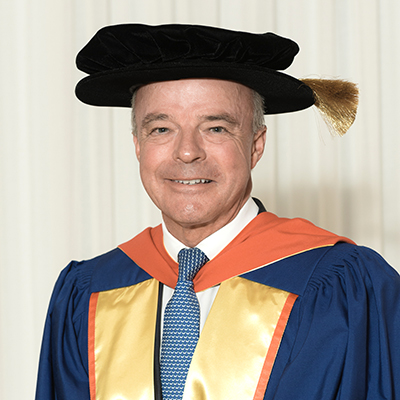 Australia's Director of the Australian War Memorial and former federal Leader of the Opposition, Dr Brendan Nelson AO, was awarded an honorary doctorate for his exceptional contribution to public service, international relations and the education of the nation.
A member of the House of Representatives for more than 13 years, Dr Nelson was appointed Minister for Education, Science and Training in 2001 and Minister for Defence in 2006.
In 2004 as Minister for Education, he provided strong funding support for the foundation of a Chair in Child Protection at UniSA, leading to the foundation of the Australian Centre for Child Protection.
He was elected leader of the Liberal Party of Australia from 2007 to 2008.
Retiring from politics in 2009 Dr Nelson assumed the role of Australian Ambassador to Belgium, Luxembourg, the European Union and NATO overseeing a major transformation of Australia's relationships with the European Union and NATO, and forging deep links with the communities of Flanders where almost 14,000 Australians lost their lives during the First World War.
In 2012, he was appointed to his current role of Director of the Australian War Memorial, where he is revitalising the Australian War Memorial activities. He oversaw the commemoration of the Gallipoli centenary in 2015, and the centennial commemorations for battles on the Western front in Europe.
Dr Nelson was appointed an Officer of the Order of Australia (AO) in January 2016 for his services to the community, the parliament of Australia, diplomacy and cultural leadership.
UniSA Vice Chancellor Professor David Lloyd says Dr Nelson's significant contribution to public service over more than two decades is exceptional.
"Dr Nelson's passion, determination and unbridled commitment to improving the lives of everyday Australians on all levels is simply outstanding, and I'm delighted to welcome him to the University of South Australia community," Prof Lloyd says.
Professor Fiona Stanley AC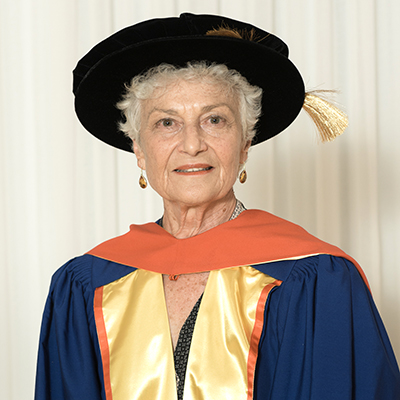 She is one of the nation's strongest advocates for a more holistic approach to children's health, she's Australia's UNICEF Ambassador for Early Childhood Development, in 2004 she was named as one of our national Living Treasures – and Professor Fiona Stanley AC has been made an Honorary Doctor of UniSA.
Doctor, epidemiologist and researcher, Prof Stanley has dedicated her life to building healthier children and communities locally and globally particularly in the causes and prevention of birth defects and major neurological disorders like cerebral palsy, maternal and child health in Aboriginal and non-Aboriginal populations and developmental origins of health and disease.
Vice Chancellor Professor David Lloyd says Prof Stanley is one of Australia's most inspiring health researchers and advocates.
"You can't meet Fiona without seeing her passion for making a difference," Prof Lloyd says. "She brings together great intellect with great heart and it is a formidable combination - a spirit that has made a powerful difference to the health of children globally."
Prof Stanley was the Founding Director of the Telethon Kids Institute (formerly known as the Telethon Institute for Child Health Research) from 1990 until 2011, which focuses its research on child and adolescent health and development including Aboriginal health, cancer, diabetes, cystic fibrosis, autism, mental health and wellbeing and infectious diseases.
Her analysis of population data from the WA Maternal and Child Health Research Database, which she helped to establish, confirmed the link between deficiencies in folic acid during pregnancy and the incidence of spina bifida and reduced the incidence of the condition around the world.
Natasha Stott Despoja AM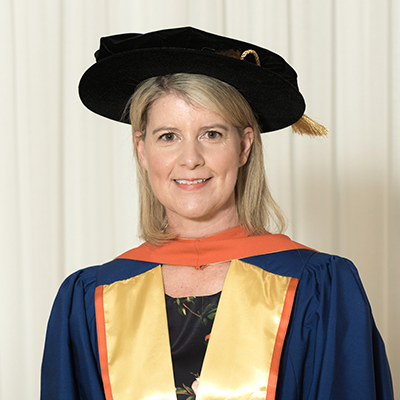 Women's rights campaigner and former South Australian Senator, Natasha Stott Despoja AM, was made an honorary doctor of UniSA in recognition of both her parliamentary and post-parliamentary contributions to the community.
Stott Despoja is the youngest woman to ever enter Australian parliament, and throughout her political career made bold contributions to a wide range of policy debate. Notably, she introduced private member's bills on challenging issues including paid maternity leave, genetic information and data privacy, and was an outspoken advocate for same sex marriage.
Since leaving parliament in 2008, Stott Despoja has campaigned extensively to raise awareness about discrimination against women and children, leading to her appointment as Australian Ambassador for Women and Girls from 2013 to 2016.
As Ambassador, Stott Despoja travelled extensively throughout the Indo-Pacific region to promote women's economic empowerment, working with a range of institutions including the UN and APEC to reduce violence against women internationally.
Stott Despoja is currently the Chair of Our Watch, a joint initiative between the Commonwealth and all state governments, established to drive nationwide change in the culture, behaviours and power imbalances leading to violence against women and their children.
She is very active as public spokesperson for Our Watch, and UniSA Vice-Chancellor, Professor David Lloyd, recognises the importance of this ongoing role.
"Natasha was a trailblazer in Australian politics and for many years a household name," Prof Lloyd says. "Retiring from the political life she has used that profile to champion issues of great importance to society and ones that resonate with her own highly developed sense of justice."
Terry Evans
Former UniSA Pro Chancellor Terry Evans was recognised as a University Fellow for his outstanding contribution to the growth and development of the University.
A member of UniSA's council for more than 12 years, Evans was Chair of the Student Appeals Committee, and a member of the Audit and Risk Management Committee, Governance and Legislation Committee, and the Senior Remuneration Committee.
Acute corporate acumen and governance capabilities have seen Evans appointed company director of several government and not-for-profit boards, and from 2010 to 2017, he served as Pro Chancellor of UniSA.
A highly experienced lawyer, Evans was appointed Chief Commercial Counsel for the South Australian Government where he acted on the privatisation of the State's electricity, ports, TAB and other smaller businesses and on the outsourcing of water and bus services. He later became the Deputy Chief Executive and then Chief Executive of the Attorney-General's Department.
UniSA Vice Chancellor Professor David Lloyd says Evans' leadership and governance expertise have been invaluable for UniSA's growth and development.
"We've been very fortunate to have Terry as part of our governance team for so many years. His stewardship, expertise and knowledge have been invaluable and I'm very pleased to acknowledge his outstanding contributions to the University," Prof Lloyd says.
Patrick Jonker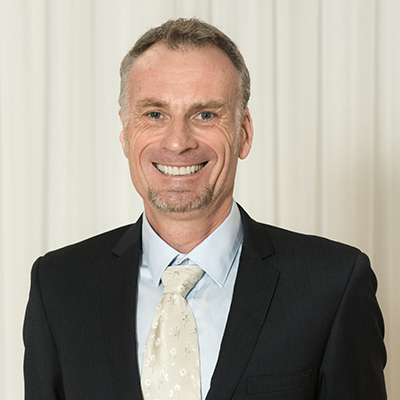 Retired international road cyclist and ambassador for cycling in SA, Patrick Jonker, was made a Fellow of UniSA in recognition of his contribution to the sport and to the South Australian community, including UniSA.
Two-time Olympic cyclist, professional cyclist on the global circuit and winner of the Route du Sud, the Grand Prix de Wallonje and in 2004 the Tour Down Under, Jonker began his career cycling the undulating hills of the Onkaparinga and Fleurieu Peninsula, before heading off to the US and Europe.
Since his retirement in 2004 he has been a passionate advocate for the Tour Down Under, a media commentator from the competitive cyclists' perspective, a mentor and advisor to hundreds of budding cyclists, an advocate for cycling for fun and fitness and a great fundraiser for cancer research, through the Ride for a Reason campaign.
UniSA Vice Chancellor Professor David Lloyd says Jonker is one of the State's great sporting leaders.
"Where others might have parked their bike and relaxed after retirement from active sport, Patrick has continued to contribute his time and expertise to cycling, to promoting good health and to fundraising for important medical research," Prof Lloyd says.
"Proud of his home state but personally humble, he is a consistent personality at the Tour Down Under, using his multilingual talents to make all feel welcome here."