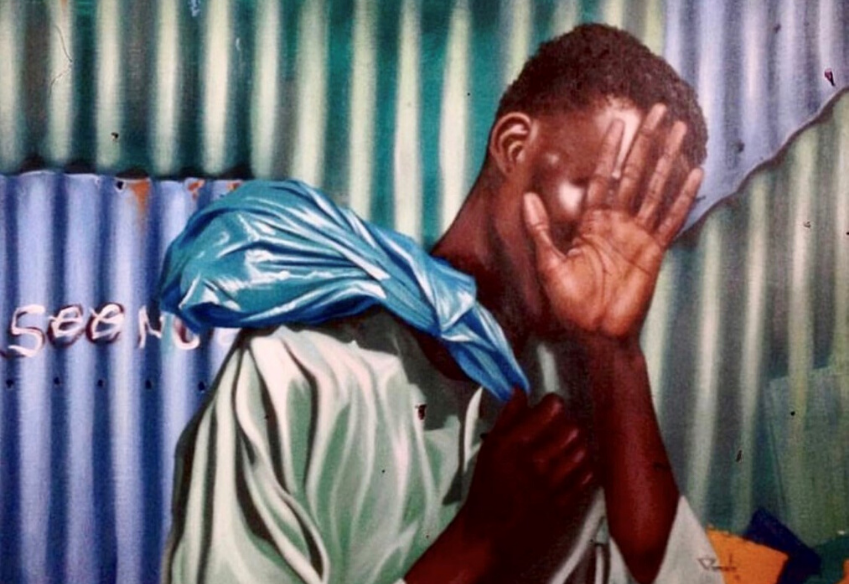 SANAA: A BETTER WORLD THROUGH CREATIVITY
MONDAY 6 JULY - WEDNESDAY 29 JULY
THE BOB HAWKE PRIME MINISTERIAL CENTRE'S KERRY PACKER CIVIC GALLERY
Opening Hours: Monday - Friday, 9am - 5pm (Thursdays until 7pm)
Hawke Building Level 3, UniSA City West campus, 55 North Terrace, Adelaide MAP
Presented by The Bob Hawke Prime Ministerial Centre and Sanaa: A Better World Through Creativity

Sanaa Exhibition returns to The Bob Hawke Prime Ministerial Centre's Kerry Packer Civic Gallery, showcasing the work of previous Sanaa artists from across the African continent. Work from the 2018, 2019 and 2020 exhibitions will be on display, as well as the work from Ugandan artist Wamala - who undertook the inaugural 2020 Sanaa Artist Residency, conceived in partnership with Lipman Karas and Nexus Arts.
The artwork, which is for sale, is a colourful selection of canvases evoking feelings of a contemporary Africa. The Bob Hawke Prime Ministerial Centre has been a proud sponsor and co-presenter of Sanaa : A Better World Through Creativity, presenting Sanaa Exhibition, Sanaa Story Telling and Feshene, since its inception in 2017.
Use the exhibition hashtags, #TheHawkeCentre and #ABetterWorldThroughCreativity and follow the exhibition on the instagram accounts, @TheHawkeCentre and @sanaa_fest

INTERNATIONAL STREET AND VISUAL ARTISTS
Art work to be showcased includes the artists below, as well as: Jimmy Kitheka, Kenya; Erick 'Stickky' Muriithi, Kenya, John Vusi Mfupo, South Africa and Lemek Tompoika, Kenya.
MOH AWUDU, GHANA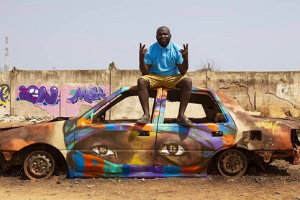 On walls, on the streets and on canvas, Mohammed Awudu, popularly known as Moh Awudu, is one of Ghana's most prolific artists. He sees himself as an ambassador for the community and street art is his means of shining a bright light, or quite literally, 'a colourful splash of paint' in his community.
His versatility ranges from pencil drawing, traditional painting, mural art, graffiti, digital painting and fashion designing.
CHELA, KENYA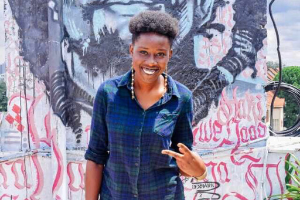 Nancy 'Chela' Chelagat Cherwon is one of Kenya's few female street artists. Despite resistance from her family in the early days, she now earns a living from her skills and continues to trailblaze Nairobi's arts scene with a mission.
Her work is inspired by the spirit of Africanism and the people of African origin and nature. She mostly depicts women in her art pieces, as well a celebration of motherhood. For Chela, women have the power to bring forth life.
ONYIS MARTIN, KENYA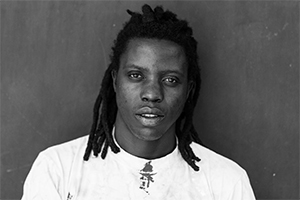 Onyis Martin is a Kenyan painter and mixed media artist. Gaining international attention, his works explore, portray and reflect current issues affecting not only the African continent but the world as a whole.
Delving into global concerns such as human trafficking, migration, political and institutional corruption, repressive environments and displacement, he also explore issues of freedom, communication, rapidly evolving technological information and consumerism.
JESTINA MULENGA MULENGA, ZAMBIA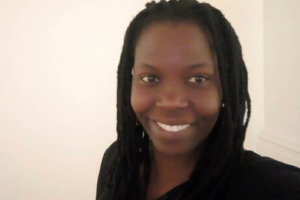 Mulenga is a versatile female Zambian artist. She has been practising her artistic skills on a professional level since 2009. A painter, sculptor, writer, performer and photographer, she holds an Art & Design Diploma from Evelyn Hone College of Commerce and Applied Arts and has participated in numerous art exhibitions within Zambia and across Africa.
Her works are typically characterised by palette knife marks and the use of raw colours. "I capture the feeling of a moment and share it with my canvas and palate. At the end of the day it is just a moment [in the journey of life] that I bring out in my artworks."
WAMALA, UGANDA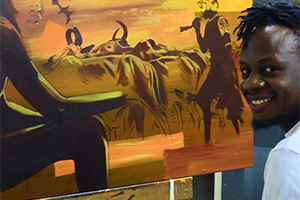 This year, Sanaa delivered the inaugural Sanaa Artist Residency, conceived in partnership with Lipman Karas and Nexus Arts. Ugandan artist Wamala was the successful artist who undertook the seven-week artist residency, which was shortened to just under six weeks as a result of the Coronavirus.
Despite the early finish, Wamala completed seven pieces of artwork which were to be exhibited at Nexus Art Gallery from 26 March. Once again, due to Coronavirus this exhibition was unable to proceed. However, Sanaa and Nexus Arts are currently developing an online exhibition which will showcase his work, alongside South Australian artist Tailor Winston.
Presented by The Bob Hawke Prime Ministerial Centre and Sanaa: A Better World Through Creativity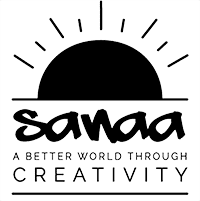 Image Credits: HERO IMAGE: Wamala (Uganda)

While the views presented by speakers within The Bob Hawke Prime Ministerial Centre public program are their own and are not necessarily those of either the University of South Australia or The Bob Hawke Prime Ministerial Centre, they are presented in the interest of open debate and discussion in the community and reflect our themes of: Strengthening our Democracy - Valuing our Diversity - and Building our future
The copying and reproduction of any transcripts within the Hawke Centre public program is strictly forbidden without prior arrangements.