2018 Exhibitions
The Bob Hawke Prime Ministerial Centre's Kerry Packer Civic Gallery is open Monday to Friday, 9am-5pm and Thursdays until 7pm (closed on public holidays), Hawke Building Level 3, UniSA City West campus, 55 North Terrace, Adelaide.
---
Showcasing the artwork and artistic talent of East and West African street and visual artists, Sanaa: A Better World Through Creativity will be returning to the Kerry Packer Civic Gallery in 2018. Visiting Kenyan street artist Swift9, will once again paint a mural direct onto the gallery wall.
This exhibition gives a voice to African artists who are working on political, cultural and socially engaged street and visual art. Sanaa will not only aesthetically please, it will challenge.
The public are invited to hear from the artists, when they
participate in an artist talk:
Wednesday 7 March, Kerry Packer Civic Gallery.
Presented by The Bob Hawke Prime Ministerial Centre. This is an Adelaide Fringe Event
---
Food, Space and Place
28 March - 24 April
Food preparation and consumption is a communal practice enacted across a range of different spaces. Food can also invoke a strong sense of place, from the nurturing warmth of a home-cooked meal to the dazzling array of flavours and spices offered via food trucks. This exhibition, presented by UniSA's School of Creative Industries and our partners, explores these ideas of food, space and place through photography, stories, artefacts and film.
Presented by The Bob Hawke Prime Ministerial Centre and the School of Creative Industries, UniSA
---
South Pacific Islander and Australian Reflections on 'Blackbirding'
30 April - 18 May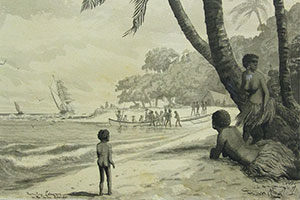 This exhibition reflects on the 19th Century 'labour traffic' (called 'blackbirding') of South Pacific Islanders by colonial powers to the plantations in Australian, Fiji, Samoa, and Peru. Approximately 60,000 were brought to Queensland, often by deception or force, and the death rate was about 25%. Many of the artworks & historical materials in this exhibition were first exhibited in Queensland (2013) and then in Fiji (2014) and Vanuatu (2015).
The exhibition will highlight and reflect on the contributions Island workers made to the economy and infrastructure, as well as the experiences of descendants of those who remained (known as Australian South Sea Islanders). In addition, the exhibition reflects on the experiences of descendants of Australian Aboriginals taken back to the Islands, and of seasonal Island workers in Australia today.
Presented by The Bob Hawke Prime Ministerial Centre, The Pacific Islands Council of South Australia and Helen Stacey with Dr David Bunton
---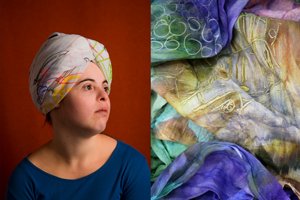 This is an exhibition showcasing the work of Tutti Artists and photographer Emmaline Zanelli, curated by Ellen Schlobohm, Visual Arts Team leader at Tutti.
The artworks are the result of a series of turban workshops, facilitated by portrait artist Daniel Connell with members of Tutti Visual Arts and Adelaide's Sikh community.
Standing Up, Standing Out is co-presented and exhibited at both the Kerry Packer Civic Gallery, Hawke Building, 28 May to 13 June and Nexus Arts Gallery, Lion Arts Centre, 31 May to 13 July.
Co-presented by The Bob Hawke Prime Ministerial Centre, Nexus Arts and Tutti Arts

---
This exhibition is part of a growing visual dialogue describing multiculturalism, anti-racism and human rights, and celebrating cultural diversity. Students from primary to tertiary level have created posters that celebrate the UN International Refugee Convention by communicating how refugees are welcomed, become part of, and contribute to the Australian "family".
Presented by The Bob Hawke Prime Ministerial Centre and the Australian Migrant Resource Centre


---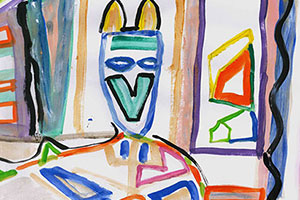 No one really knows what's going to happen, when you throw the dice you can sometimes get lucky, it's your choice if you want to take a chance. "Throw the Dice" is an exhibition featuring a diverse range of artworks by 8 local emerging artists experiencing mental illness. The Kerry Packer Civic Gallery are proud to present this exhibition, curated by Elyas Alavi and with the support of Neami National.
Presented by The Bob Hawke Prime Ministerial Centre and Neami National
---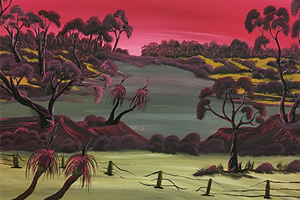 Featuring selected works created within South Australia's adult prisons, Art by Prisoners allows prisoners' artwork to escape temporarily and go on show to the public. The prisoners are anonymous but this exhibition will reveal fragments of their lives both within and beyond prison, allowing us to see prisoners not as objects, but as human subjects.
Presented by The Bob Hawke Prime Ministerial Centre as part of SALA


---
Celebrating the 30th anniversary of the establishment of the sister relationship between Shandong province and the state of South Australia. This exhibition features the work of five artists South Australian artists and seven artists from Shandong.
Presented by The Bob Hawke Prime Ministerial Centre, South Australian Living Artists Festival and SASA Gallery



---
Japan: Archipelago of the House is an exhibition of contemporary Japanese architecture focused on the category of the house - once the most iconic and the most approachable of the multi-faceted contributions that Japan has made to the discipline of architecture. In contrast to a commonly encountered approach toward Japanese architecture that presents architectural works as perfected aesthetic creations isolated from their ordinary surroundings, this exhibition aims to situate the architecture of contemporary dwelling in Japan as embedded within its various contexts - historical, urban, environmental and social.

Presented by The Bob Hawke Prime Ministerial Centre, The Japan Foundation, and the School of Architecture and Built Environment, University of Adelaide
---
Facilitated by Match S
tudio, this exhibition presents clinical tools and product prototypes designed and developed by UniSA's Communication Design students in consultation with practicing psychologists to 'visualise' complex mental health concepts. Themes of the 2018 exhibition include 'theory of mind', the mental health of university students, emotions, and behaviour change.
Presented by The Bob Hawke Prime Ministerial Centre and Match Studio
---
Australia has an ageing population. Decision-maker
s must therefore prioritise strategies that best incorporate the diverse voices of older people into the built environment. The effective use of public space is a key part of this conversation. While providing physical factors, such as ramps and well-maintained footpaths is important for creating an effective 'age friendly' public space, it is also important to consider the experiences and needs of the community in reshaping these environments.
Working in partnership with the City of Tea Tree Gully, aged care services provider ECH (Enabling Confidence at Home) and the Office for the Ageing, SA Health, an interdisciplinary team of Match Studio students and academics explored the application of age friendly community principles in a real-world setting.
Presented by The Bob Hawke Prime Ministerial Centre, Match Studio, City of Tea Tree Gully, ECH Inc and Office for the Ageing, SA Health.
---
IGNITE! UniSA Illustration and Animation Graduate Exhibition 2018
31 October - 26 November
The IGNITE! exhibition is the graduate exhibition of the inaugural 2018 UniSA Illustration and Animation program. It is a brilliant showcase of Illustration and Animation studio projects and portfolios which highlights the professional achievement, recognition and diversity by this year's graduating students. On display is creative talent and expertise in making pictures for various industry applications and publishing mediums. IGNITE is an exhibition not to miss, including Illustrated and Animated pictures for Children's Picture books, Short Animations, Character Design, Posters, Game Art, Editorial Illustration, Comics, Concept Art, Murals, Tattoo Design, Graphic Design, Fashion and more.
Presented by The Bob Hawke Prime Ministerial Centre and School of Art, Architecture and Design, UniSA
---

The Master of Design (Industrial Design) and Graduate Diploma in Design (Industrial Design), Industrial Design Graduate Exhibition showcases the creative talent of UniSA's Industrial Design students. The work featured includes innovative practice-based design investigations and collaborative design projects with industry partners.

The exhibition is highly regarded in the sector, creating employment opportunities for students.
Presented by The Bob Hawke Prime Ministerial Centre and School of Art, Architecture and Design, UniSA
---
The Bob Hawke Prime Ministerial Centre reserves the right to change this exhibition program at any time without notice.