Digital media centre a new research first for UniSA
June 24 2015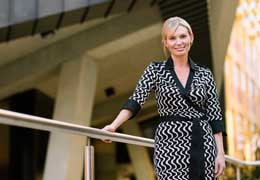 The University of South Australia is set to launch a media science research centre like no other – its purpose is to explore the world of online digital advertising and to translate ad:tech data into tangible insights for business.
The UniSA Business School's new Centre for Digital Video Intelligence will be launched in New York later this year, but its Director, Dr Karen Nelson-Field says there is already strong interest and investment from major brands that want to learn more about how to best use digital video online to reach consumers.
"Even though online advertising has been around for quite some time, for many companies, investment in video is still seen as somewhat of a risk," Dr Nelson Field says.
"In response to industry demand we have established a large-scale, independent, media science research centre to facilitate growth in the online video sector. We deliver science-based principles that inform best practice decision making.
"Our goal is to provide industry with much needed direction about video investment. Our research agenda focuses on principles for effective content distribution, content creation and platform impact."
Winner of the 2014 SA Telstra Business Women's Innovation Award and the Newscorp Women in Innovation Award, and author of the leading book Viral Marketing: The Science of Sharing, Dr Nelson-Field has been a champion of rigorous research into the impact of online and digital technologies and social media platforms in the marketing and advertising space.
UniSA Pro Vice Chancellor and Head of UniSA Business School, Professor Marie Wilson says the new Centre for Digital Video Intelligence is an invaluable addition to the School's research portfolio.
"Led by Dr Nelson-Field, who has been a pioneer in research into digital media, the Centre will bring together a dynamic team of experts in marketing and media science, mathematical modelling, machine learning and advertising effect measurement," Prof Wilson says.
"They will also be forging important collaborations with the Australian big data research group, the Data to Decisions Cooperative Research Centre and UniSA's own Institute for Choice based in Sydney, as well as a broad range of leading international companies and brands.
"The ad:tech industry is rapidly evolving and for many businesses this new area of research is vital.
"Our goal is that the new Centre will fill the knowledge gap and deliver robust insights for industry."
The Centre for Digital Video Intelligence is based at UniSA's City West campus, with the Centre for Business Growth and the new HP Innovation and Collaboration Centre.
Media contact: Michèle Nardelli office: +61 8 8302 0966 mobile: 0418 823 673 email: michele.nardelli@unisa.edu.au