Achievements and Announcements
ACHIEVEMENTS
ANNOUNCEMENTS
APPOINTMENTS
ACHIEVEMENTS
SA researchers part of national effort to counter health effects of climate change

Three UniSA researchers will share in a $10 million funding pool to help protect Australia against the health impacts of climate change.
Environmental scientists Professor Craig Williams and Professor Erica Donner are Chief Investigators on a new NHMRC-funded project to study the benefits and risks of wetlands and lagoons for humans and animals. Epidemiologist Associate Professor Katherine Baldock will also be involved.
The wetlands project is part of a five-year national research network led by the Australian National University (ANU) involving 100 researchers investigating the health impacts of urban life; bushfires; air, soil and water pollution; food security; heatwaves and other extreme events; and biosecurity.
The UniSA researchers will study how constructed wetlands recycle organic waste and wastewater; the role that birds and wetlands habitats play in zoonotic disease and antimicrobial resistance, as well as reservoirs for fungal disease in frogs; how citizen science monitors biodiversity and public health; and the mental and physical health benefits for people using wetlands.
The Healthy Environments and Lives (HEAL) network includes specialists in sustainable development, environmental epidemiology, data and science communication and those with Aboriginal cultural and environmental knowledge.
PhD graduate recognised for research excellence
A UniSA PhD graduate has won a South Australian Science Excellence and Innovation Award for the excellence of her research.
Dr Alicia Byrne, whose PhD explored the how and why of stillbirth, with an aim of giving affected families the answers they are searching for, won the PhD Research Excellence Award in late November.
The accolade is part of the SA Science Excellence and Innovation Awards, which showcase the critical importance of science, research and innovation to the development of industry and society as a whole.
"From this research, in 50 per cent of the families we worked with, we were able to identify a definitive cause or a likely cause for their loss," Dr Byrne says. "This means we were able to provide more accurate counselling to families, and already about 25 per cent of the families that we gave the diagnosis to, have used this information to inform their reproductive planning."
So far, this has helped families have 11 healthy babies.
UniSA senior lecturer in Radiation Therapy Dr Michala Short was named Unsung Hero of Science at the awards. Read the separate article (below) on her achievement.
Unsung hero of science lends her voice to cancer patients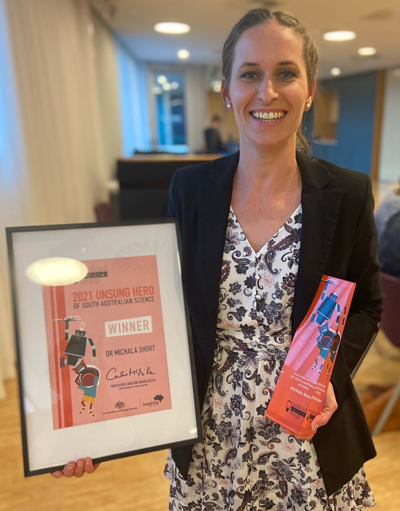 UniSA radiation therapist Dr Michala Short has been named South Australia's Unsung Hero of Science for 2021, acknowledging her 20-year career helping to improve the lives of cancer patients, alongside her work to support the establishment of Australia's first proton therapy centre.
The UniSA lecturer and researcher was awarded the honour by the Chief Scientist of South Australia, Professor Caroline McMillen, at a special ceremony at Pridham Hall.
Dr Short is one of only three South Australian radiation therapists with a PhD, and her contribution to scientific research in South Australia has not only helped cancer patients but has trained and inspired a new generation of researchers.
The young scientist is involved in key research in collaboration with the Australian Bragg Centre for Proton Therapy and Research, the first of its kind in the Southern Hemisphere to treat paediatric, adolescent and young adult patients and those with rare cancers. It is due to open in 2025.
In 2018, Dr Short, along with a handful of other scientists and radiation oncologists, advised the Federal Government on the introduction of proton beam therapy. Compared to conventional x-ray (photon) therapy, proton beam therapy more effectively targets tumours and cancer cells, delivering optimal radiation doses to the tumour while limiting the effects on the surrounding healthy tissues.
Proton therapy will particularly help children and young people living with cancer because their cells and brains are at a sensitive stage of development and highly susceptible. The Bragg Centre is expected to treat up to 700 patients a year.
The Australian Institute of Policy and Science (AIPS), which hosted the awards, said Dr Short had been "instrumental in raising the profile of medical radiation science across Australia and has paved the way for others, especially young women, to pursue scientific research in this discipline".
Dr Short said it was an honour to receive recognition for her career across the clinical, academic and research spheres.
"It also gives kudos to the medical radiation science community, which is so important in the treatment of cancer," she said.
"We're fortunate in Australia to have world-class radiation therapy facilities and it makes a big difference to people's lives that are affected by cancer."
South Australia's 10 Young Tall Poppies of Science for 2021 – including Dr Brenton Hordacre and Dr Vitomir Kovanovic – were publicly honoured at the ceremony.
Grant to further research into effect of climate change on octopuses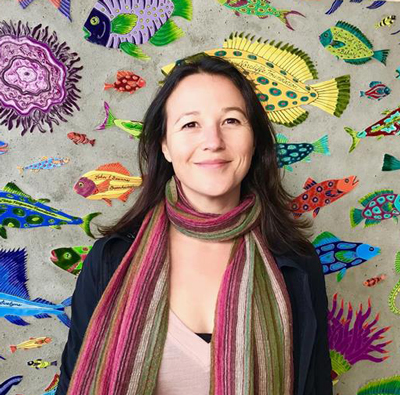 UniSA marine biologist and ecologist Dr Zoe Doubleday will examine the impact of climate change on octopuses after winning a grant from the Australian Academy of Science.
Dr Doubleday, an Australian Research Council Future Fellow, has been awarded a Thomas Davies Research Grant for Marine, Soil and Plant Biology for 2022.
The grant is funded through a philanthropic bequest to the Science Academy from the estate of the late Thomas Lewis Davies and offers annual research grants to early- and mid-career researchers in the fields of marine, soil and plant biology.
Dr Doubleday will use the grant to examine how climate change affects the brain functioning of octopuses.
"My collaborators and I can discover something entirely new about the natural world that could not only benefit marine life, but benefit society in a way we don't even yet realise," she says.
Psychology student named NAIDOC Youth of the Year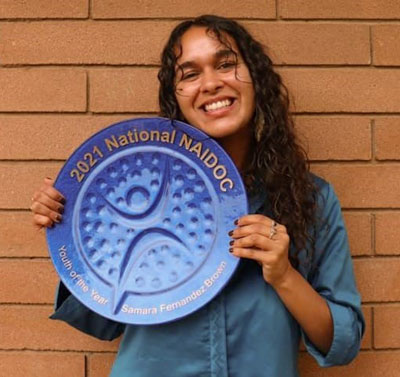 A UniSA psychology student has been named the Youth of the Year by the National NAIDOC Committee.
UniSA student Samara Fernandez‐Brown is a proud Warlpiri woman from Yuendumu, located three hours northwest of Alice Springs.
National NAIDOC Committee co-chair John Paul Janke says the awards honour outstanding achievements by Aboriginal and Torres Strait Islander peoples at the community and national level.
"They highlight the best of Indigenous Australia and celebrate our strength and resilience in maintaining our cultures and reaching new heights in a wide range of pursuits," he says.
In naming Samara Youth of the Year, the committee described Samara as an advocate for her people. She became a social justice activist following the shooting and death of her cousin, Kumanjayi Walker in 2019. Samara coordinated the "Justice For Walker" campaign, liaising between Warlpiri Elders and the police, judicial system and the media, organising rallies, fundraising to cover the case's legal fees all while remaining a peaceful, thoughtful and impassioned spokesperson for her family, community and the broader deaths in custody movement.
She is a board member of the Dhadjowa Foundation, a national grassroots organisation that's been established to provide strategic, coordinated and culturally appropriate support for Aboriginal and Torres Strait Islander families whose loved ones have died in custody.
Samara is studying psychology at UniSA. After graduating, she hopes to use the skills to help young Aboriginal and Torres Strait Islander people overcome ingrained disadvantage and realise their inherent resilience and strength.
Visiting Research Fellow wins Book of the Year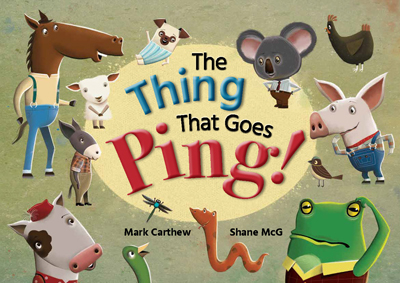 Upcoming Visiting Research Fellow and award-winning children's author, musician and educator Dr Mark Carthew's latest book has been named the 2021 Speech Pathology Australia Book of the Year Award in the five to eight years category.
Illustrated by Shane McG, The Thing That Goes Ping! features wordplay through rhythmic narrative and evocative illustration while introducing young readers to the concept of onomatopoeia – when a word phonetically imitates the sound it describes.
The Speech Pathology Australia Book of the Year Awards aim to promote children's books as literacy tools and raise awareness of the role speech pathologists play in helping children develop language and literacy skills.
Known for his books and series celebrating language, humour and wordplay, Dr Carthew will join UniSA in March next year as part of the UniSA Visiting Research Fellowship scheme in which he has been awarded the Ermidis Irwin Visiting Research Fellowship.
UniSA language and literacy expert and Research Professor Barbara Comber congratulated Dr Carthew on his award.
"We are excited to welcome Dr Carthew who will work alongside UniSA academics and industry partners to raise the profile of oracy in children's language development," she says.
"As well as being an active and award-winning author, Dr Carthew is also an experienced educator and researcher. We are looking forward to seeing what he achieves during his time here and learning from his expertise and creativity."
For more information on Dr Carthew's book The Thing That Goes Ping! go to the Ford Street Publishing website.
Sculpture by UniSA artist is making waves by the sea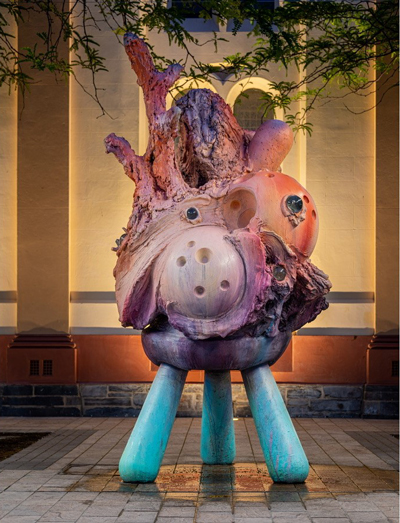 As visitors flock to the seaside suburb of Glenelg this summer, they will be greeted by a strange, new creature – the Sesquipedalian Sea Squirt.
It's a three-metre-high sculpture made by UniSA artist and lecturer Michael Kutschbach and it has found a home at the heart of the newly opened Chapel Plaza, located off the popular Jetty Road shopping and dining precinct.
Kutschbach says he found inspiration for the vibrant piece in the South Australian coastline, which is home to more than 200 different sea squirt species of varying colours, sizes and textures.
In an article for the City of Holdfast Bay council, who commissioned the artwork, Kutschbach says people will be drawn to the sculpture's textures and surfaces.
"I hope it'll come across as a very friendly, strange thing – one that arouses curiosity," Kutschbach says.
"It's a generous, fun, colourful and responsive sculpture. And given the textures on it, it'll be irresistible to touch."
Kutschbach spent four months creating the sculpture in his Hawthorndene workshop with the assistance of fellow artists Johnnie Dady and Nicholas Gruenke.
For more information, go to the City of Holdfast Bay news website.
Biochemistry researcher awarded $50,000 to help tackle childhood lead exposure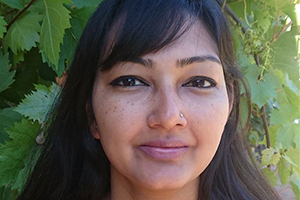 UniSA biochemistry researcher Dr Farzana Kastury will use a $50,000 grant from the AMP Foundation to continue her work into reducing childhood lead exposure from contaminated soil.
Dr Kastury is one of 27 outstanding researchers named "Tomorrow Makers" by AMP, sharing in a $1 million funding pool to support projects which benefit local communities.
Lead exposure is an issue which disproportionately affects low socioeconomic areas and regional Australia, where lead smelters are located.
High blood lead levels can cause miscarriages and harm intellectual development in children, causing neurological problems such as attention deficit hyperactivity disorder (ADHD).
Through her research, Dr Kastury has identified a new technique to treat soil with iron sulphate, reducing lead exposure by more than 90 per cent. She hopes the technology will be taken up by industry in future.
"Lead exposure causes health, developmental and behavioural problems, contributing to escalating healthcare costs and social impacts," Dr Kastury says.
"The AMP grant will help take my research to the next level to mitigate lead exposure, improving, health, economic and educational outcomes in affected communities."
Images of Research and Teaching People's Choice winner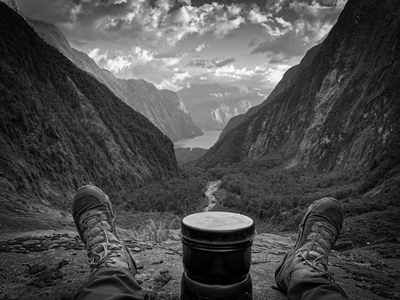 Famously described by Rudyard Kipling as the "eighth wonder of the world", a breathtaking photo of Milford Sound has won the People's Choice award in the 2021 Images of Research and Teaching competition.
The photo by UniSA Associate Professor in Geology and Geochemistry Tom Raimondo, titled 'This is my office. Where's yours?', looks down onto Milford Sound in New Zealand from the top of Pembroke Valley.
"As the old geologists' saying goes: 'The rocks won't come to you - you have to go to the rocks!'," Assoc Prof Raimondo says in his competition entry.
"One of the wettest places on Earth, but equally one of the most spectacular. The gorgeous view hides a rare secret: clues to how the deep plumbing network beneath volcanoes are organised, the engine room for the most geologically active regions on Earth. Where else would you want to spend your working day?"
Deputy Vice Chancellor: Research and Enterprise Professor Marnie Hughes-Warrington announced the winning image in November via UniSA's social media.
"Thank you very much to all entrants and voters in the 2021 Images of Research and Teaching competition," Prof Hughes-Warrington says. "We look forward to receiving your images and videos in both categories next year."
Assoc Prof Raimondo is a geologist and geochemist who focuses on how mountains form in the centre of tectonic plates, how fluids control the strength of rocks and trigger earthquakes, and how hot rocks may influence ice loss in Antarctica.
UniSA's Images of Research can be viewed on the Images of Research and Teaching website.
Celebrating UniSA's SA Press Club Award winners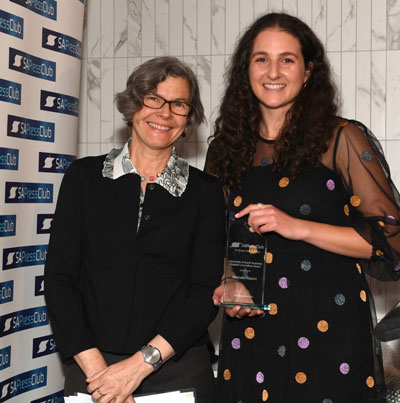 UniSA students and alumni have won several key awards at the 2021 SA Press Club Awards.
The SA Press Club Awards recognise excellence in South Australian journalism across traditional and contemporary platforms.
The awards were established so that journalists, photographers and cartoonists can be freely judged by their peers.
This year's awards were presented at a ceremony in mid-November in Adelaide.
Fifteen of the commended, highly commended or award winners were UniSA graduates or current students, including:
Michelle Wakim – Winner: University of South Australia Student Journalism Award.
Casey Treloar – Winner: University of South Australia Young Journalist of the Year, Seven Network.
Simon Cross – Winner: Lion Best Features Photograph Print or Digital Award for "Football in the Outback", News Corp.
Sean Fewster – Winner: Mitsubishi Motors Best News Feature, Podcast or Long Form Radio Report for "Just Lawful Podcast: The Hillier Triple Murders" with Daniel Panozzo, FiveAA.
Will McDonald – Winner: People's Choice Best Community Report in Any Medium for "Cancer Fight", Nine News.
The full list of award recipients is available on the SA Press Club website.
Top honour for UniSA journalism professor
UniSA Adjunct Professor Kerry Green has been made a Life Member of the Journalism Education and Research Association of Australia (JERAA), an honour bestowed on only a few in the field.
Prof Green received the honour at the annual JERAA conference earlier this month, during which his important contributions to journalism research and education were highlighted by senior and experienced academics.
"It's an honour, and I am humbled and very pleased to be recognised," Prof Green says. "One key reason for that is I was president for two terms of the Journalism Education Association, which evolved into JERAA, a shift that recognised the importance of research to the profession.
"I think that was a really important step for journalism education in Australia, and I am really proud to be a part of that movement. I am very happy that the association made that step and that it saw fit to honour me for my contributions to it."
Prof Green joined UniSA in 2005 and held a number of senior roles before his retirement from full time academia at the end of 2020.
UniSA Creative Executive Dean Professor Craig Batty says Prof Green's JERAA life membership reflects a long and distinguished career and contribution to the field.
"Professor Green was recognised for his consistent and outstanding service to journalism education and research, and for his leadership, collegiality, supervision and mentorship of colleagues over more than three decades – some of which was of course during his time at UniSA," Prof Batty says.
"This is a great honour, and we offer Kerry our congratulations."
UniSA named 'top 50 professional collaborator' in global awards
UniSA has been named a Top 50 Professional Collaboration University in the 2021 Global University Career Development Awards.
The awards, which are run by China-based Global University Central Career Union (GUCCU) and recruitment platform Lockin, recognise the efforts of universities and employers in providing career opportunities for students during the pandemic.
The Professional Collaboration award acknowledges universities that have a good reputation in the Chinese recruitment industry and are well known by Chinese enterprises.
UniSA Director of Student Engagement Brendan Hughes says it's nice to be recognised in an area that is often overlooked in traditional rankings.
"We have had a relationship with Lockin for more than four years as part of our approach to help Chinese nationals who study with us but want to return to China to work," he says.
"In the awards, there are three global regions and 27 universities in the Australasian Region. We were ranked in the top 12 of that list.
"It's exciting to hear that international industry partners consider us a good university to work with. It's a credit to the hard work our team and colleagues put in here in Adelaide to build global relationships that benefit our students and graduates."
UniSA's Manager of Career Services Demi Kastanos says UniSA students actively engage in Career Development Learning throughout their studies.
"We empower students to plan and manage their careers, and build valuable employability skills that makes them more employable upon graduation," she says.
"Chinese employers have seen the output of this value in the quality of our graduates and it's great to be recognised for our efforts."
Lockin is one of China's leading recruitment platforms. Its not-for-profit arm GUCCU works informally with universities around the world to provide internships and employment opportunities for Chinese students and graduates studying abroad who plan to return to mainland China for work.
For more information on the awards, go to the GUCCU website. If you are an industry partner or employer seeking to engage in UniSA talent to support your workforce planning initiatives, please contact careers@unisa.edu.au.
ANNOUNCEMENTS
New Professorial Chair to honour the late Professor Mike Miller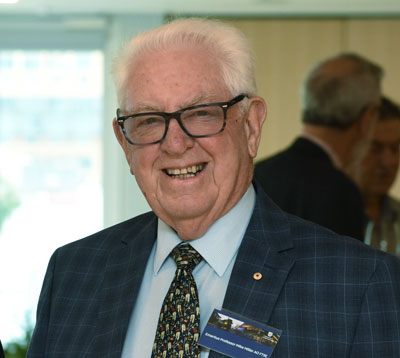 The new SmartSat Professorial Chair in Telecommunications has been named in honour of the late Emeritus Professor Mike Miller, acknowledging his lifelong contributions to the field of wireless and defence communications and to UniSA.
Prof Miller, who passed away in November, spent 35 years at the University where he was Professor of Telecommunications and Foundation Director of the Institute for Telecommunications Research, which he established in 1994.
His contribution to telecommunications technology research and the field of engineering more broadly has been recognised through a number of national accolades.
He was elected Fellow of the Academy of Technology Science and Engineering in 1993, was named Australian Professional Engineer of the Year in 1995, received the Centenary Medal from the Australian Government for service in space science and technology in 2000; and was made an Officer of the Order of Australia in 2008.
The UniSA Michael Miller Medal, which Prof Miller established in 2005, continues to support aspiring researchers by recognising the UniSA STEM graduate or graduand with the most outstanding PhD thesis.
UniSA STEM Executive Dean and long-time colleague Professor Julie Mills says Prof Miller was "kind, generous and supportive of all he worked with".
"My own memories of Mike date back to my first few months at UniSA in 1996 when he was leading what was then the Faculty of Engineering and Information Technology," she says.
"I was interested in attending a conference on Engineering Education but didn't have funds to do so or know the process to ask. My Head of School suggested I go meet Mike as he was a strong supporter of women in engineering.
"I remember that Mike immediately put me at ease, had a chat about my background and my career ambitions and supported me to go to the conference, which put me on the path to doing my PhD in Engineering Education.
"Years later I was chatting with him about that meeting and how important his encouragement was to me at the time. He said he remembered it clearly and had followed my career progression with satisfaction ever since."
Fellow colleague and UniSA Project Coordinator: IVE and Space Studies Program Amanda Johnston echoes Prof Mills' sentiments about Prof Miller's ability to both provide inspiring leadership and lift others up with him.
"Mike was one of the early advocates for increasing the number of women engaged in STEM industries, particularly engineering," Johnston says.
"He strongly supported the appointment of women to both staff and PhD positions. He mentored many and ensured equal representation of women at all forums.
"Mike referred to the staff and students within his realm as his family and treated them as such. For many, Mike was more than a colleague or a boss – he was a friend and mentor."
Prof Miller played an important role in transferring technology and knowledge to industry with several successful startups borne out of research developed at what was then the Institute for Telecommunications Research (ITR).
One of those was Myriota, which uses low earth orbit satellites to provide two-way data connectivity for remote sensors and devices. Prof Alex Grant, whose PhD was supervised by Prof Miller, went on to become the Chief Executive Officer of the successful spin-off company.
Prof Grant says Prof Miller, and the Institute he founded and led, have had a profound and lasting impact on the space and telecommunications industry.
"Mike's focus on industrial research within an academic setting created a unique and fertile breeding ground," Prof Grant says.
"Not only did this produce numerous startups, and alumni now in positions of leadership, it also rose to the heights of internationally recognised research quality.
"It is no exaggeration to say that the current success of the space industry in Australia can be traced back to humble beginnings in a few temporary huts hidden away at the back of campus."
The Mike Miller SmartSat Professorial Chair in Telecommunications is jointly funded by the University and the SmartSat Cooperative Research Centre with recruitment for the role commencing early in 2022.
Data to improve medicine selection and dosing accuracy for renal patients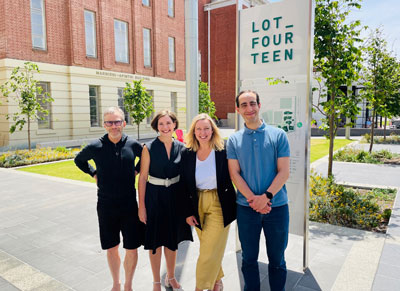 A new $1 million research project to improve medicine selection and dosing for patients suffering renal impairment is underway between UniSA, Northern Territory (NT) Health and the Digital Health Cooperative Research Centre (CRC).
The project aims to create a clinical decision support tool to help healthcare professionals accurately prescribe medicines for patients with impaired kidney function. The tool will be a standalone service, delivered via an application program interface (API), allowing for easy integration with existing prescribing and/or dispensing software systems.
The research team is led by UniSA Research Professor Libby Roughead and Senior Research Fellow: Digital Health Dr Andre Andrade, who say inaccurate medicine selection and dosing for people with poor kidney function is a common and preventable issue. A quarter of people with poor kidney function are on inappropriate medications, suggesting that interventions aimed at primary care prescribing could significantly reduce emergency department admissions.
"The inappropriate prescription of medications to treat renal impairment contributes to up to 10 per cent of adverse reactions, severe enough to cause hospital admission," Prof Roughead says. "A digital solution targeting this problem has the potential to prevent 25,000 medication related admissions annually."
Digital Health CRC CEO Dr Terry Sweeney expects the research to also contribute to the digital economy by promoting the use of clinical decision support systems as a service.
"Medication-related problems are responsible for more than 250,000 annual hospital admissions, costing $1.4 billion per year," Dr Sweeney said.
"The DHCRC is committed to supporting translatable and commercially viable research to alleviate this pressure on our healthcare system and improve the lives of patients."
APPOINTMENTS
Appointments to People, Talent and Culture executive team
UniSA will see a refreshed team and a new structure in People, Talent and Culture in 2022 with a recently announced senior team set to lead the implementation of a new service delivery model. The new team will comprise three deputy director positions.
Melissa Ciplys will join the University as Deputy Director: Organisational Capability, leading the portfolio encompassing People and Organisational Development and Strategic People Partnering, working directly with academic and professional units.
An experienced senior people and culture leader, she is currently Head of People and Culture at Shoal Group.
"Melissa will bring both broad and deep experience of strategic capability building in large complex organisations," says UniSA Executive Director: PTC Jane Booth.
"An award-winning leader, Melissa is also a registered psychologist and accredited coach whose passion for building potential in teams will be invaluable to PTC and UniSA."
Miranda McDonald will take on the role of Deputy Director: People Services. Having worked with UniSA for more than five years as a leader in Recruitment Central and Business Services, Miranda has shown enormous commitment to the University and the future potential of its people.
"In taking up the leadership of the People Services portfolio, Miranda will bring her strategic insight, passion for people, 'can do' approach and clear-sighted constructive leadership to establishing the new portfolio," Booth says.
Mark Gladigau completes the new team as Deputy Director: Advisory Services, a new portfolio of Safety and Wellbeing, Employee Relations and a new function of Workplace Transformation. He has spent 19 years with UniSA and will bring a deep insight of UniSA's culture and aspirations to the new portfolio.
Professorial Chair in Artificial Intelligence appointed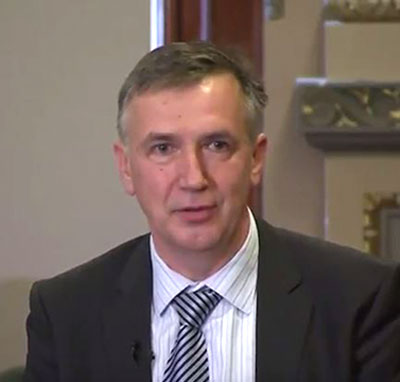 A new Professorial Chair in Artificial Intelligence (AI) has been established at UniSA as part of UniSA's commitment to the SmartSat Cooperative Research Centre (CRC) Professorial Chair Program.
Leading international AI expert Professor Ryszard Kowalczyk has been appointed to the role, where he will develop and lead an interdisciplinary AI research program, working with UniSA researchers to boost innovation in AI and secure competitive funding.
UniSA Deputy Vice Chancellor: Research and Enterprise Professor Marnie Hughes-Warrington welcomed Prof Kowalczyk's appointment.
"It's an exciting time to join the University as technology is evolving more rapidly than we would have ever thought possible," she says.
Prof Kowalczyk will join UniSA from Swinburne University, where he is a Professor in Intelligent Systems and the Director of the Swinburne Key Lab for Intelligent Software Systems.
His research in AI has been recognised both nationally and internationally. In 2013, Prof Kowalczyk received the lifetime title of State Professor awarded by the President of Poland.
Prof Kowalczyk is the second of three chairs to be appointed by UniSA as part of the SmartSat Professorial Chair Program.
The first appointed was Professor Jill Slay as the SmartSat Chair in Cybersecurity and the third will be appointed soon following the recently announced Mike Miller SmartSat Chair in Telecommunications.
CEO and Managing Director of SmartSat CRC Professor Andy Koronios says the establishment of the AI Chair is the first step in building research capability in the priority area of AI.
"The Professorial Chair Program allows us to appoint some of the world's top researchers in disciplines of national importance," he says.
"These researchers will collaborate with universities and industry partners to drive research and innovation in the rapidly developing space sector."
Prof Kowalczyk will commence the role in early 2022. For more information the SmartSat CRC and the Professional Chair Program, go to the SmartSat CRC website.
New director for Future Industries Institute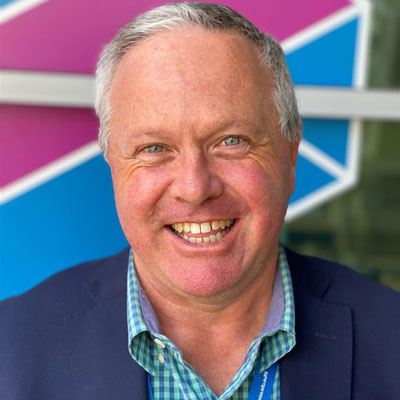 Research scientist Professor Peter Murphy has been appointed as the new director of UniSA's Future Industries Institute.
Prof Murphy has more than 30 years' experience in research across the private and academic sectors, commencing as a research scientist with SOLA Optical following the completion of his PhD in Chemistry from Flinders University. He joined UniSA in 2003 as a Senior Research Fellow in the Ian Wark Research Institute and later moved to the Mawson Institute – two of the forerunner institutes that merged to form the Future Industries Institute (FII). In 2015 he was appointed as Strand Leader and David Klingberg Chair in Energy and Advanced Manufacturing – Future Industries Institute and since October 2020 has been the interim director of FII.
UniSA STEM Executive Dean Professor Julie Mills says Prof Murphy's appointment is an excellent outcome for FII.
"Peter is highly respected by both internal and external colleagues alike, and has the vision, experience and enthusiasm to lead FII through its next phase of growth and innovation," Prof Mills says.
"Since joining UniSA in 2003, Peter has won over $23 million in research funding across all funding categories of ARC, government, industry and CRCs.
"Peter's research excellence was recognised in 2016 through the awarding of the ATSE Clunies Ross Medal in the innovation category for leading the project that delivered the world's first plastic automotive mirror – a product that has achieved sales associated with eight million parts to date.
"While the [recruitment] panel clearly felt that Peter has the industry-focused research excellence needed to lead FII, they were equally impressed by Peter's approach to leadership."
Prof Mills says Prof Murphy's style of "open communication, transparency and trust, is one that aligns to the current and future expectations of leadership in STEM".
"I'm sure that you will join me in congratulating Peter on this well-deserved achievement," she says.