COVID-19 reveals both a silver lining and a gaping hole in Australia's manufacturing sector
By Candy Gibson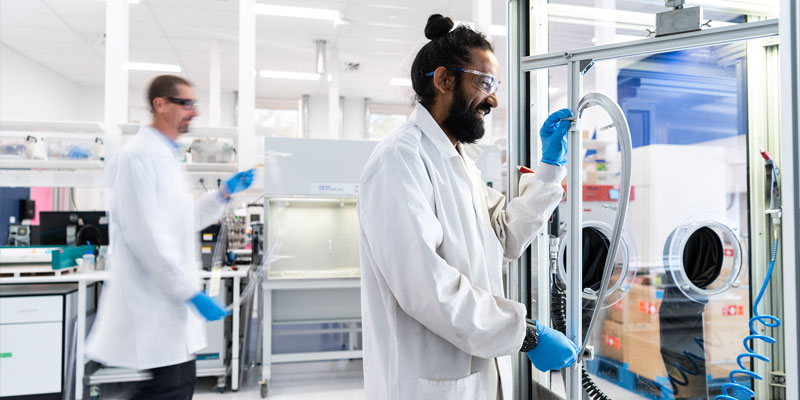 TECHNOLOGY AND ENGINEERING
> UniSA in joint project to help halt the spread of COVID-19
Adelaide packaging company Detmold was super quick off the mark last month when it put up its hand to produce 145 million surgical and respirator masks to assist in the fight against COVID-19.
The fact it could pivot from packaging to producing life-saving medical equipment in the blink of an eye says something about the agility, breadth and strength of the state's manufacturing sector.
But it's equally true that Australia has been caught flat-footed in this pandemic, exposing the nation's reliance on global supply chains, which have collapsed overnight.
The failure to build a sustainable manufacturing sector which supports mass local production of goods, ensuring sovereign capability, is a tangible lesson from this crisis, according to Professor Emily Hilder, the Director of UniSA's Future Industries Institute.
"In tragedy lies opportunity, and we have a real chance to seize this moment and lay the foundations for a renewed focus on manufacturing in our country," Prof Hilder says.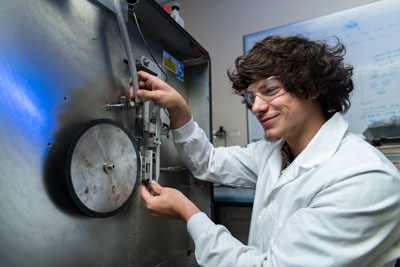 South Australia is well placed to take the national lead in this space, with a long history in automotive manufacturing and emerging strengths in the defence, space and technology sectors.
Prof Hilder says UniSA's close alignment with industry also gives it an edge, connecting local businesses and end users to innovative, world-class research.
A UniSA-based Industry 4.0 Testlab in defence manufacturing, led by Professor Nikki Stanford, offers businesses a physical space where they can view the latest manufacturing and prototyping technologies.
"The testlab is themed in defence but its capabilities and research are also applicable to bio-med, food and agriculture, and mining," Prof Stanford says.
"We're basically a one-stop shop for industries who want to connect with academic research in fields such as virtual reality and digital design."
Prof Stanford says the COVID-19 crisis has underlined the need for sovereign manufacturing capability in a range of areas.
"Australia had a PPE shortage even before the coronavirus pandemic. During the bushfires earlier this year we were caught short of the correct masks to protect people from the damaging effects of smoke inhalation, for example.
"Environmental emergencies, international conflicts, health emergencies and the pervasive uncertainty of our future are all reasons to build our manufacturing capability.
"South Australia has a quiet, but extremely skilled manufacturing base and I believe we are in the box seat to become the country's powerhouse of innovative design and advanced manufacturing."
UniSA Defence Director Matt Opie says the collapse of global supply chains has been "a bit of a sanity check" for Australia's sovereign industrial capability.
He told The Lead recently that while defence parts made in Australia were of high quality, suppliers had traditionally sourced products and components from Asia based on price.
"Historically, Asia has won out because of their cheaper prices but, going forward, a guaranteed supply from Australian providers should be given a higher priority than cost."
Industry Associate Professor Colin Hall has recently completed a CRC project with local companies LaserBond and Boart Longyear, helping the mining industry to tackle a $30 billion problem of wear and tear by extending the life of drilling components.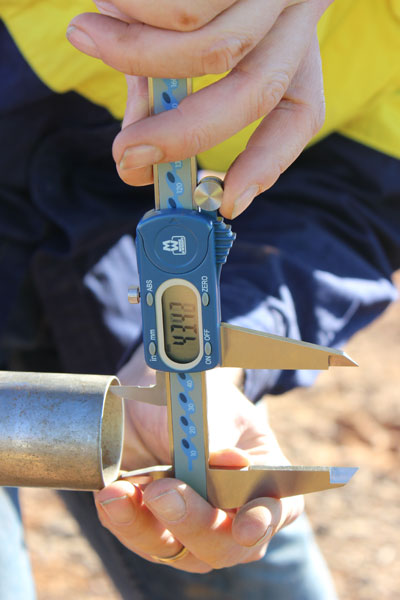 Assoc Prof Hall predicts a turbulent few years ahead for the manufacturing sector in the wake of COVID-19, with supply and production chains disrupted, but says it's an ideal time to assess the industry.
"Investing in boosting our sovereign capability may offer some opportunities in the short term but we still have to get around the issue of price," he says.
"Companies might see Australia as a safer location to base their manufacturing and accept a higher cost to guarantee security of supply. Only time will tell.
"One good thing that has come out of this crisis is that governments have seen how quickly our manufacturers have pivoted to meet a market opportunity. That could see an increased level of support from governments to grow new businesses, leading to greater self-sufficiency."
The last word goes to Prof Hilder who warns that the current pandemic won't be the last – or the worst.
"I think the existing global model will completely shift. Everyone has seen how the supply chain collapsed overnight and nobody wants a repeat of that.
"It's true that a lot of things stopped being made in Australia because companies couldn't compete on price, but we are more competitive than people realise.
"In South Australia we have some enormous advantages. We have great connectivity between early stage research and development, excellent relationships between government and industry, and the right mix in our economy to respond to these challenges."
UniSA in joint project to help halt the spread of COVID-19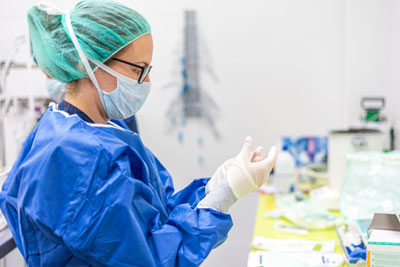 In an Australian first, millions of respirator and surgical masks made by Adelaide packing company Detmold will be tested at UniSA and Flinders University laboratories to help stop the spread of COVID-19.
The State Government is allocating $450,000 for the project where more than 20 million masks will be produced and tested each month for local and national markets.
In announcing the testing facilities, Premier Steven Marshall says the State Government's plan to protect South Australians during the coronavirus pandemic was fostering the development of critical local medical capability.
"Making and testing respirators and surgical masks in Adelaide is exactly the type of innovative response required to provide Australia with the equipment needed to halt the spread of COVID-19 and save lives," Marshall says.
"This is an outstanding example of government, universities and business coming together to work in the national interest in the most challenging of times."
The director of UniSA's Future Industries Institute Professor Emily Hilder says the University is excited to collaborate with Flinders University to support local testing of masks.
"This both improves our capacity to respond to the immediate demands due to COVID-19 and also provides new opportunities that will support the long-term viability of manufacturing businesses in South Australia," she says.

SA Health Minister Wade says the testing facilities at the two universities will provide ongoing assurance to the public of the quality and safety of equipment being used in our hospitals.
"I commend the initiative of the University of South Australia and Flinders University for the important role they are playing to improve the delivery of this vital protective medical equipment to Australian health workers," he says.
The locally made medical equipment will start rolling off the production line in May. UniSA's testing will be undertaken at Mawson Lakes.
China normally produces most of the global supply of face masks, however this has been significantly disrupted because of the COVID-19 pandemic.
Face masks such as the respirator P2/N95 and level 3 surgical masks need to be tested to strict manufacturing standards to protect frontline health workers, and usually testing is undertaken in the United States, taking around three weeks.