War veterans tap into their creative side at UniSA
By Candy Gibson
A pilot rehabilitation program at UniSA is forcing returned soldiers out of their comfort zones, using acting, singing and poetry as an outlet to express themselves.
Seven army veterans sidelined with a range of physical and psychological injuries took part in the first Soldier Recovery Centre Arts Workshop Program held at UniSA's Magill Campus in June.
Developed by performing arts academic Dr Russell Fewster and sociologist Dr Brad West, the program encourages soldiers to explore their creative side as an alternative therapy to heal the scars of war.
"The therapy is an outlet for the soldiers to express themselves without being judged and perhaps tap into a creative side they didn't know they had," Dr Fewster says.
"Emotions often run high in the sessions and range from sorrow to a kind of euphoria. There's a certain intensity there."
The six-day program incorporated sessions in creative writing, poetry, drama, dance and music.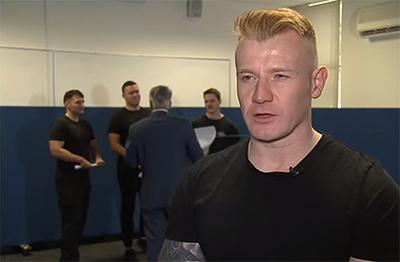 Corporal Martin Robinson, who has served in Afghanistan where he was shelled in a mortar attack, says the creative arts therapy has been a "massive release," helping to take his mind off his physical injuries.
"Your mind is not always on your injury when you are performing. It has taken a lot of courage to do this, but it has given me a new passion for poetry and the performing arts."
It is hoped the program will become a standard part of recovery for defence personnel.