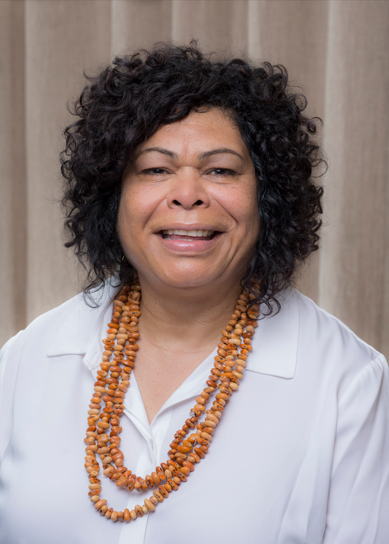 Andrea Mason
Andrea a former CEO of the Ngaanyatjarra Pitjantjatjara Yankunytjatjara (NPY) Women's Council and now Commissioner made her way from Kalgoorlie to Alice Springs via Adelaide and Canberra (each more than once) on a journey that has involved a netball scholarship, politics, two university degrees, an honorary doctorate, a secondment in Westpac and stints as a public servant.
Along the way she's picked up the knowledge, skills and contacts to make a real difference to the lives of families and individuals in remote Australia. The enthusiasm was always there – and it has never wavered, despite the size of roles she has taken on. From remote area service delivery, creating reconciliation action plans, looking at strategies that uses cultural ways, old and new to tackle domestic violence, to advancing the rights of First Nations people with disability. During these opportunities Andrea has actively looked to cultural principles to find keys to unlock positive social change.
She was named the 2016 Telstra Australian Business Woman of the Year and the NT finalist in the 2017 Australian of the Year Awards. In January of that year, she was selected as one of six members of the Prime Minister's Indigenous Advisory Council and soon after appointed Co-Chair.
Andrea credits her extended family and a loving upbringing with shaping her core values and determination to succeed, but her career really began when she completed a Bachelor of Aboriginal Affairs and Public Administration at UniSA's antecedent institution, the South Australian Institute of Technology (SAIT), in the 1980s.
"I had a dream of working in remote communities but to do so I felt I needed to understand the history of those communities and the role of government," she said. "The degree gave me the best start towards becoming a leader in social inclusion in remote communities; I'm really pleased about that decision."
Andrea's mother studied community development in the same school at SAIT and built a career in government and child protection. "It was a very dynamic learning environment, not just for younger people like me but also for mature aged students," Andrea said.
After graduating, Andrea worked in a variety of roles in Adelaide then added a law degree to her qualifications before trying her hand in politics including standing as a candidate in the 2004 federal election.
Though she did not win a seat, she valued the experience. "As I engaged with the challenges that Aboriginal people face – much of that struggle has been around society and the way that structures are set up – I felt that being in Canberra and a part of the debate of ideas is something I wanted."
Roles with the Department of Family, Community Services & Indigenous Affairs then Reconciliation Australia followed, but in 2008 Andrea decided it was time to follow her calling. She moved to Alice Springs as Senior Adviser and Project Manager with the NPY Women's Council, before taking over as CEO the following year later. After working in the Council for over a decade, in April 2019 she accepted the role of Commissioner in the Disability Royal Commission.
Andrea is still as passionate as she has ever been to advancing First Nations issues, and through the work of the Disability Royal Commission she is doing all she can to ensure the voices of First Nations people with disability is respectfully heard and advanced.