Perfect time to add to the "explosion of knowledge" in child protection
January 22 2014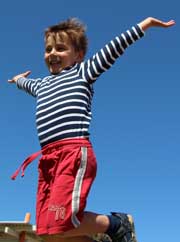 The ability to make a difference to the lives of vulnerable children, at an early career stage, coupled with an "explosion of knowledge" into the causes and methods of preventing and tackling child abuse and neglect, makes now a perfect time for students to consider careers in child protection, says Professor Fiona Arney.
As Director of the Australian Centre for Child Protection at the University of South Australia, Prof Arney is keen to encourage the next generation of researchers and research-informed clinicians to develop careers in an area where their work can add to the rapidly evolving landscape of child protection policy and practice.
The Centre works collaboratively with organisations across Australia to develop evidence-based approaches which inform policy and practice aimed at preventing and responding to child abuse and neglect.
It is also a seeding ground for students, from high school to postgraduate level, to engage in learning which assists in the protection and care of vulnerable children.
"Strong child protection policy and practice should be the result of rigorous research, creating evidence bases and knowledge which determine practical solutions to complex issues," says Prof Arney.
"In the past decade there has been an explosion of knowledge in the area of child protection, both in terms of what constitutes abuse and neglect and what can be done to tackle these issues, yet until recently child protection researchers have been few and far between.
"When our Centre started a decade ago, there were very few PhDs that had a focus on child protection. Today we are training people through the Centre from undergraduate level to PhD level in child protection research methodology, and are committed to attracting the best students.
In 2013, four of the Centre's Honours students achieved first class results for their research projects and the results of these projects were selected by peer review process for inclusion in the Australian Conference on Child Abuse and Neglect in Melbourne. The Centre has also supported 10 PhD candidates with another three commencing in 2014.
"We have created career pathways, from the UniSA Summer Vacation Research Scholarship Program to our Honours supervision of Psychology and Social Work Honours students to research apprenticeships with the Centre and the post-doctoral program, all within a supportive research environment," Prof Arney adds.
"Opportunities for students to attend the Centre and engage in real-time, real-world research that delivers tangible results to influence policy and practice and lead to the creation of new service designs, are great incentives for those considering a career in research."
The range of projects the Centre has pioneered – from examining the supports that foster carers want in dealing with complex behaviour, to understanding cumulative harm, to assessing new methods of keeping Aboriginal children safe within their communities, to identifying how services can better support refugee families, is another incentive.
Research undertaken by the Centre has been judged in a national trial by Excellence in Innovation Australia (EIA) to have made "very considerable" impact to the benefit of society, and a review conducted by external consultants, Phillips KPA, cites the Centre as having a high level of influence in the child protection sector, particularly in shaping new directions in national child protection policy.
Stewart McDougall is one of two research assistants working at the Centre, who completed an Honours thesis at the Centre in 2012.
"As someone who has come through the summer scholar program to Honours to now working as a research assistant with the Centre, the Centre has provided me with a wealth of opportunities to further my career," Stewart says.
"It has opened up pathways and helped me to understand how to build a career in child protection in ways I had not previously considered.
"The highlight so far has been presenting my research paper: "Interventions for Children Prenatally Exposed to Alcohol" at a Latin American Conference on Child Abuse and Neglect, in Chile."
Further information about career opportunities through the centre please refer to our website: www.unisa.edu.au/Research/Australian-Centre-for-Child-Protection/Study-with-us1/
Contact
Professor Fiona Arney office (08) 8302 2918
Will Venn office (08) 8302 2986 email will.venn@unisa.edu.au