Indonesia comes to grips with Big Data in Adelaide
October 23 2015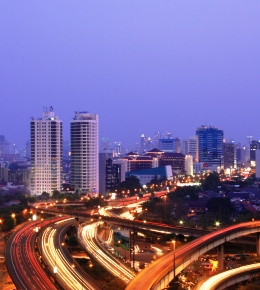 Acknowledging the potential of mining and analysing Big Data to develop improved policy decisions for health, education and urban planning, the Indonesian Government is sending 25 of its senior and middle level managers to the University of South Australia to study for their Graduate Certificate in Data Science (Policy Evaluation and Development).
The University won the million-dollar tender to provide the study program for the Australian Department of Foreign Affairs and Trade under its Australia Awards scheme, and will deliver a unique study framework for the Indonesian students.
UniSA Deputy Vice Chancellor International and Advancement, Nigel Relph says he is pleased that the University's innovative model for delivering high quality training has been embraced by Australia Awards and by the Indonesian Government.
"Data analytics is at the heart of good public policy and we are delighted to play a part in boosting expertise in this area in Indonesia," Relph says.
Commencing at UniSA this month, the students will complete the program in Australia and in Indonesia.
The new bi-country delivery model represents the first time a Graduate Certificate (Australian Qualifications Level 8) qualification has been provided as an Australia Awards Short Course.
The program will be delivered through an initial two months of study at UniSA, followed by five months back in Indonesia working within their ministries on a significant individual project that applies and integrates their new learnings and skills.
The students then return to UniSA for a final two months of highly experiential and industry-informed learning, during which they also complete and present the results of their projects.
Head of UniSA's School of Information Technology and Mathematical Sciences, Professor Andy Koronios says the graduate certificate will be invaluable because it covers some of the most important skill sets for managers working in government who have to make nation-building decisions about resources and policy.
"The program covers key areas such as understanding the basics about Big Data, statistics and databases and data warehouses – but importantly also covers the business intelligence and analytics factors most significant in assessing the implications of data for policy evaluation and formulation.
"Our goal is to deliver invaluable and strategic learning to our Indonesian students that will help them to become better professionals in data-driven workplaces and advance more evidence-based planning and decision-making in their portfolio areas.
"But beyond the coursework we hope to develop important ongoing relationships with them as partners in their education and their future advancement."
UniSA will host an official welcome for the Indonesian students on Monday October 26 from 2 pm – 3pm in the Bradley forum, City West campus.
Media contact: Michèle Nardelli office +61 883020966 mob 0418823673 email michele.nardelli@unisa.edu.au