UniSA to lead project providing Australians with safer medicines
April 13 2018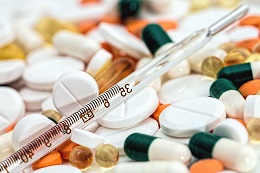 The University of South Australia will play a key role in a new $200 million cooperative research centre to improve the health of Australians using digital technology.
Professor Libby Roughead from UniSA's School of Pharmacy and Medical Sciences is leading one of the themes – targeted at curbing medication errors and adverse drug reactions, which costs the health system $1.2 billion a year.
The Federal Government is investing $55 million in the Digital Health Cooperative Research Centre (CRC), in addition to significant cash and in-kind funding from partners.
Sixteen Australian universities are involved in the seven-year project, along with 40 commercial and government organisations in the health, care and disability sectors and a range of technology start-up companies.
Professor Roughead, an expert in unsafe medication practices, says there are an estimated 230,000 medication-related hospital admissions a year which are preventable.
"Adverse drug reactions result in 400,000 GP visits a year and are responsible for 30 per cent of emergency hospital admissions in the elderly," Prof Roughead says.
"As many as two million people a year have problems with their medicines," she says. "And if you walked into a hospital in Australia today, there is a 10 per cent probability that you would experience an error in the way your medicines were given."
Professor Roughead will collaborate with a range of experts spanning the health, internet technology, software and mathematical fields across Australia, including colleagues within UniSA's Institute for Choice and the Advanced Computing Research Centre.
Consortium chair Professor Christine Bennett says digital health solutions have the potential to improve people's health and wellbeing, reduce waste in the health system and build businesses and jobs in the rapidly growing digital health sector.
The World Health Organisation (WHO) has also listed patient safety as one of its key global challenges, in the wake of figures showing that medication errors cost the global healthcare system US$42 billion each year.
The Digital Health CRC will have at least $111 million in cash funding and $118 million in-kind funding to invest over its seven-year life and is expected to create at least 1000 new jobs.
Read more about the new CRC on its website.


Media contact: Candy Gibson mobile 0434 605 142 email mailto:candy.gibson@unisa.edu.au