Protecting children from abuse and neglect is everyone's business
September 03 2018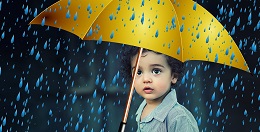 Australia needs a new approach to keep children safe from child abuse and neglect, according to UniSA's Deputy Director of the Australian Centre for Child Protection (ACCP), Associate Professor Tim Moore.
Assoc Prof Moore's message comes at the start of National Child Protection Week (2-8 September) which this year carries the key theme 'Don't wait until it's too late'.
The Deputy Director of the ACCP is the keynote speaker of a forum being held in Adelaide University's Elder Hall on Wednesday 5 September, focused on the importance of children's participation and the need for everyone to take responsibility for the safety and wellbeing of children – not just parents and carers.
"With one in four children reported to child protection services before the age of 10 in Australia, we need to look at what can be done differently in the future to keep our children safe," Assoc Prof Moore says.
"To protect our kids, we need to reclaim them, to make a commitment to them and rather than seeing them as someone else's responsibility, see them as our own.
"We know that children are at greatest risk when they are dehumanised, when we fail to value them, their needs, wishes and experiences, when they experience poverty and poor social connections with protective adults and communities, and when their protection is seen as the responsibility of others.
"My research for the Royal Commission highlighted that risks to children have been defined mainly from an adult perspective, even though it is apparent that children may have a different understanding of those risks. Young people have unique insights into their own situations. It is time we recognised that," Assoc Prof Moore says. "We need to stop seeing children as passive victims and instead value their views and the part that they can play in preventing abuse and guiding the ways that we respond to it."
UniSA's ACCP is partnering with the National Association for the Prevention of Child Abuse and Neglect (NAPCAN) and Healthy Development Adelaide (HAD) to host the forum, titled Play Your Part.
Apart from Assoc Prof Moore's keynote address, the forum will also include the following line up:
Rachel Sanderson MP – SA Minister for Child Protection;
Helen Connelly, SA Children's Commissioner;
Cathy Taylor, SA Chief Executive of the Department for Child Protection;
Detective Chief Inspector Denise Gray, Special Crimes Investigation Branch, SA Police;
Anne Sim, Principal of Northern Adelaide Senior College;
Joseph Akot, SA Health Consumer Representative for Young People, and YMCA volunteer.
To register for the free event and for more information, go to: https://bit.ly/2wzReiq
Media contact: Assoc Prof Tim Moore phone 0466 416 148 email tim.moore@unisa.edu.au;
Candy Gibson, UniSA Press Office mobile 0434 605 142 email mailto:candy.gibson@unisa.edu.au