UniSA mourns the loss of national treasure - Dr Basil Hetzel
February 05 2017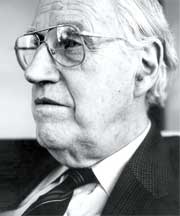 The University of South Australia community, staff, alumni and friends mourn the loss of one of South Australia's great contributors to public health and the intellectual life of the State, Dr Basil Hetzel.
Dr Hetzel served as Chancellor of UniSA from 1992 until 1998, some of the most formative years of the institution, before his retirement in 1998.
But his career was one with local and global impact, well beyond his important service to the University.
UniSA Vice Chancellor Professor David Lloyd says Dr Hetzel did that one thing that all researchers strive to do – he made a truly significant impact on world health.
"It was Basil's collaborative work as head of the endocrine diseases clinic at the Queen Elizabeth Hospital, with the Papua New Guinea Health research department, that pinpointed the relationship between iodine deficiency and brain damage making conditions such as cretinism totally preventable," Prof Lloyd says.
"The research showed that iodized salt taken during pregnancy would eliminate the risk of brain damage in the unborn child.
"This research, published in 1970, has transformed the health outcomes of hundreds of thousands of children globally.
"But not one to rest on his laurels, he embarked on a global campaign to establish international health programs in developing countries to spread the word about iodine deficiency by founding the International Council for Control of Iodine Deficiency Disorders (ICCIDD).
"His commitment to public health on a global scale but also here at home in Australia, has been enormous.
"Basil was man whose belief in humanity and the intrinsic dignity of mankind drove striving and excellence in his career but also care and compassion for everyone he encountered.
"He truly was a scholar and a gentleman and he will be missed by us all."
Born in 1922, Dr Hetzel followed in his father's footsteps becoming a doctor after graduating from Adelaide University in 1944.
Early in his career, he was deeply drawn to the importance of research into psychiatry and the relationship between physical and mental health.
His early work in the 1950s looking at the relationship between stress and thyroid diseases was at the forefront, proving that emotional disturbance had an equivalent physiological impact on a patient as more studied injuries and infections.
He won a Fulbright Scholarship and studied in New York before securing a Research Fellowship in the Department of Endocrinology and Metabolism at St Thomas' Hospital.
He was a founding member of the South Australian Mental Health Association and along with other members of the Association helped to establish Lifeline.
His breakthrough research into iodine deficiency and the advocacy work he did internationally occupied much of his mid-career.
But public health and the psychosocial factors that impact good health were never far from his sight.
In 1968, he was appointed Foundation Professor of Social and Preventive Medicine at Monash University and in 1971; he delivered the ABCs Boyer Lecture series based on his book Health and Australian Society in which he made modern health discoveries accessible to everyday people. The book sold 40,000 copies.
He was made the first Chief of CSIRO's Division of Human Nutrition where he worked for 10 years before "retiring". In retirement, he worked tirelessly for the ICCIDD.
Always an advocate for the power of education and public education, he was a key advocate for the foundation of the Bob Hawke Prime Ministerial Centre at UniSA and he was its chair from 1998 to 2007 and remained a patron of the organisation until his death.
Media contact: Michèle Nardelli mobile: 0418 823 673 email: michele.nardelli@unisa.edu.au