Seeing is believing: UniSA's Great Hall comes to life at Open Day
August 12 2016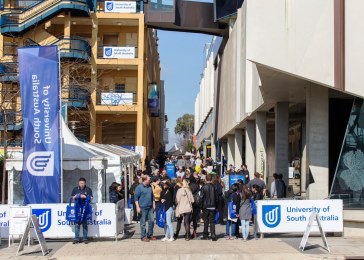 When complete in 2017, it will be the only university building in the city to have a five-lane swimming pool, a fully equipped sport and fitness centre, restaurant facilities and capacity for more than 2200 students – and at UniSA Open Day, visitors will have a chance to enter the 3-D world of the new Great Hall using their mobile phones.
The Great Hall tour at the Tech Zone at City West campus is just one of more than 43 interactive activities at UniSA Open Day Sunday August 14.
And with an expected 12,000 visitors, UniSA Open Day will be staged across both its City West and City East campuses.
Students interested in pursuing a career in health sciences need to find the Giant Brain at City East on the corner of Frome Road and North Terrace - it is the entry point to a wide range of demonstrations in key health science fields.
Whether it is learning how to extract DNA from living things, how blood groups are identified and what they mean for your health, how elite athletes train or how pharmacy provides the secrets to making perfect ice cream, City East is the place to be for anyone wanting to pursue careers in health and allied health.
For those interested in studying nursing at UniSA, one of the world's top 50 institutions for nurse education and research, tours of the University's amazing simulated hospital wards provide the chance to interact with Ted and Dot, patients at "Horizon Hospital" who will explain and explore how students learn nursing practice with 21st century simulation.
Marketing science, engineering, law, communication and media, cognitive neuroscience and education are just some of the 91 presentations on offer across the day and there are more than 80 information booths open for career-finders to have one-to-one conversations about their career options.
Ranked number one in SA for the full-time employment of its graduates (Graduate Destinations survey 2013-2015) and number one in SA for student satisfaction (QILT:Course Experience Questionnaire 2014-2015) Open Day will showcase the University of South Australia many study options and advantages.
Open Day kicks off at 9am and runs all day Sunday until 5pm. You can follow #UniSAOpenDay on Twitter, check out the activity on Facebook, and find out more about the full calendar of events for the day at www.unisa.edu.au/openday. You can also download the UniSA App for iphone and Android from Google Play, the App Store or Microsoft and plan your open day itinerary.
Media contact: Michèle Nardelli mobile: +61 418 823 673 email: michele.nardelli@unisa.edu.au