UniSA hosts International symposium looking at the demands of high performance sport
February 11 2015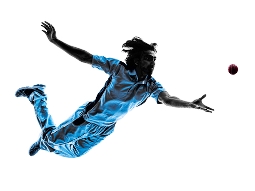 High performance sports have never been more globally watched or more connected to some of the biggest sponsorship and business deals the world has seen. As the pressure grows for improved performances as many sports become faster and more dynamic, the science of sport is taking centre stage.
On the eve of the World Cup match between India and Pakistan (February 13), the University of South Australia, in an innovative partnership with the Government of South Australia, will host the International Symposium on High Performance in Sport at its City West campus.
The symposium will look at a wide range of elements in sport from player performance and fitness and the role of academic research in athlete training and sports education, right through to the power sport has to enhance educational development and offer opportunities to the disadvantaged.
UniSA Deputy Vice Chancellor International and Development, Nigel Relph says modern sports are as much about science and business as they are about the various traditions of the games.
"From tennis and world football, to swimming and cricket, we are seeing sports move into a new place globally - a place where science, technology and business are having a huge influence," Relph says.
"We are hosting the symposium to share insights with international sports experts and hone in on some of the key areas involved in high performance sport – at the heart of which is the health, fitness and well-being and performance of athletes.
"This great opportunity coincides with the ICC Cricket World Cup match at the Adelaide Oval and we are delighted to make cricket a special focus for some of the discussions and to welcome the Consulate General of India, Sunjay Sudhir, who has agreed to open the event."
Key panelists include Australian Basketball star and four time Olympian, Phil Smyth; Port Adelaide CEO, Keith Thomas; CEO for Hockey Australia, Cam Vale; Rajini Vasan from the Australia India Council and representing the Blind Sports Council of Australia; Director of the SA Sport's Institute, Wes Battams, Olympian and former Tour Down Under champion, Pat Jonker; SA Sports Psychologist, Jenny Williams, Patrick Kearins from Austrade SA; and from UniSA, exercise science, nutrition and activity experts Professors Kevin Norton and Jon Buckley and research fellow in sport and development and coordinator of UniSA Football United, Dr Edoardo Rosso.
"In conjunction with the Port Adelaide Football Club, UniSA has forged a highly productive partnership to run the joint Centre in High Performance in Sport which is already providing invaluable support for elite athletes and delivering important opportunities for high quality research projects," Relph says.
"The model we have developed with Port Power is one that will be explored at the symposium as a successful way to blend educational opportunity, practical specialist skills development for our students, high level research opportunities and a means to encourage the pathways from sport to participation in higher education."
The symposium will also be attended by senior representatives of the Indian and Pakistani team management groups who will be in South Australia for the ICC World Cup.
The International Symposium on High Performance in Sport will be held at UniSA's City West campus in the Bradley Forum from 9 am to 1 pm.
Media contact: Michèle Nardelli office: +61 8 8302 0966 mobile: 0418 823 673 email: michele.nardelli@unisa.edu.au