UniSA tests the on/off diet
August 12 2014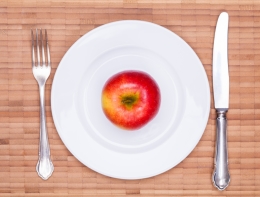 With the benefits of the new "fasting diet" hitting the headlines in the past 12 months, UniSA researchers are setting up a clinical study to explore the real impact of on/off dieting on weight loss and control.
UniSA Professor of Nutrition, Peter Clifton says his research team will be looking at how effective a week-on, week-off diet regime may be in helping people both to lose weight and keep it off.
"Overweight and obesity are now some of our major health problems because carrying extra weight increases the risk of type-2 diabetes and heart disease," Prof Clifton says.
"But we all know that controlling weight long term is not simple and there are a lot of fad diets being touted without the evidence to back them up.
"Intermittent dieting has become popular as an alternative to continuous dieting because it is believed to preserve resting energy expenditure and the body's muscle mass."
Prof Clifton says the new study will build on some earlier research that showed intermittent dieting using a 'one week-on, one week-off' strategy to be as effective for weight loss over 12 months as continuous dieting.
"That study was useful but we did not take blood samples or measure body composition," he says.
"In this new trial we will also look at the effects on weight loss maintenance after 12 months and examine changes in muscle mass, blood lipids and glucose."
The study will compare weight loss of 16 weeks of intermittent dieting (one week on, one week off) compared to continuous dieting after eight weeks.
During the weight loss phase participants will be asked to come into UniSA's research clinic at City East campus on North Terrace every two or four weeks depending on the group they have been randomised to and every three months during follow-up.
People eligible for the trial must be over 18 years old, overweight and want to lose weight. The study begins towards the end of August 2014.
Volunteers can find more information about the study online or contact Eva Pedersen on 8302 1025 or email eva.pedersen@unisa.edu.au.
Media contact: Michèle Nardelli office: +61 8 8302 0966 mobile: 0418 823 673 email: Michele.nardelli@unisa.edu.au