UniSA students to sleep rough for St Vinnies
August 05 2014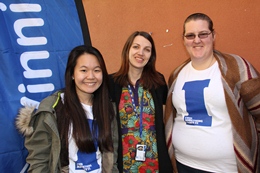 University of South Australia students will swap their beds for a piece of cardboard and 'sleep rough' in aid of St Vincent de Paul Society (SA) Inc and people experiencing homelessness in South Australia this Thursday night.
About 30 UniSA students and dedicated staff will sleep on cardboard outside the Jeffrey Smart building on Hindley Street at City West campus, experiencing first-hand what it is like to be homeless on a cold winter's night.
Event organiser Kimberly Goh says the 'Vinnies-UniSA Community Sleep Out' has the same goals as the successful CEO Sleep Out – to raise awareness of the work of St Vincent de Paul Society in supporting people experiencing homelessness, and to raise much needed funds.
"Sleeping rough is definitely going to be a challenge," says Goh, 22, who is studying a Bachelor of Marketing and Communication.
"Over 105,000 Australians sleep rough every night of the year and it's a good feeling to be able to help raise funds and awareness even as a uni student."
In addition to Goh, students organising the event are Debbie Bui, Ikram Warsame, Jonathon Hurrell, Xin Ting Leong, with support from the University's Career Services Volunteering and Community Engagement team, Global Experience and Student Experience.
There will be a movie screening of 'The Pursuit of Happyness' featuring Will Smith, while band 'The Wisps' will perform during the event.
In conjunction with the Sleep Out, a 'Vinnies-UniSA Fashion Show' is being held today (Tuesday) from 11am to 4pm at West Bar, City West campus.
For more information on the Sleep Out, go to Facebook or the fundraising page.
Media contact: Kelly Stone office 8302 0963 mobile 0417 861 832 email Kelly.stone@unisa.edu.au