Daily dairy could reduce national health spend
July 30 2012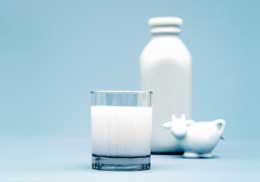 University of South Australia research into the benefits of dairy foods in reducing the national health spend has just been published in the Journal of Nutrition, a leading US health journal.
The research from UniSA's Health Economics and Social Policy Group reviewed the health benefits of dairy consumption and calculated the healthcare expenditure in Australia due to low dairy consumption.
It showed that about $2 billion could be slashed from the annual healthcare budget if Australians increased their dairy intake.
But with about 65 per cent of Australians consuming less than the recommended serves of dairy foods (milk, cheese, yogurt and custard), researchers say there needs to be more education around the role dairy foods can play in sustaining good health.
Study co-author Professor Leonie Segal said the potential healthcare savings associated with consuming the recommended amount of dairy are significant – a sum comparable to the entire public health budget.
"The largest healthcare savings were associated with the maintenance of a healthy body weight," Prof Segal said.
"Other calculated healthcares savings came from dairy's beneficial effects on type 2 diabetes, heart disease, stroke, hypertension and osteoporosis."
Funded by Dairy Australia, the research concluded that there is strong justification for developing interventions focused on increasing dairy consumption to reduce the costs of diet-related disease.
UniSA Research Professor in Nutritional Physiology Peter Howe says that the study gives a financial incentive for more research on the health benefits of dairy.
"The conclusions are based on indirect evidence of health benefit, particularly in relation to dairy intake and obesity, and should be backed up by long term intervention trials," Professor Howe says.
"The limited trial data currently available appear to be dispelling earlier concerns that dairy consumption will increase disease risk".
Michèle Nardelli office: 08 8302 0966 mobile: 0418 823 673 email: michele.nardelli@unisa.edu.au