Merydith Willoughby
Leadership development
Australia and New York City
What I do
I work with executives and Think Tanks and assist them to tackle issues that every executive and organisation faces. I am a change agent and we work from the top down and from the bottom up. It is similar to what a chimney sweep does. We ensure the mission statement is an active document and not just words typed and framed nicely. We ensure that every level of employee has the same mindset, that they focus on collaboration, that they leave their ego at home, that they are authentic in their negotiations and in their conversations. We ensure that they are contributing to the bigger picture and that they move forward together, to the next level while ensuring that the work they do is relevant, forward thinking and conducive to improving the structure of the organisation, community and society in general. I have seen this in action and it is stunning. When I became an independent consultant it was my intention to develop an international business, develop my own business model, deliver services to leaders, write and contribute to the global media. Achieved.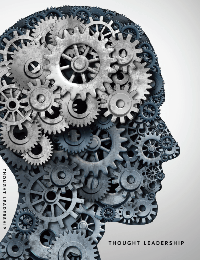 ---
Thought Leadership
As I traipse back through the centuries of information available outlining how humans have lived, been managed and controlled, I note with disappointment that while much positive change has occurred, much remains the same. These dominating forces - which are woven into the structure of every society, family, culture and generation, can see those of us who want to make change and understand who we are as a human being in the bigger picture, trip up at every intersection. Thought Leadership proposes how we can break down the layers of dominance that are entrenched in society and become aware of the invisible net that surrounds and controls us throughout every moment of our life. When we do this, we have the best chance of creating a more equitable society, community, family, generation, and individual life. We can then investigate who we really are and allow our true self to evolve. We can learn how to develop our inner leader and learn how to think and behave like a thought leader. The impact on humankind with this approach to living would be phenomenal.
UniSA Alumni Network member benefit
20% off any service or book purchased
To access this benefit UniSA Alumni Network Card holders need to show their UniSA Network Card. This benefit can be accessed online, within South Australia, nationally and Internationally.