UniSA and Adelaide Football Club

Smart sport is a team effort.
In 1991 two organisations were founded with a common purpose – to bring together and represent South Australia.
When captain Chris McDermott tied up his footy boots for the first Adelaide Crows AFL game on 22 March 1991, the University of South Australia was welcoming its first group of students after its establishment on 1 January.
With an aligned commitment to developing the State, enhancing sports research and supporting women in sport, we formally joined forces with the Adelaide Football Club in 2017, signing on as a Premier Partner of the Club and championing both the Crows men's AFL and women's AFLW teams.
This partnership builds on our existing relationship which was founded on knowledge sharing, student placements and health promotion. With our established reputation and extensive expertise in education, training and research in sport and health sciences, as well as our world-class teaching staff including Australia's leading exercise scientists, high-performance coaches and even AFL sports scientists, this partnership allows us to continue to contribute to and shape the world of sport. It will provide further research collaborations, student placement opportunities, and engagement opportunities for staff, students and the wider University community.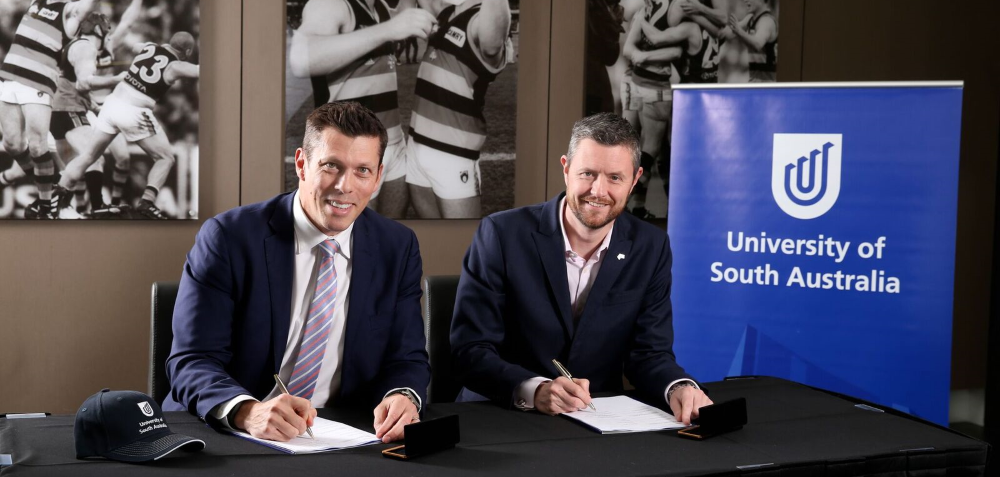 UniSA's Best on Ground Series
UniSA and the Adelaide Crows Football Club presents UniSA's Best on Ground series featuring Adelaide Crows Women's Team Co Vice-Captain Courtney Cramey.
This two-part series explores the importance of nutrition when exercising and how to stay motivated to achieve your exercise goals.
Learn from leading UniSA researchers and Courtney as they explore what to eat and drink before, during and after a game, and easy tips to stay motivated and achieve your performance goals.
Episode 1: Exercise and Nutrition
A strong history
Our partnership didn't just start in 2017 - we have a long-standing history of collaboration.
The Adelaide Football Club has provided UniSA human movement students placement opportunities since 2012
UniSA researchers have worked directly with the Crows' performance and training staff to share high performance, health and wellbeing strategies
The Adelaide Football Club has supported the research efforts of our research students
The expertise of the Adelaide Football Club is embedded into our teaching and research practices, with visiting lecturers, working with our exercise and sport science students and acting as an industry advisor for our research projects
Our alumni work across the Adelaide Football Club in a range of roles, not just with the team but in the business that is the Club
Adelaide Crows players continue to study with UniSA in a wide variety of disciplines such as business, health and education.
Elite athlete friendly university
A number of past and present Crows players have studied with us as part of our Elite Athletes Program, which provides flexible study options and a range of support services to help athletes achieve a dual career and a healthy balance between sport and study.
For more information visit the Elite athlete and elite performing artists webpage.