Phuong Nguyen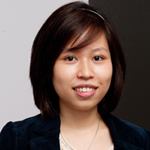 Vietnam
Phuong Nguyen,Bachelor of Nursing (IBNU)
What are the benefits of UniSA and their teaching staff?
"The University of South Australia (UniSA) has developed well-equipped practice labs and different experimental learning activities for nursing students. The programs have helped us to visualise and practice our nursing skills. UniSA also provides students with a number of beneficial services like Career Hub or support from the Learning and Teaching Unit (LTU). Last but not least, the social activities and careers expos have given us the opportunities to meet people in the industry and build up our social network.
The actual experiences in healthcare settings have helped me to understand so many things which I could not visualise while studying at the university. I realise the importance of the knowledge which we have learnt from the university and also have had the opportunity to apply them. The very first experiences have shown me the real meaning of being a nurse."
What are your impressions of Adelaide?
"In my opinion, Adelaide is a nice and safe city, which is especially good for studying. In addition, the living conditions and living costs in Adelaide are also more affordable for students than other big cities in Australia. Adelaide is a good place to live and study."
What is your advice to others?
"I believe that if a student really wants to concentrate on his/her study, then Adelaide is one of the best destinations. Because Australia is a multicultural country, they should have an open mind to many different cultural experiences and finally be ready to live an exciting independent life."
Enquire Online