Water scarcity a focus for future fellow
July 23 2014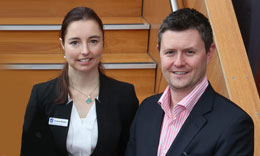 University of South Australia Senior Research Fellow Dr Sarah Wheeler has been awarded an Australian Research Council (ARC) Future Fellowship worth $736,554 for research into farmer behaviour in water-stressed basins.
Dr Wheeler, who is based at UniSA's Centre for Regulation and Market Analysis, will receive the funding over four years.
Dr Wheeler says that the future risk of water scarcity means farmers will need to plan to adapt.
"Drought and policy reform have inflicted significant economic, social and personal stress upon Murray-Darling Basin rural communities," she said.
"This project aims to aid water managers and policymakers with a greater understanding of transformational farmer adaptation in order to plan for the economic, social and health impacts of future water scarcity from climate change and water reform-related policies. In addition, the fellowship will investigate the consequences of non-adaptation, namely issues to do with farmer mental health and suicide.
"The focus of this work will be on the Murray-Darling Basin, as well as undertaking a comparative analysis with water-stressed basins in the United States."
UniSA Vice Chancellor and President Professor David Lloyd congratulated Dr Wheeler on the fellowship.
"ARC Future Fellowships are designed to support research in areas of critical national importance, and this is certainly the case with Dr Wheeler's work," Prof Lloyd said.
"This research is about identifying key insights and building solutions in partnership with the sector to ensure the future prosperity and growth of this vital part of the Australian story.
"On behalf of the University, I congratulate Dr Wheeler on being awarded this prestigious fellowship."
Media Contact
Rachel Broadley office (08) 8302 0965 mobile 0401 366 054 email rachel.broadley@unisa.edu.au