University of South Australia honours Peter Gabriel
March 04 2015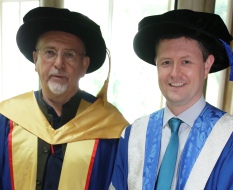 The University of South Australia has honoured co-founder of WOMAD and champion for world music and culture Peter Gabriel in recognition of his commitment to creativity and its transformational power in building peace and understanding.
Gabriel has been made an Honorary Doctor of the University by UniSA Vice Chancellor Professor David Lloyd.
The award announced this week was presented to Gabriel at his recording studios in Wiltshire last year.
Prof Lloyd says he is delighted to have conferred the Honorary Doctorate on a man who has made such an important mark globally in so many fields, from music, business and the arts, to the promotion of peace, human rights and conflict resolution.
"Peter is an example of what it is to be successful on many levels," Prof Lloyd says.
"A great collaborator, but also a musician and composer with his own distinctive style, his stellar career has been marked by ground-breaking innovations in music video production and in recording and distribution.
"Peter was inducted into the Rock and Roll Hall of Fame in 2010 as a member of Genesis, the original group he co-founded in 1967 while still at school.
"But beyond his chart-topping hits, the many MTV and Grammy Awards for his group and solo music career, Peter has made an enormous commitment to the global community and applied his considerable skills to making a difference.
"He is the co-founder of WOMAD World of Music Art and Dance, an international music festival now presented worldwide, including in our University's home city of Adelaide, to showcase the music and arts of many cultures and countries and encourage multicultural engagement.
"Through his own production company Real World Records founded in 1989 he has continued to bring production and publishing opportunities to artists from Africa, Latin America and Central Asia who would otherwise have remained unknown to mainstream audiences."
Prof Lloyd says as co-founder of WITNESS in 1992, a human rights organisation designed to encourage and support people to use video recordings to fight for human rights and celebrate human triumphs, Gabriel established an organisation which has continued to grow and make a powerful impact in bringing to light issues of global concern.
"His efforts to create opportunities for justice and human rights to prevail have been unstinting.
"He worked with Richard Branson and the much beloved Nelson Mandela, former President of South Africa and also a Doctor of the University of South Australia, to establish The Elders in 2007 – a network of highly experienced international leaders - able to offer peacemaking and negotiating strategies and wisdom wherever there are global conflicts.
"His commitment to building peace, supporting people who are disempowered, encouraging social justice and understanding were recognised in 2006 by the Nobel Peace Prize Laureates when he was presented with the Man of Peace Award and in 2008 Time Magazine named him one of the 100 most influential people in the world.
"The University is so proud to welcome him as an Honorary Doctor and we believe the example of his work and life will be an inspiration for many of our students and graduates."
Media contact: Michèle Nardelli office: +61 8 8302 0966 mobile: 0418 823 673 email: Michele.nardelli@unisa.edu.au