UniSA's real time coaches lift teacher performance
February 09 2015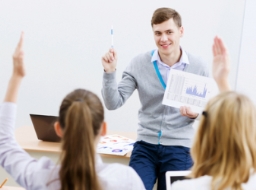 If you have ever imagined how good it would be to have a coach just at your shoulder - encouraging you, giving you advice and pointing out how to improve - the work being undertaken at the University of South Australia to introduce Real-Time Coaching as a support to training teachers is providing just that kind of support.
A study undertaken at UniSA by experts in education and online education has used real time feedback technologies (a Motorola CP476 earpiece) to help student teachers to hone their presentation skills, classroom management techniques, presentation of learning materials and clarity of instructions to the class.
With Real-Time Coaching a mentor speaks into the student teacher's ear while they are teaching a class, making them aware of things they are doing well and what could be improved upon.
Study leader and lecturer in Literacy Education at UniSA, Dr Garth Stahl, says the research has opened up a whole new method for helping teachers to become more proficient with a wider range of skills in the classroom.
It has also increased student teachers' self-awareness and encouraged them to reflect on how they teach in the classroom.
"There is a great deal of emphasis on teacher effectiveness today and in that context, on how we understand what the factors are that transform adequate teachers into great ones," Dr Stahl says.
"With my colleagues, Dr Ben Kehrwald and Erica Sharplin, we have set up a model for supporting pre-service teachers to sharpen performance in key areas that have been identified as the factors that make really effective teachers.
"Research from the US has shown that among a range of factors required to develop great teachers is that they are encouraged to be both aware of how their teaching is being received and flexible enough to respond to what is working and what isn't in the classroom.
"A key factor for great teaching is also to have the feedback and time for reflection that will help them make adjustments and implement improvements quickly."
The study at UniSA took 12 trainee teachers and asked them to present a lesson. Coaches provided feedback in real time on a range of elements including voice, non-verbal communication, posture, movement and interaction with the class allowing them to act on the feedback immediately.
After their presentation students were asked to reflect on the experience and what it had taught them about classroom presentation and teaching.
"Our participants found the experience incredibly valuable," Dr Stahl says.
"They reported that it actually reduced stress, helped their development, helped them to identify goals for improvement and to achieve them, and gave them the ability to identify both strengths and weaknesses and make a plan to do better."
Dr Stahl says while there has been a general wariness about how technology can nurture teacher practice in university based education programs his recent study shows that real time coaching is not only immediately effective but has also been shown to strengthen teacher/mentor relationships with education students.
"What we found was that students appreciated the tips we could provide in real time and not only did it mean they could alter or enhance what they were doing as they taught, but it offered a touch point for conversation, discussion and planning around how they might change what they do," he says.
"The study really has demonstrated the value of Real-Time Coaching in teacher training because it is authentic; it leads to a richer learning experience and enhances the learning environment for student teachers."
The project team for the study won the Technology Enhanced Teaching and Learning Award at the University of South Australia in 2014 and will be promoting the study and its results in the United States at the American Educational Research Association in April.
Media contact: Michèle Nardelli office: +61 8 8302 0966 mobile: 0418 823 673 email: michele.nardelli@unisa.edu.au