UniSA welcomes new Hawke Centre leader
March 14 2014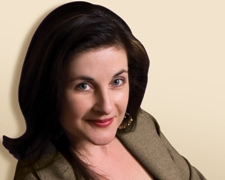 The University of South Australia has appointed former OzAsia Festival Director Jacinta Thompson as the head of its Bob Hawke Prime Ministerial Centre.
Thompson officially commences as Executive Director of the Hawke Centre on April 28. The centre was established in 1997 in honour of former Prime Minister Bob Hawke and is the flagship for UniSA's intellectual engagement with the community.
UniSA's Vice Chancellor Professor David Lloyd says he is delighted to announce Thompson's appointment to the helm of the Hawke Centre.
"Jacinta has extensive experience in high profile roles, engaging the community in the exploration and appreciation both of diverse cultures and across a broad spectrum of the arts," Prof Lloyd says.
"Jacinta has been the Festival Director of the much-celebrated OzAsia Festival for over seven years, and prior to this held positions including programming executive for dance and theatre at the Adelaide Festival Centre, Executive Producer of the Adelaide Cabaret Festival, and Education Manager at the Sydney Theatre Company.
"Her expertise will be particularly relevant in furthering the University's community engagement as a university of enterprise and I warmly welcome her to UniSA."
An alumna of UniSA, Thompson says she is thrilled to be joining the Hawke Centre and the University.
"I greatly admire and value the work of the Hawke Centre and I am thrilled to be part of this unique and vital centre that is devoted to generating ideas and solutions to achieve cohesive, sustainable societies," Thompson says.
Thompson takes over from inaugural Hawke Centre Executive Director Elizabeth Ho OAM.
Promoting the message 'Think, Connect, Act', the Bob Hawke Prime Ministerial Centre runs a public events program aimed at 'strengthening democracy, valuing diversity and building our future'.
As part of its commitment to engage meaningfully with the community, the Hawke Centre's public events program examines key ideas and solutions for 21st century society.
The Hawke Centre is also home to the Kerry Packer Civic Gallery in which organisations can convey social messages through art and conduct important community outreach.
Media contact: Kelly Stone office 8302 0963 mobile 0417 861 832 email Kelly.stone@unisa.edu.au