UniSA turns on to the value of open research access
October 22 2013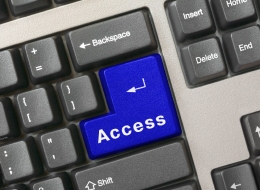 The University of South Australia has become the first in the state to adopt an Open Access Research Publication Policy which will apply across the University to all research commencing from January 1 2014.
Marking the start of Open Access Week, UniSA Vice Chancellor Professor David Lloyd says the policy will fulfil one important goal in the University's strategic action plan Crossing the Horizon.
"The policy helps to provide a worldwide shop window for UniSA's research activities and increases the impact of the research we undertake at both an institutional and individual level," Prof Lloyd says.
"It also brings us in line with current national and international thinking about the value of free public access to research findings and scholarly works.
"It is this commitment to access that has paved the way for important discoveries and successful research partnerships by enhancing academic collaboration and increasing the capacity to share knowledge globally."
Prof Lloyd said UniSA would become only the eighth Australian university out of 39 public universities to mandate staff placing research publications into institutional or discipline based repositories where they can be read and used by all.
"The move is beneficial for the growth of global knowledge and understanding but it is also important for UniSA's global visibility and for all researchers here who want to profile their work in an international context.
"It will support a real engagement with the world community of research and discovery."
Open access research publication policies have been adopted by some of the most prestigious universities around the world including Harvard, MIT and Trinity College and the Queensland University of Technology which pioneered the policy in Australia has recorded almost 10 million downloads of its research since they commenced open access 10 years ago.
Media contact: Michèle Nardelli office: 08 8302 0966 mobile: 0418 823 673 email: Michele.nardelli@unisa.edu.au