UniSA to lead new $88 million CRC in big data
February 21 2014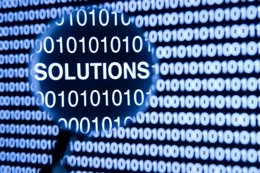 The University of South Australia will become the national headquarters for an $88 million Cooperative Research Centre (CRC) in big data, announced today by the Australian Government.
The Data to Decisions CRC – funded for five years by a $25 million CRC grant and $62.5 million participant contributions – is set to boost national security.
It places UniSA at the forefront of industry and academic research collaboration, with the University now leading three CRCs and partnering in 10 more.
The Data to Decisions CRC will be led by Dr Sanjay Mazumdar who heads up the Defence and Systems Innovation Centre, a joint venture between UniSA and the University of Adelaide.
Dr Mazumdar says the overarching research challenge being addressed by the CRC is 'How does the defence and national security sector efficiently extract intelligence and unforseen insights from big data within a balanced privacy paradigm?'
"Every day, society creates 2.5 quintillion bytes of data from disparate sources including satellite imagery, social media content, digital pictures, videos and voice recordings," Dr Mazumdar says.
"This data is referred to as big data and it cannot be efficiently analysed using traditional data processing applications.
"The National Security Strategy for Australia highlights the importance of timely and accurate intelligence as a powerful weapon against security threats.
"Addressing big data challenges and applying high-performance analytics can make the difference between predicting a threat and reacting to a catastrophic aftermath."
The Data to Decisions CRC will involve researchers in areas of computer science, engineering, business and law from UniSA, the University of Adelaide, University of New South Wales, Deakin University and Carnegie Mellon University, with industry input from IT and systems integration companies, consulting companies and SMEs in collaboration with state and federal national security agencies.
Dr Mazumdar expects the CRC will employ 189 staff and 50 PhD students over its five-year funding period and leave a significant legacy to the national security of Australia.
He says industry groups believe the CRC will help build a substantial big data industry, which will position Australia as an international exemplar in the development and use of big data capability across many sectors.
In addition to being the lead in the Data to Decisions CRC, UniSA partners in the extended CRC in Capital Markets, in which Professor Petko Kalev drives UniSA's involvement.
UniSA Vice Chancellor Professor David Lloyd says the new CRCs will tackle important and challenging problems facing society and pursue solutions that are innovative, of high impact and capable of being effectively deployed by end-users.
"The University is delighted to lead the Data to Decisions CRC which will research and develop tools to maximise the benefits that Australia's defence and national security sector can extract from big data," Prof Lloyd says.
"This latest CRC announcement represents an important boost to UniSA's strong association with the CRC program. UniSA is already the lead institution for two existing CRCs (Cell Therapy Manufacturing CRC and CRC CARE) and a partner in 10 more CRCs, making it one of the nation's most active participants in industry-partnered research."
Media contact: Kelly Stone office 8302 0963 mobile 0417 861 832 email Kelly.stone@unisa.edu.au