UniSA students win opportunities under New Colombo Plan
December 04 2014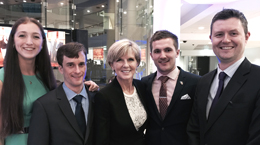 Three of the University of South Australia's best and brightest students – Mitchell Francis, Michelle Howie and Anthony Randell - have been selected to receive scholarships that will take them across Asia to broaden their skills, education and cultural knowledge, under the Australian Government's New Colombo Plan (NCP) Scholarships Scheme for 2015.
From a highly competitive national field of applicants, the students have won support to undertake study as well as an internship. The scholarships are worth up to $67,000 and only 69 were offered Australia- wide for next year.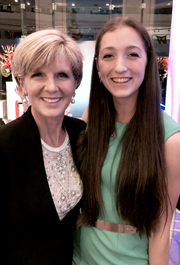 Michelle Howie was the highest ranked scholar who applied to study in her country of interest and was named NCP Fellow for Korea.
A first year Bachelor of Engineering student, Howie will study at South Korea's most prestigious science and technology institution – KAIST – and is hoping for an internship at Samsung.
Construction Management and Economics student, Mitchell Francis, who was raised in Jabiru in the Northern Territory, will head to Malaysia in 2015 to study at the University of Malaya in Kuala Lumpur. He intends to undertake an internship in Malaysia with Rider Levett Bucknall, the world's largest independent quantity surveying firm where he is currently employed in Australia.
Bachelor of Environmental Science student, Randell who is passionate about the power of community engagement, will study at the University of the South Pacific in Fiji. He says he is keen to learn about the environmental problems faced and remediation actions being taken in the Pacific island and the region and is hoping for an internship with NatureFiji-MareqetiViti.
UniSA Vice Chancellor Professor David Lloyd says the NCP scholarships scheme is a fantastic initiative and one that is encouraging students to learn more about their "neighbourhood" in the Asia-Pacific.
"This is one of the best opportunities for students to combine travel and study, to learn about education, research and employment in new settings and new cultural and economic contexts," Prof Lloyd says.
"The experience will open new horizons, challenge students' ideas about the world and give them many more facets to consider in the application of their knowledge and skills.
"I congratulate our winners on their endeavour and the Government on the success of the scheme in activating two-way engagement in our region.
"These students are among our brightest and best and will take on this opportunity with open engagement and enthusiasm. I know it will be of enormous benefit to them."
The scholarships were awarded at a special dinner in Canberra on December 2.
Media contact: Michèle Nardelli office: +61 8 8302 0966 mobile: 0418 823 673 email: michele.nardelli@unisa.edu.au